It's decidedly autumnal around here now and I'm loving it. 'Tis the season of snuggly jumpers, rich, comforting stews, lighting candles and cosying up on the sofa to watch a movie. Everything is winding down, preparing for hibernation. And...
...I made another salad! Whaaaat? But not just any salad! A lovely autumnal one that's rich in gorgeous Moroccan spices to match the changing leaves.  There's just something so fulfilling in throwing a few ingredients into a bowl and calling it dinner. This is warm and comforting, perfect even for a cold October evening. It's full of goodness AND it's totally vegan, yet completely satisfying. (Read: I don't find myself running to the fridge to get a piece of cheese afterwards. Win!)
One of my favourite things to do is go food shopping. I know that makes me sound really sad but I can't be alone in this, surely? I love supermarkets, but even more than that I love greengrocers and well, put me in an actual market and I'm in heaven - like a kid in a sweet shop. I just love fresh vegetables and the prettier the better. Like that romanesco cauliflower (broccoli? who knows) up there? It was so incredibly beautiful I just had to have it. It looks like little Christmas trees! But let's not go there just yet. My husband said it reminded him of a Christmas tree worm from his scuba diving days but I have no idea what he's talking about... Apparently this is what he meant. I'll stick to my roasted cauli, thanks.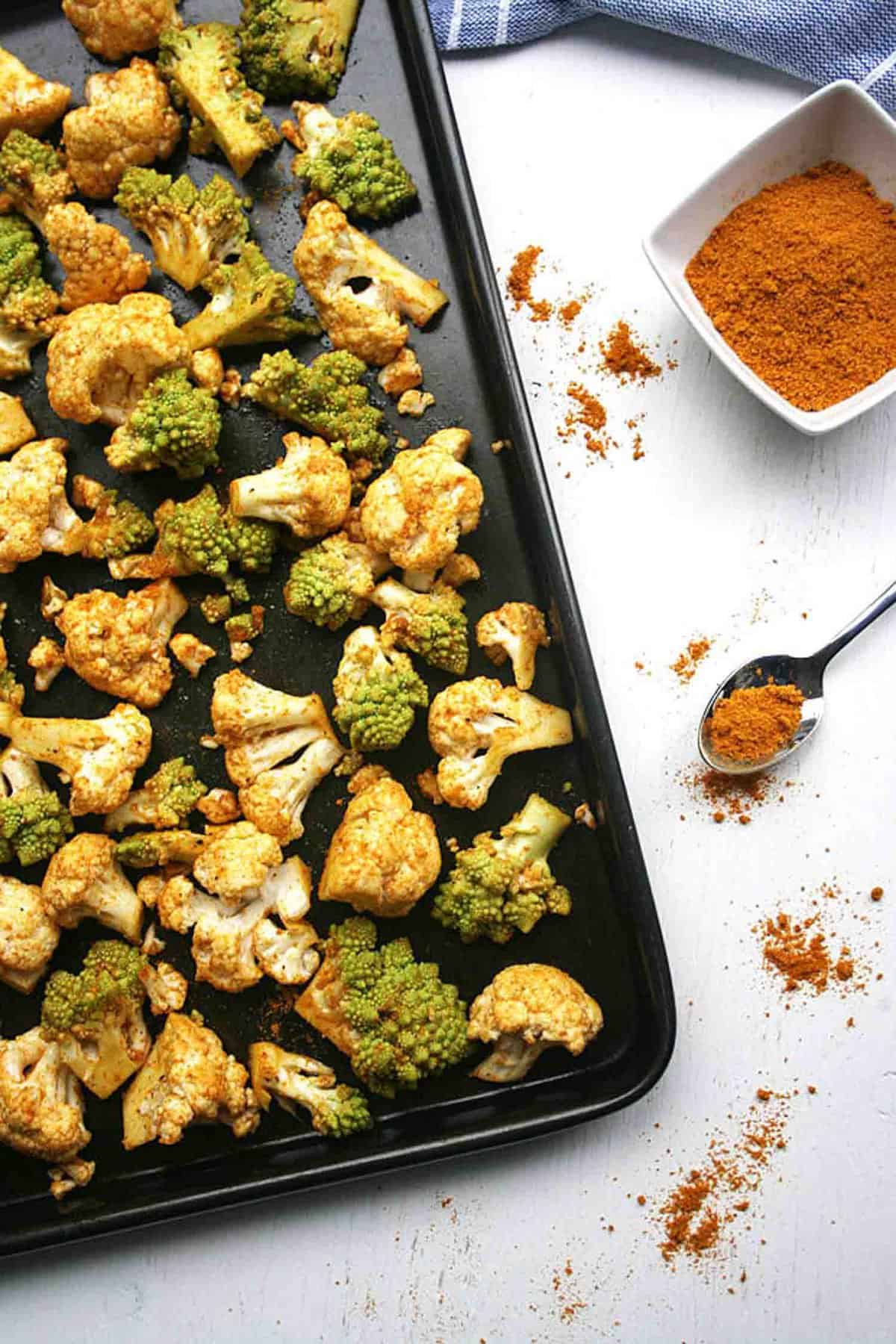 But in all seriousness, this hearty salad is really filling. A sign that I've eaten a bowl of really good REAL food. I find that when I've eaten something less than nourishing, I want to snack all evening afterwards, but this keeps me comfortably satiated for hours - another giant win in my book. The ras-el-hanout tastes cosy and warm and the little pops of sweet pomegranate keep it all balanced. And the farro is just so perfectly chewy and nutty... just make this and you'll see.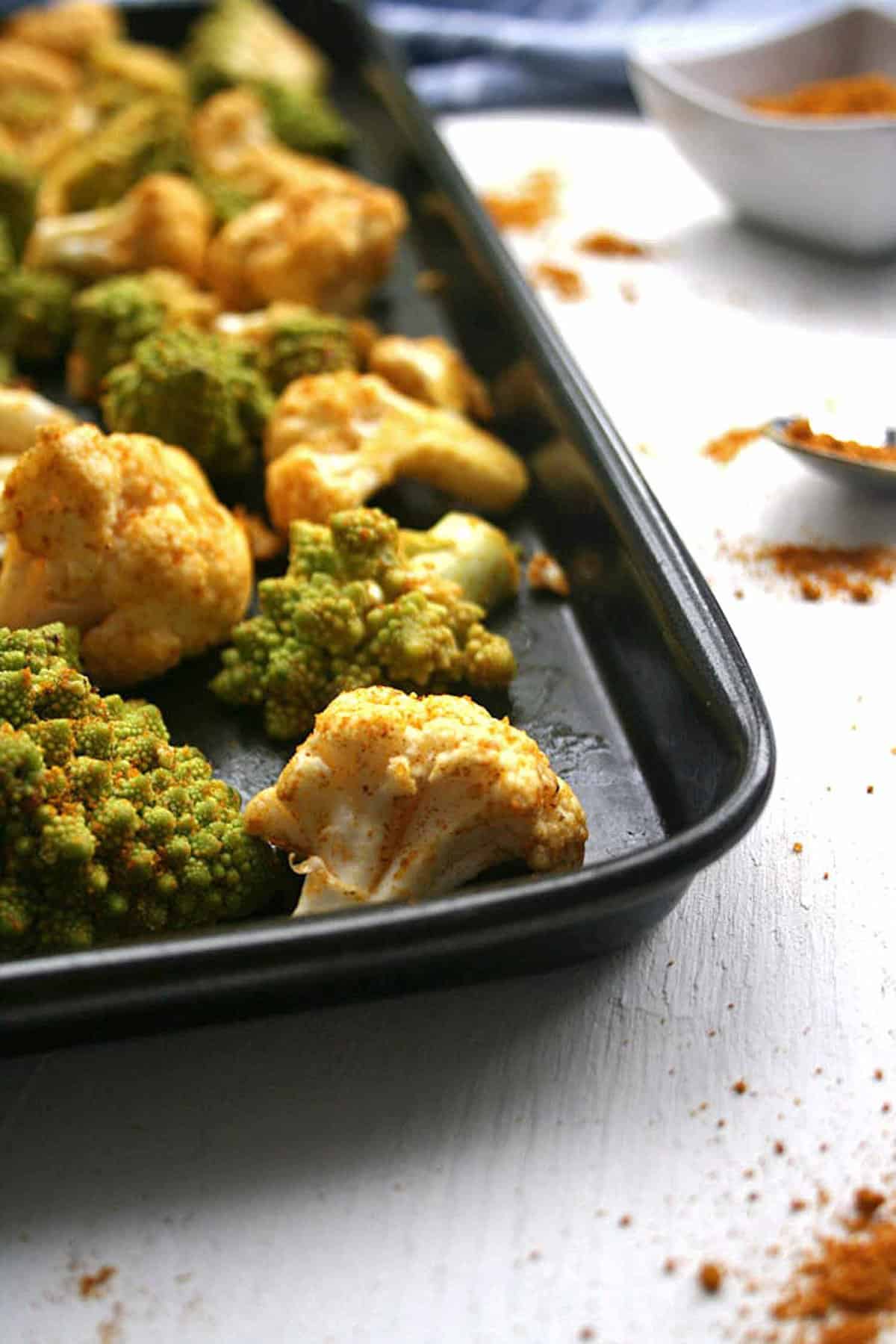 And - the cauliflower just smells so good as it roasts. It's a good job it only takes 40 minutes to prepare - start to finish. A really healthy, delicious dinner in no time.
📖 Recipe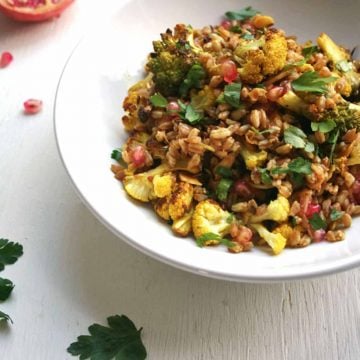 Ingredients
1

head of cauliflower or romanesco

,

or a mixture of both

4

teaspoons

ras-el-hanout*

¼

teaspoon

fine sea salt

¼

teaspoon

ground black pepper

2-3

tablespoons

rapeseed or olive oil

85

g

farro (pearled spelt)

,

(½ cup)

25

g

flaked almonds,

(¼ cup)

1

tablespoon

flaxseed

,

or other seeds of your choice

½

pomegranate

handful of chopped parsley

½

lemon
Instructions
Preheat oven to 180ºC (350ºF).

Cut the cauliflower into bite-sized pieces and place in a large bowl. Sprinkle evenly with the ras-el-hanout, salt and pepper and toss to distribute. Drizzle with 2-3 tablespoons of oil and again toss to ensure every piece is evenly coated. Transfer to a non-stick baking sheet and roast for 30 minutes until the cauliflower is tender but still has some bite to it and is golden around the edges.

1 head of cauliflower or romanesco,

4 teaspoons ras-el-hanout*,

¼ teaspoon fine sea salt,

¼ teaspoon ground black pepper,

2-3 tablespoons rapeseed or olive oil

Meanwhile, cook the farro. Place in a sieve and rinse under water and then place into a saucepan with roughly 250ml (1 cup) of cold water and a pinch of salt. Bring to the boil, put a lid on the pan and turn the heat down low. Simmer for 20-25 minutes until soft but still chewy.

85 g farro (pearled spelt)

Toast the almonds - place on a baking tray and pop into the oven alongside the cauliflower for 3-5 minutes, or until golden. Be aware that the almonds may quickly burn, so keep an eye on them!

Drain any remaining liquid from the farro and place into a large bowl along with the cauliflower, almonds, linseeds, pomegranate arils and parsley. Squeeze in the juice of half a lemon and add a drizzle of oil. Stir to combine and serve hot or cold.

1 tablespoon flaxseed,

½ pomegranate,

handful of chopped parsley,

½ lemon
Notes
*Ras-el-hanout is a delicious Moroccan spice blend that I recommend you try and find for this - not least because it is so quick and easy to use a spice blend here for a fast, no-fuss meal. If you can't find it though, you could use a mixture of any spices you like, such as cinnamon, turmeric, cumin, coriander, etc.
Nutrition
Calories:
338
kcal
|
Carbohydrates:
44
g
|
Protein:
12.2
g
|
Fat:
16.2
g
|
Saturated Fat:
2.2
g
|
Polyunsaturated Fat:
3.1
g
|
Monounsaturated Fat:
9.7
g
|
Sodium:
297.1
mg
|
Potassium:
1039.2
mg
|
Fiber:
10.8
g
|
Sugar:
10.8
g
|
Vitamin A:
0.1
IU
|
Vitamin C:
153.7
mg
|
Calcium:
124.5
mg
|
Iron:
2.3
mg
Did you make this recipe?
Leave a comment below with how you got on and don't forget to give the recipe a rating ⭐️⭐️⭐️⭐️⭐️. You can also tag @eatloveeats on Instagram - we love to see your creations!