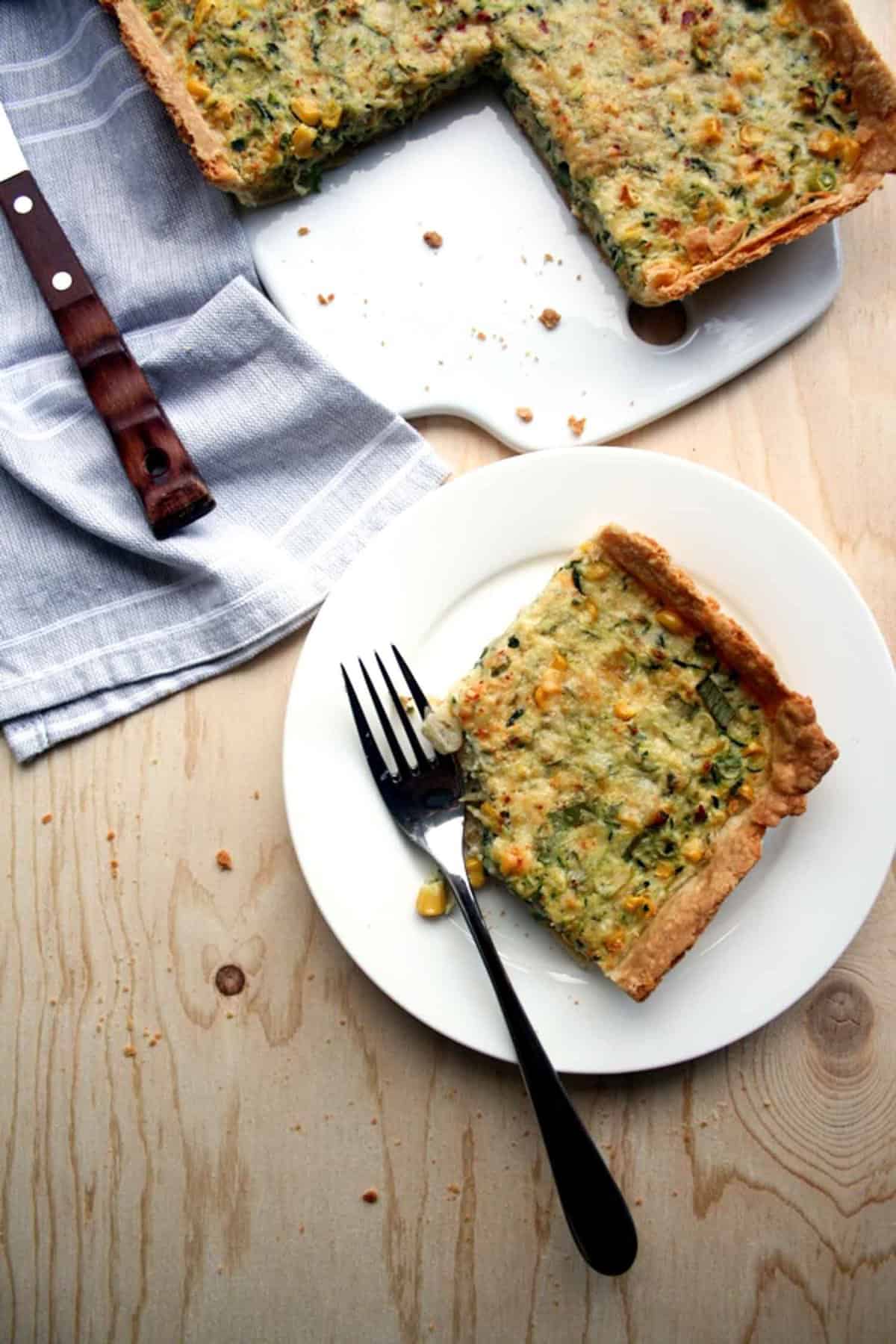 So I mentioned in my last post that we've been enjoying a good supply of courgettes this year - and some of them have been whoppers! Like, basically marrows (though not sure quite at what point a courgette becomes a marrow). When they're that big, they're less good for sautéeing or grilling and so that's why most of them ended up grated up into cake. I decided I wanted to make a savoury something for lunch instead of yet more cake and so this recipe was born.
The first time I made this, instead of making one big tart I made lots of mini ones using a muffin tray and some filo pastry. They were so good! But sometimes I'd rather just make a full sized tart and dig in. I also wanted to try out my new rectangular flan tin!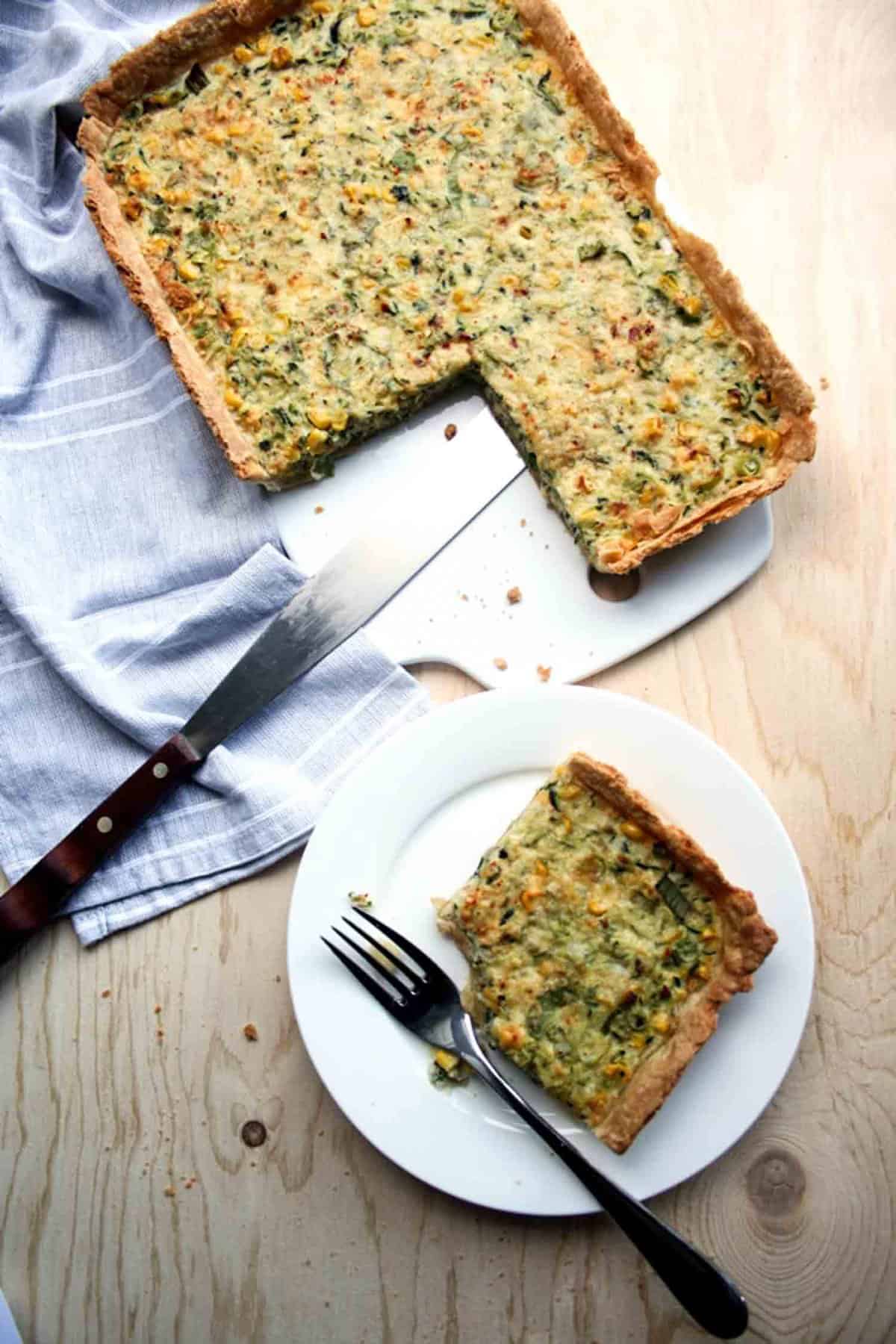 So for this tart I made some regular salted shortcrust pastry. The filling is a gorgeous mixture of grated courgette and fresh corn sautéed briefly in some garlic and herb butter and then mixed with some eggs, cheese and spring onions. This tart is full of flavour and is perfect for a picnic or even just a simple lunch with a salad at home. It's a great way to use up that last glut of summer produce!
The smell of the garlic butter when the courgettes are sautéeing is irresistible! I used coriander in my tart as that is what I had available but you could use pretty much any herb that takes your fancy.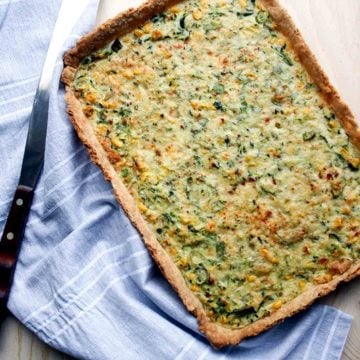 Ingredients
For the pastry
225

g

plain flour

115

g

butter

,

fridge-cold

5

tablespoons

milk

,

or water
For the filling
1

large or 2-3 medium courgettes

,

roughly 600g

25

g

butter

2

tablespoons

coriander

,

chopped

2

cloves

garlic

1

ear of fresh corn

3

large eggs

50

ml

milk

1

teaspoon

dijon mustard

4

spring onions

50

g

extra mature cheddar cheese

,

grated, plus more to top

pinch

of chilli flakes

,

optional

salt and pepper
Instructions
For the pastry
Place the flour into a large mixing bowl. Cut the cold butter into small cubes and add them to the flour. Rub the butter gently into the flour, using your thumbs and forefingers, taking care not to overwork. Stop when you still have some small lumps of butter remaining - roughly the size of peas.

225 g plain flour,

115 g butter

Add the milk (or water) and stir roughly with a round-bladed knife. Using your hands, gently push the mixture together to form a rough dough and then turn out onto a very lightly floured work surface. Gently work into a smooth dough by pressing with your fingers and folding the dough onto itself a few times. Don't overdo this. You just want to make sure that the dough is uniform in appearance. Flatten into a disc and wrap in greaseproof paper. Place in the fridge to rest for about an hour.

After the dough has rested, roll out so that it's just larger than your baking tin (I used a 12x8" rectangular flan tin but you could easily use a round 9" or 10" tin). Roll the pastry back up over your rolling pin and use this to transfer it to the tin. Starting at one end, unroll the pastry so that it is draped over the tin. Gently press the pastry into the tin. Try not to stretch the pastry - if you lift the edges you can press it into the tin without stretching. Leave the excess pastry overhanging the edge of the tin. Place back into the fridge to rest for at least 20 minutes, but up to an hour is preferable.

Preheat the oven to 180ºC.

Once the pastry case has rested, place a piece of greaseproof paper inside. Fill this with baking beans, or rice, and pop into the preheated oven to blind bake for 10-15 minutes, or until the base is beginning to set and the pastry is holding its shape. After this time, remove the beans and paper and return to the oven for 5-10 minutes, or until the pastry has dried out and is beginning to turn golden. Set aside in the tin and leave the oven on.
For the filling
Start by grating the courgette. You can use a coarse box grater for this, although I prefer to use the coarse grater attachment on my food processor for ease. Place the grated courgette into a colander, sprinkle with 1 teaspoon fine sea salt and leave to drain for 5-10 minutes. After this time, squeeze out the excess moisture from the courgette.

1 large or 2-3 medium courgettes

Heat 25g butter in a large frying pan. Crush or grate the garlic and briefly fry this in the butter - roughly 30 seconds. Add the 2 tablespoon chopped coriander followed by the squeezed out grated courgette and fry briefly for a few minutes. Slice the kernels from the corn on the cob and add these to the pan. Continue to fry until all of the moisture has evaporated from the pan - the mixture won't colour at all. This should take 5-10 minutes total. Leave to cool slightly.

25 g butter,

2 tablespoons coriander,

2 cloves garlic,

1 ear of fresh corn

In a large bowl, beat the eggs with the milk, dijon mustard and a pinch of salt and pepper. Finely slice the spring onions and add these to the mixture. Stir in the cooled courgette mixture and the grated cheese. Add the chilli flakes, if using.

3 large eggs,

50 ml milk,

1 teaspoon dijon mustard,

4 spring onions,

50 g extra mature cheddar cheese,

salt and pepper,

pinch of chilli flakes

Pour this mixture into the pre-baked pastry case. Sprinkle some more grated cheese and chilli flakes on top, if liked.

Bake at 180ºC for 25-30 minutes, until the mixture has set and the top is golden brown.
Notes
The prep time for this recipe looks alarming, but most of it is hands-off time waiting for the pastry to rest. You could make the pastry and blind bake it ahead of time and when you are ready to eat, just whip up the filling and pop it in the oven to finish baking. You could also totally use ready made pastry! This tart tastes good hot or cold and any leftovers are great for easy work lunches!
I used salted butter to make my pastry. If yours is unsalted, just add a pinch of salt with the flour.
I left the excess pastry overhanging the side of my tart and trimmed it off once baked with a sharp knife. If you trim the pastry before baking and you haven't rested the pastry long enough, you run the risk of it shrinking.
The nutrition label is based on 6 portions
Nutrition
Calories:
480
kcal
|
Carbohydrates:
42.8
g
|
Protein:
12.7
g
|
Fat:
30.4
g
|
Saturated Fat:
13.9
g
|
Polyunsaturated Fat:
2.5
g
|
Monounsaturated Fat:
12.1
g
|
Cholesterol:
143.6
mg
|
Sodium:
480.4
mg
|
Potassium:
832.7
mg
|
Fiber:
4.4
g
|
Sugar:
4.4
g
|
Vitamin A:
279.6
IU
|
Vitamin C:
48.9
mg
|
Calcium:
123.2
mg
|
Iron:
4.1
mg
Did you make this recipe?
Leave a comment below with how you got on and don't forget to give the recipe a rating ⭐️⭐️⭐️⭐️⭐️. You can also tag @eatloveeats on Instagram - we love to see your creations!