These are best chocolate hot cross buns you'll ever make. Packed with spices, chocolate chips and dried sour cherries, they're the perfect adaptation to the traditional hot cross bun recipe, ready for Easter feasting.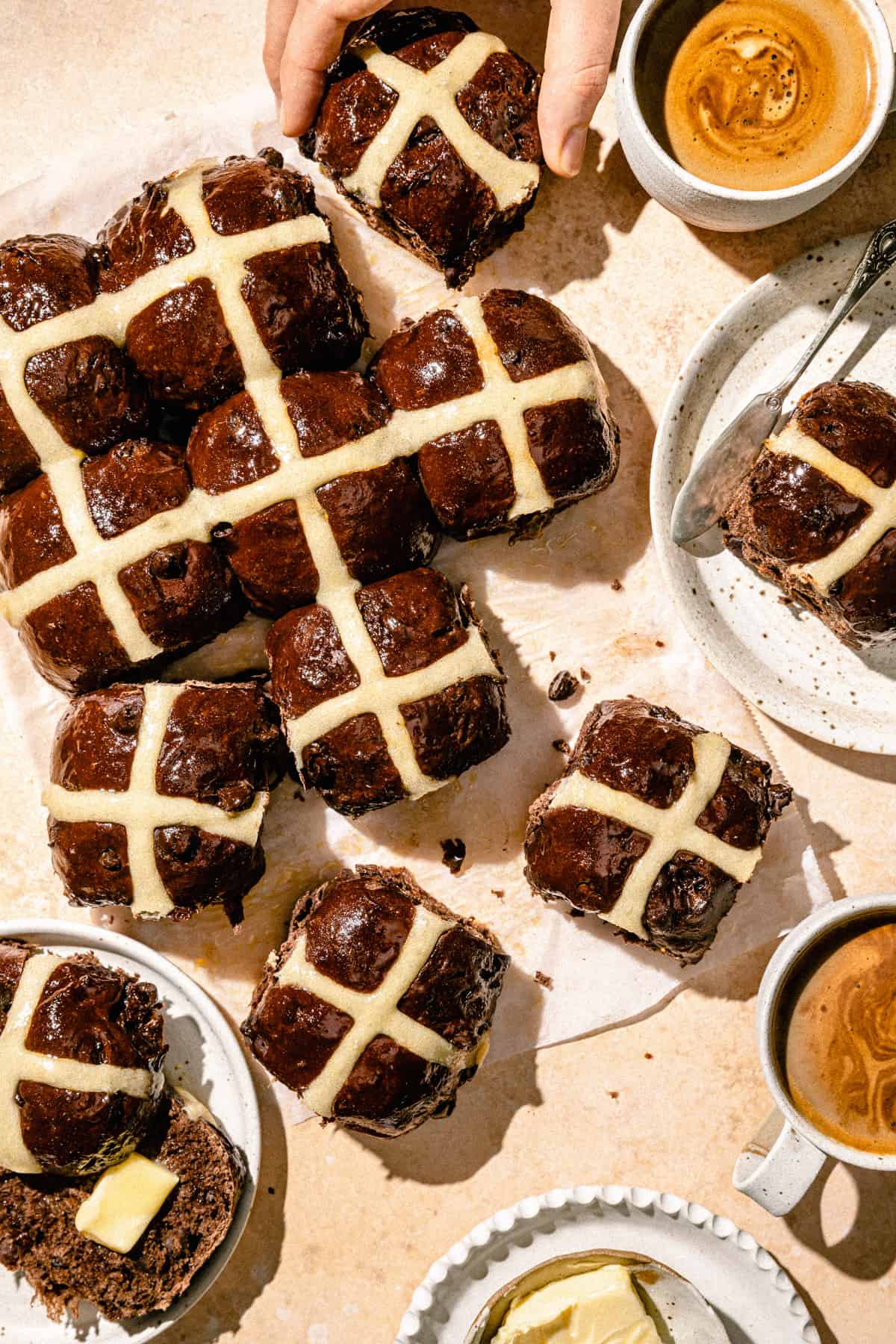 We love a sweet treat and these chocolate hot cross buns are perfect for that. Whether you want to enjoy them for Easter or the spring season is up to you. They're super easy and drop dead delicious! The first time we made these we ate half a batch in a sitting, they're just that good!
The spices and chocolate work so well together with the dried cherries for a tangy bite. You can whip the dough up in no time and the rest of the time making these is pretty hands off. Simple as they are, we won't apologize for how dangerously tasty they are.
If you're after some other Easter treats you need to make our chocolate carrot cake which is infused with orange zest like these buns. And you can't miss our chocolate cornflake cakes, they are a must!
We know you'll love our chocolate hot cross buns so don't forget to share your thoughts in the comments and rate the recipe too! Follow the links below to get exactly where you need to.
Jump to:
🍫 What are hot cross buns?
Hot cross buns are a yeast risen sweet bun flavored with spices and dried fruit and decorated with a cross on the top. Traditionally, they are often eaten during the Easter period on Good Friday, marking the end of Lent, where the cross represents the crucifix.
In major supermarkets here in the UK you can find many hot cross bun adaptations such as salted caramel, blueberry or even banoffee hot cross buns. Our chocolate hot cross buns are also an adaptation on the traditional with a chocolate flavored dough that's studded with dried sour cherries and chocolate chips.
⭐ Why you'll love this recipe
Here are some reasons why you need this chocolate hot cross buns recipe in your life:
Chocolatey - double-loaded with chocolate, these buns are made with a cocoa enriched dough and studded with loads of chocolate chips. What's not to love?
Fluffy - these buns are light and fluffy thanks to the efforts of yeast. They make the perfect bed for a slathering of butter.
Flavor - they've got the perfect combination of flavors with dried tart cherries, spices and chocolate chips. You'll find it hard not to reach for another one.
Simple - although the recipe looks complicated, these are actually super simple to make and well worth any effort as you tuck into them!
Easter - the traditional season for eating these sweet buns, you can't go wrong with enjoying an Easter bun - especially this variation!
📋 Ingredients
You only need simple ingredients for this chocolate hot cross buns recipe, this is what you'll need: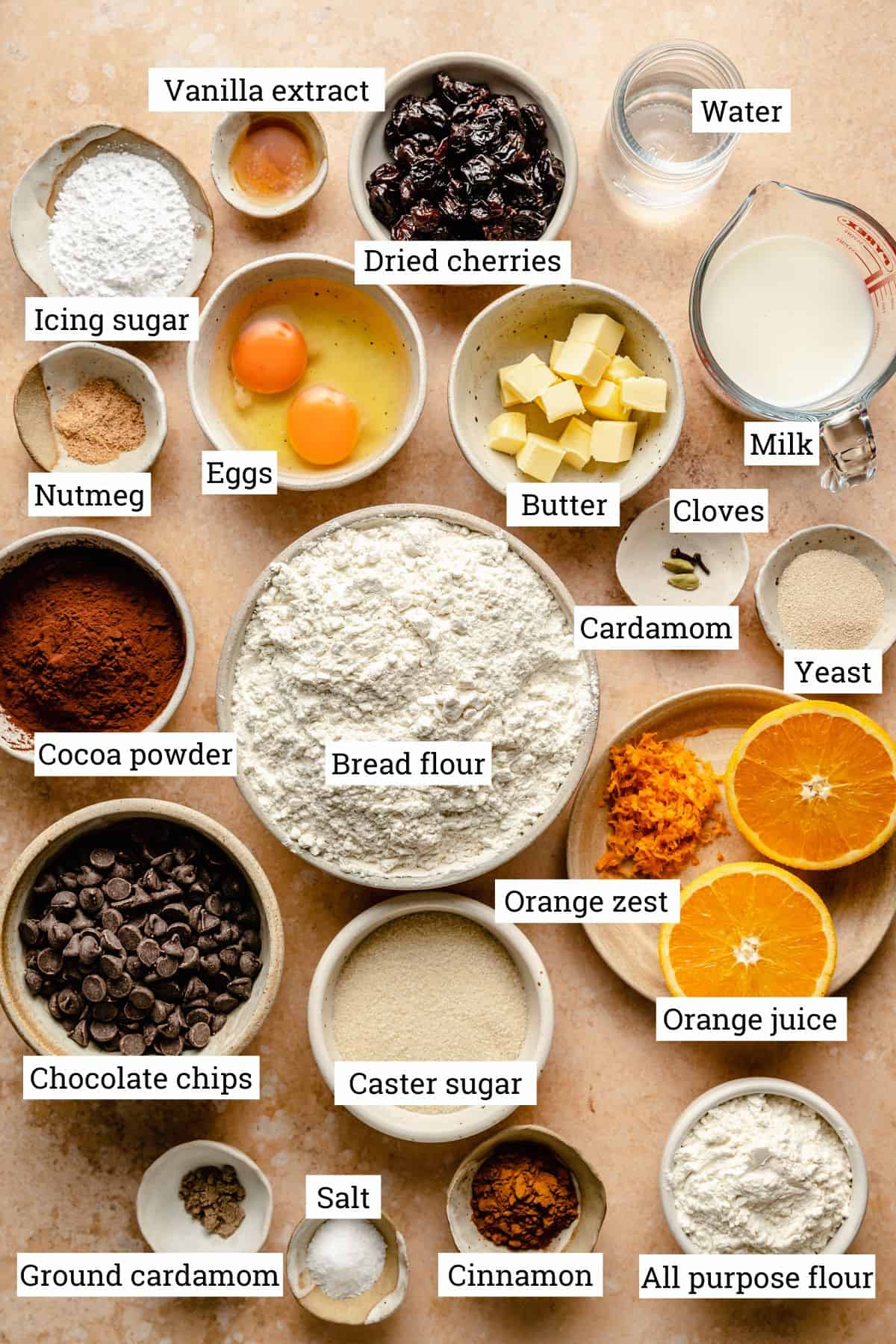 Bread flour - we use bread flour for its higher percentage of protein. This helps build a stronger gluten network in the dough, resulting in a chewy and fluffy hot cross bun.
Cocoa powder - we recommend using dutch processed cocoa powder, the reason is that the acid from the cocoa powder is neutralized and will allow for more predictable results with baking.
Spices - you'll need a couple of spices, we used ground cinnamon, ground cardamom and freshly grated nutmeg.
Chocolate chips - you can't have chocolate hot cross buns without chocolate chips, we used semisweet but you can use dark, milk or white chocolate chips.
Cherries - you can simply use dried cherries if you like, or you can make these sweet buns even more amazing with dried sour cherries!
📖 Customizations
We know you love to mix things up with customizations and substitutions so here are some of our recommendations for this chocolate hot cross buns recipe:
Spices - hot cross buns spices include cloves, coriander, nutmeg, allspice, ginger and cinnamon; you can mix the spices with varying levels if you wish. Discover your own blend!
Chocolate - you can easily switch out the semi sweet chocolate chips with dark, milk, white chocolate versions, or even go further with peanut butter chips or caramel chips.
Dairy free - you can make these hot cross buns dairy free if you wish. Just substitute the milk and butter for dairy free versions.
Fruit - feel free to mix it up with the dried fruit, you can switch the sour cherries with dried blueberries, apricots, raisins or whatever you like. Or leave out the dried fruit and go heavy on the chocolate chips instead!
🔪 How to make chocolate hot cross buns
Follow these simple step by step guides to success for this hot cross bun recipe: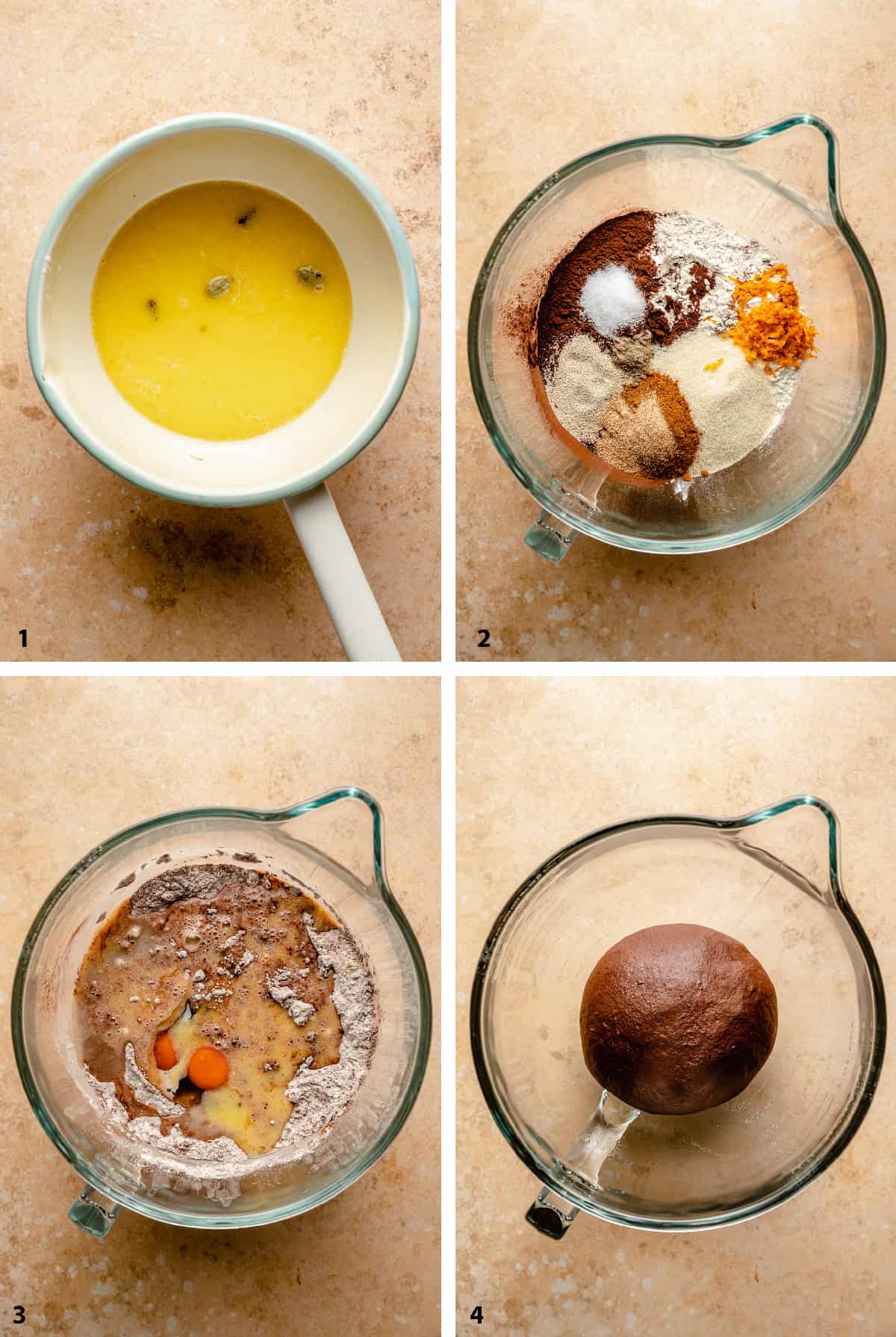 Melt the butter into the milk and water mixture with the cardamom pods and cloves. Set aside. When ready to use, it should be 46oC/115oF.
Mix all the dry ingredients in a large mixing bowl.
Add the wet ingredients along with the eggs into the dry ingredients and knead for 8-10 minutes.
The dough will become uniformly soft and supple. Round into a ball and place in a warm lightly greased bowl and cover and place in a warm location.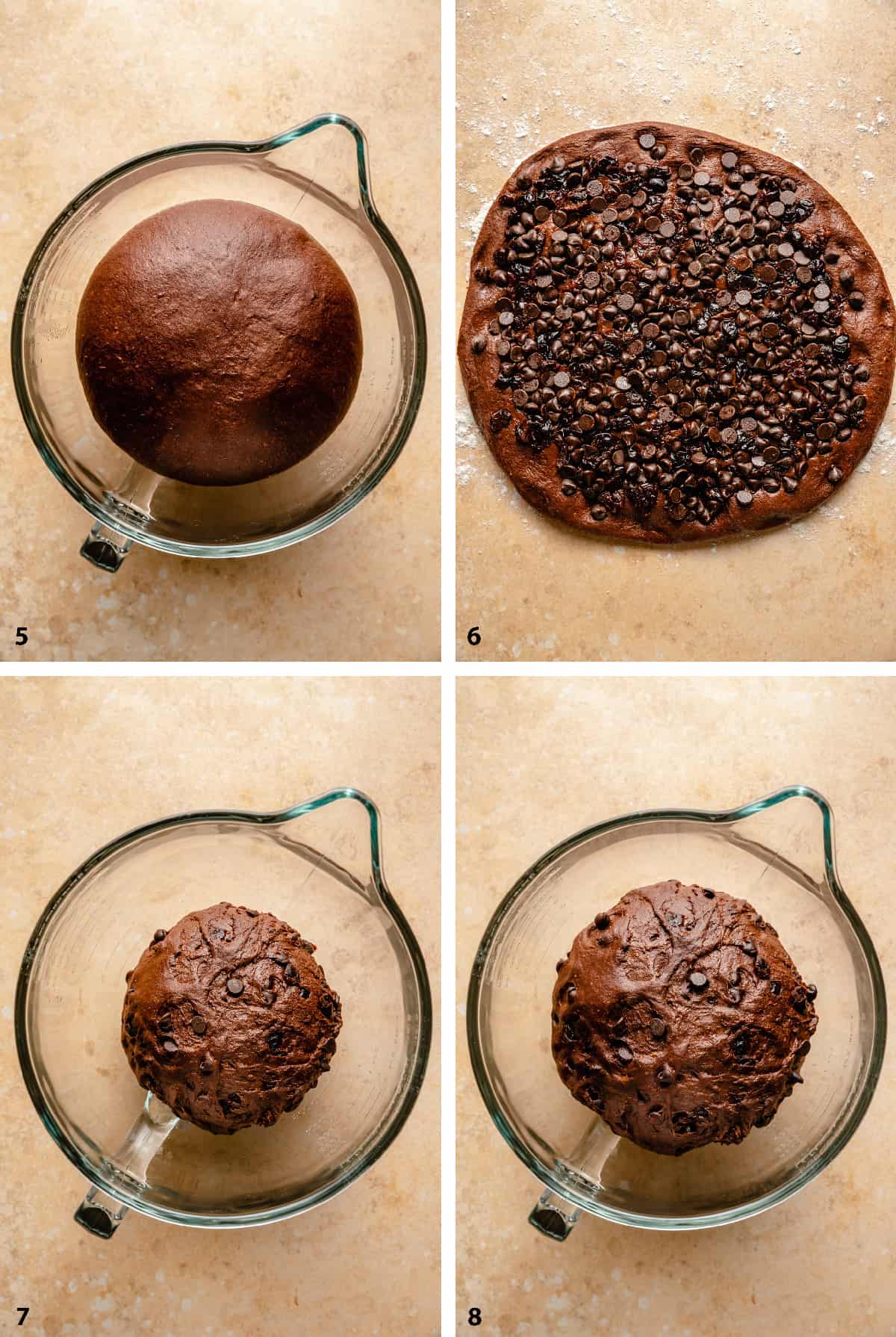 The dough will double in size after about 1-2 hours depending on the warmth of the area it was in.
Knock back the dough and flatten out. Sprinkle over the chocolate chips and orange juice soaked cherries and press into the dough.
Fold and knead the dough to distribute all the mix-ins throughout the dough. Place back in the lightly greased bowl.
Cover and leave the dough to rise in a warm area for another 1.5 hours.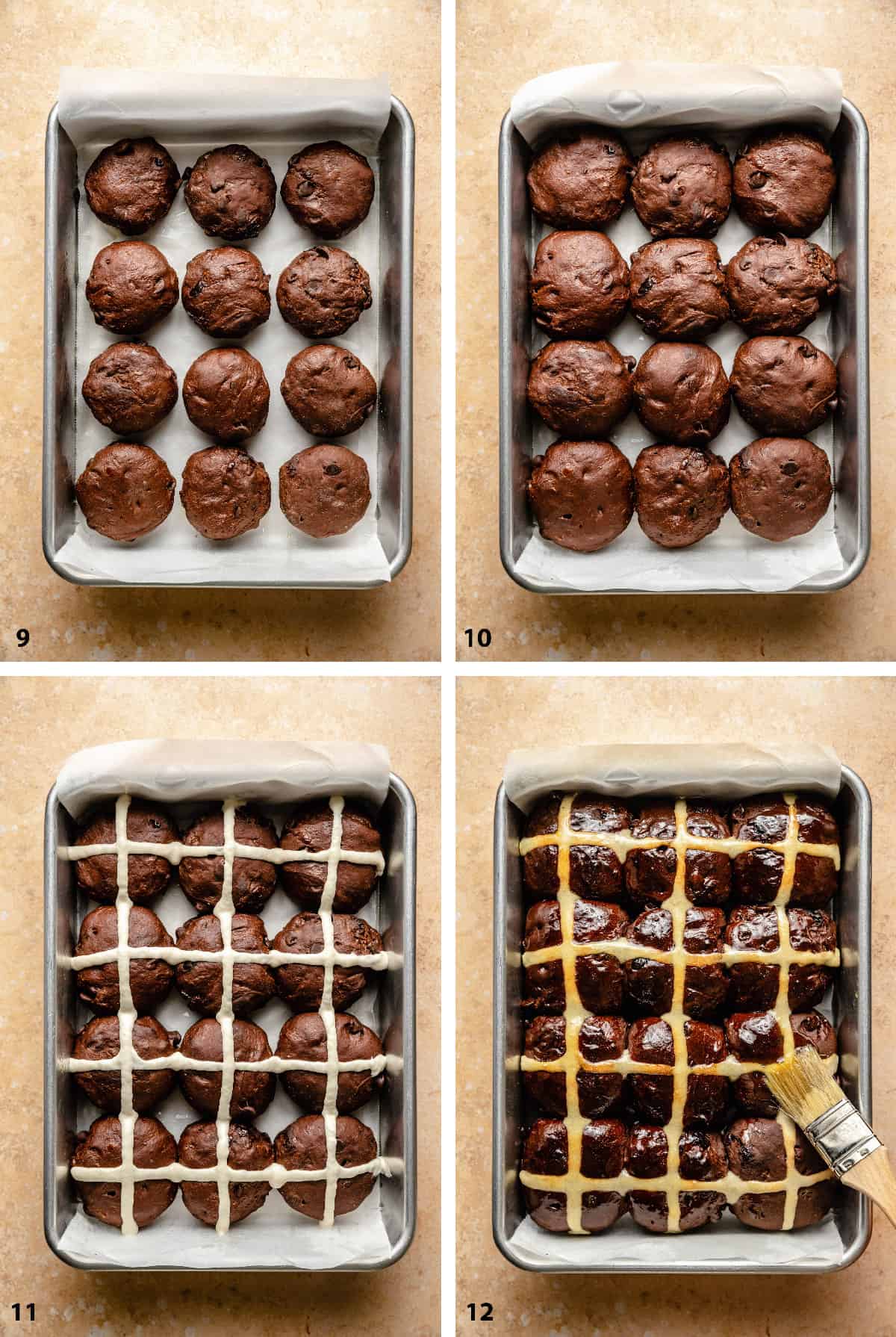 Knock the dough back and cut it into 12 portions, approximately 100g each in weight. Form each section into a ball and place in a parchment lined 9 x 13 baking tin.
Allow to proof for another 30 minutes-1 hour until puffy and touching each other.
Bake in a 200oC/400oF oven for 25-28 minutes until the dough reaches an internal temperature of 190oF/87oC.
Glaze with the orange juice and sugar mixture whilst they are still hot from the oven. Let sit for 5 minutes then cool on a wire rack.
👩‍🍳 Expert tips
Make sure to read and follow these expert tips to ensure complete success with this chocolate hot cross buns recipe:
Flour - we use bread flour for a stronger gluten development in the dough. Flours vary in type and protein content and will absorb moisture differently based on temperature, humidity and altitude too. We use 13% protein flour.
Proofing temp - room temperature (21-24oC) is best but it also depends on what you contain your dough in. Glass, metal or plastic will affect the amount of warmth taken in from the surroundings. The lower the temperature, the longer the dough will take to rise.
Enriched dough - being an enriched dough, it has a fair amount of fat content from butter, cocoa powder and eggs. This will have a shortening effect as fat coats the proteins responsible for creating gluten. Be sure to follow the instructions to make a nice elastic and extensible dough.
Cocoa - we use dutch processed cocoa, if you use cocoa that isn't, the acid from it can also have a shortening effect on the gluten development. This will make the dough more cakey than bread like.
📖 Why is the proofing taking so long?
A couple of reasons for your chocolate hot cross buns taking a long time to rise:
Yeast - first things first, ensure your dried active yeast (instant yeast) is alive and working. If it's out of date, chuck it - please ensure it's fresh.
Dough temperature - we prefer to put our chocolate dough into proof when the temperature of the dough is between 23-26oC. This gives it a good head start. The trick is ensuring the temperature of the milk mixture, water and the mixing bowl are all warm enough whilst kneading. Use a temperature probe like this.
Room temperature - make sure you are proofing your dough at room temperature. No less than 21oC. The temperature will significantly affect the speed of proofing. If you live in a cold area like us and make your own bread, try a proofer that maintains the temp for you!
Salt content - weigh your salt! Every type of salt has a different density or crystal size so teaspoon measurements will not be accurate enough. Too much salt will really inhibit the yeast from doing its job. Similarly, ensure you use the right quantity to ensure you don't end up with bland hot cross buns.
🍞 Dough proofer tips
If you live in a cold climate like us and want to regularly make bread or items that need a proofing time, we highly recommend a Brod and Taylor proofer. Here's why:
Time - proofing at too low of a temperature will really increase the time it takes to make yeasted or sourdough items. It will save you time if you want a dedicated space to proof in.
Stable temp - the temperature is very stable, it controls itself with a thermostat and you can literally set and forget it and leave your dough to do it's thing. It'll allow you to predict how long you'll be waiting.
Humidity - it has a little tray for water to provide humidity which will help when fermenting or proofing doughs so they don't dry out.
Consistency - most importantly, it will help you produce consistent results.
🍪 How to tell my chocolate dough is baked
The chocolate dough used for these chocolate hot cross buns is more challenging to identify as being properly baked. On our testing, we found a few things very helpful to know:
Underbaked - if underbaked the buns will be very soft, albeit tasty, they'll have a doughy texture and taste, rather than a sweet bun texture.
Dark dough - as the cocoa powder makes the dough a dark chocolate color which looks awesome, it makes it very hard to see when they are golden brown. And if you wait for the crosses to get golden brown you will have likely overbaked them.
Overbaked - the buns will be drier when you slice through them rather than looking lighter and fluffier.
Internal temperature - the BEST way to ensure these are baked correctly is to bake them until they hit an internal temp of 190oF/87oC. Use a temperature probe to check this, it should take between 20-30 minutes. We found 30 minutes too long, but 25-28 minutes just right.
💭 Recipe FAQs
Does cocoa affect yeast?

Excess acidity can affect the gluten development (which is why we use dutch processed cocoa), but more realistically it will be the fat content of the cocoa that will coat the gluten proteins making them a bit shorter than preferred. But in this recipe the dough is nice and extensible. Maybe not as much as without cocoa but enough.
Why do we eat hot cross buns?

In the celebrations around Easter they are traditionally eaten on Good Friday. The cross on the top of the bun represents the crucifix and the spices reflect the spices and ointments used to embalm Jesus within the tomb.
What is the correct way to eat hot cross buns?

Whichever way you wish. You can eat them hot or cold. We love them cut open, toasted and slathered with a thick spreading of salted butter.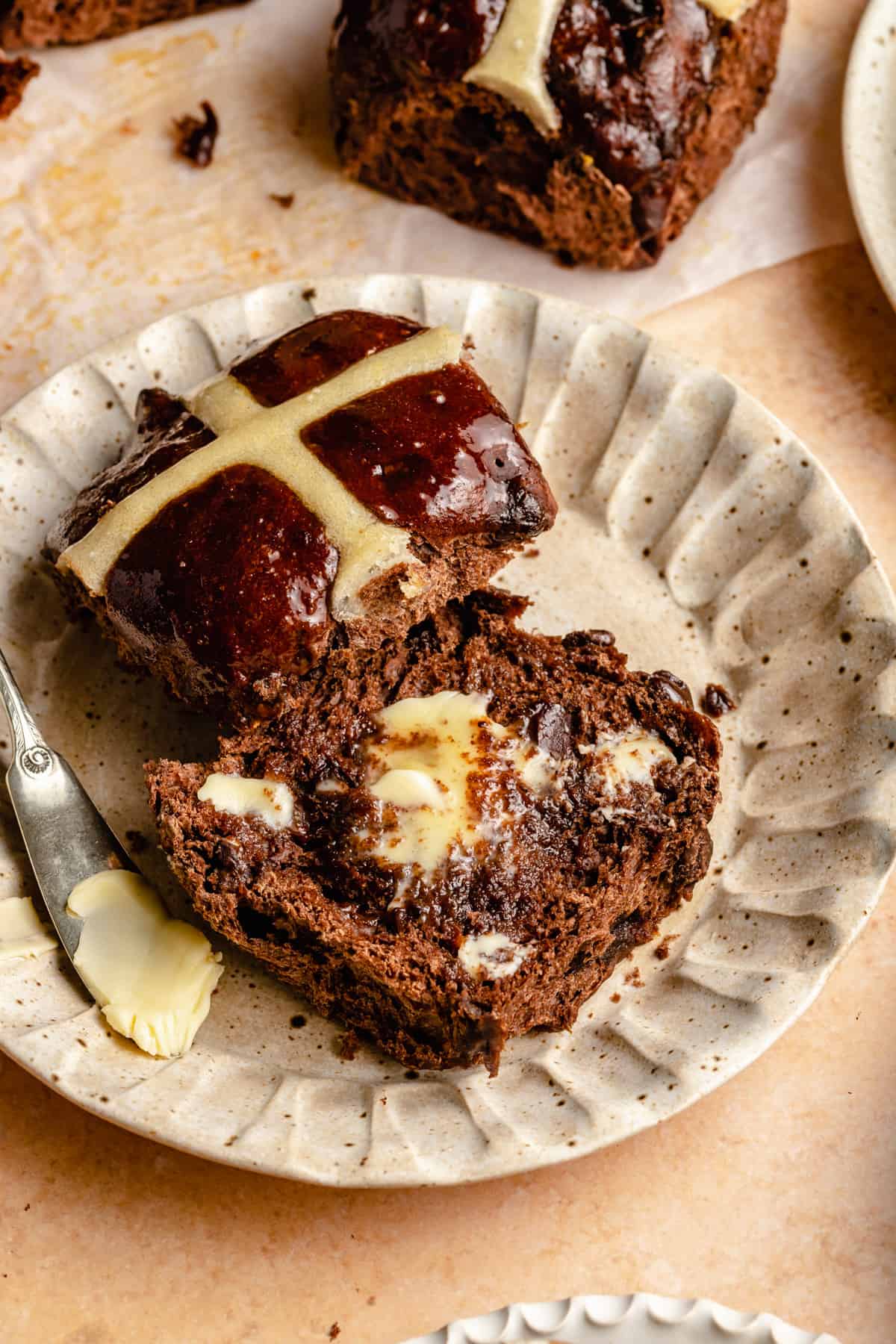 🥗 Related recipes
Love this chocolate hot cross buns recipe? Then you may want more of our Easter recipes. Here are some suggestions to get you started:
Love this recipe? Leave us a 5-star ⭐️⭐️⭐️⭐️⭐️ rating in the recipe below and don't forget to leave a review in the comments section underneath the recipe. We love hearing from you!
Why not follow along with us on our social media channels @Instagram @Facebook and @Pinterest and tag us with #eatloveeats when you've tried one of our recipes!
📖 Recipe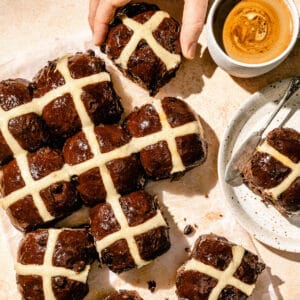 Chocolate Hot Cross Buns
The lightest, fluffiest and most indulgent chocolate hot cross buns which make the perfect snack to enjoy throughout Easter. Packed with chocolate chips, spices and dried cherries.
Print Recipe
Pin Recipe
⭐️ Rate Recipe
Ingredients
Instructions
Add the milk, water, butter, cardamom pods, cloves and vanilla extract to a small saucepan. Heat gently until the butter melts then remove from the heat and set aside to infuse. The milk should be around 46°C/115°F.

120 ml milk,

42 g unsalted butter,

2 cardamom pods,

2 cloves,

1 teaspoon vanilla extract,

80 ml water

In the bowl of a stand mixer fitted with a dough hook add the dry ingredients and stir together to combine.

455 g strong white bread flour,

45 g cocoa powder,

10 g fine sea salt,

75 g caster sugar,

10 g dried active yeast,

1 tablespoon orange zest,

1 tablespoon ground cinnamon,

¼ teaspoon ground cardamom,

½ teaspoon freshly grated nutmeg

Remove the whole spices from the warm milk, add to the flour mixture along with the eggs. Mix on low speed (speed 2) until a smooth dough forms, kneading for 8-10 minutes. The dough should be soft and smooth, not overly sticky but slightly tacky to the touch. If you need more flour or water you can adjust 1 tablespoon at a time.

Form the dough into a ball and place in a lightly oiled bowl, cover with cling film and leave to proof in a warm place (23-26°C) for 1-2 hours until doubled in size.

Whilst the dough is proofing, prepare the cherries by cutting in half and soaking in the juice from ½ an orange. Set aside.

juice of ½ an orange,

90 g dried sour cherries

Once the dough has doubled, knock it back on a lightly floured surface into a flat round. Drain the cherries and pat dry with kitchen paper, sprinkle over the dough with the chocolate chips. Press into the dough. Thoroughly incorporate the mix-ins by folding and kneading the dough. Form into a ball, place back into the oiled bowl and proof until roughly doubled in size, about 1 hour.

180 g dark chocolate chips

Preheat the oven to 200°C/400°F, line a lightly greased 9 x 13 high sided baking pan with parchment paper. Knock back the dough and cut it into 12 equal pieces which should work out roughly 100g a bun. Shape the 12 dough pieces into balls and gently flatten the tops so they are all the same height, place into the prepared pan.

Cover and leave to proof for about another hour until touching and roughly doubled in size.

Whilst proofing, mix together the flour and water for the crosses until smooth. Pipe the cross mixture over the tops of the doubled hot cross buns. Bake for 25-28 minutes until cooked through, about an internal temperature of 87°C/190°F.

60 g all purpose flour,

60 ml water

Prepare the glaze in a small pan by mixing the ingredients together and heat until gently simmering, the mixture will thicken slightly. Set aside and brush the tops of the buns with the glaze as soon as they come out of the oven. Cool in the pan for 5-10 minutes before removing them to a cooling rack. Cool and serve toasted, slathered in butter.

2 tablespoons icing sugar,

juice of ½ an orange
Notes
Use the gram measurements for the most accurate results. It's best to use digital scales. 
Make sure you proof in a warm environment around 23-26

°C/73-78°F otherwise the rising of the dough will take a lot longer than stated. 

Use dutch processed cocoa powder.
Recipe heavily adapted from Paul Hollywood.
Nutrition
Serving:
1
bun
|
Calories:
352
kcal
|
Carbohydrates:
58
g
|
Protein:
9
g
|
Fat:
10
g
|
Saturated Fat:
7
g
|
Polyunsaturated Fat:
1
g
|
Monounsaturated Fat:
1
g
|
Cholesterol:
36
mg
|
Sodium:
358
mg
|
Potassium:
240
mg
|
Fiber:
5
g
|
Sugar:
17
g
|
Vitamin A:
417
IU
|
Vitamin C:
1
mg
|
Calcium:
92
mg
|
Iron:
2
mg
Did you make this recipe?
Leave a comment below with how you got on and don't forget to give the recipe a rating ⭐️⭐️⭐️⭐️⭐️. You can also tag @eatloveeats on Instagram - we love to see your creations!