These loaded sweet potato fries are the answer to all your weeknight dinner dilemmas. The healthy answer to dirty fries but packed with all the flavour! A satisfying meal that takes under 45 minutes to make.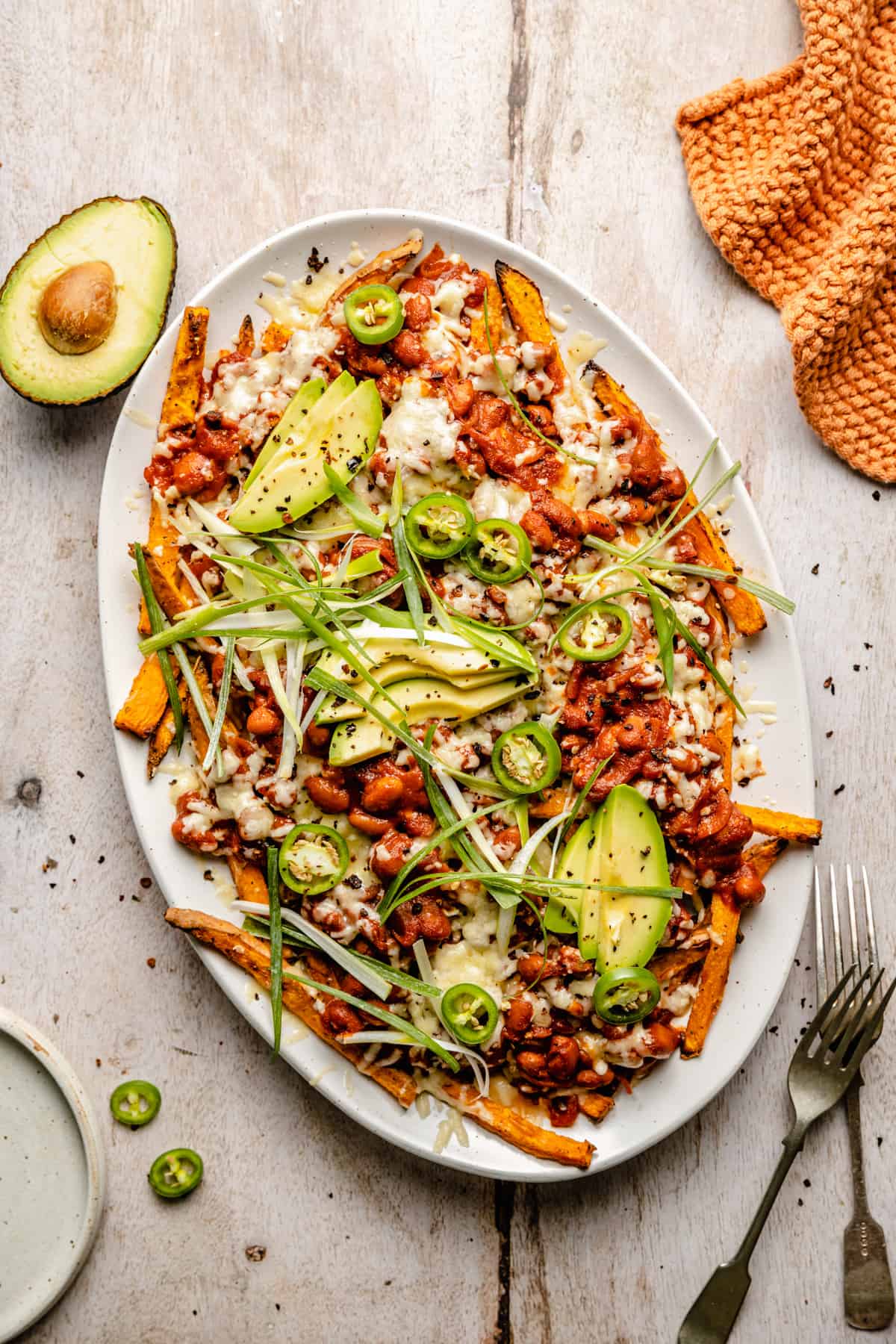 We're big lovers of dirty fries round here, so here's our version! Loaded sweet potato fries are a favourite in our house when indulgence is desired. It's quick to prepare, as simple as chopping some sweet potatoes and popping in the oven and making some one pot smoky beans whilst they cook.
It looks like a lot of ingredients but this sweet potato fry recipe has been refined over the years to be packed with flavour and we think it's spot on. If you like simple dinner meals you'll love our Slow Cooker Chicken Corn Chowder, Sweet Potato Kale Salad, Chicken Tostada Salad Bowl or Sausage Ragu with Pappardelle recipes.
You'll love every bite you take of these and we've got loads of ways you can customise them to your preferences. So let's get to it, just use the links below to get to where you want. Be sure to leave a comment and rating when you've made the recipe, we love hearing from you.
Jump to:
Why you'll love this recipe
Here are some reasons why you need this loaded sweet potato fries recipe in your life:
Healthy - Ok, you wouldn't ever think you could have dirty fries/loaded fries that are healthy. But these are packed with nutritious ingredients and depending on the additional toppings are definitely healthy!
Moreish - Oh my, how these are packed full of flavour; the smoky beans work perfectly with the sweet potato fries. You'll honestly want to keep going back for more.
Satisfying - with plenty of protein and fibre from the sweet potatoes and beans you'll feel satisfied for longer. No grumbly tummies here!
Customisable - this recipe is completely customisable with ingredients in the beans and seasonings. Don't forget the myriad of additional toppings you can add!
Veggies - this recipe works out about 3-4 portions of vegetables in one meal, probably more, we've been a bit conservative. Great to meet your five-a-day needs.
Ingredients
You only need simple ingredients for this loaded sweet potato fries recipe, this is what you'll need: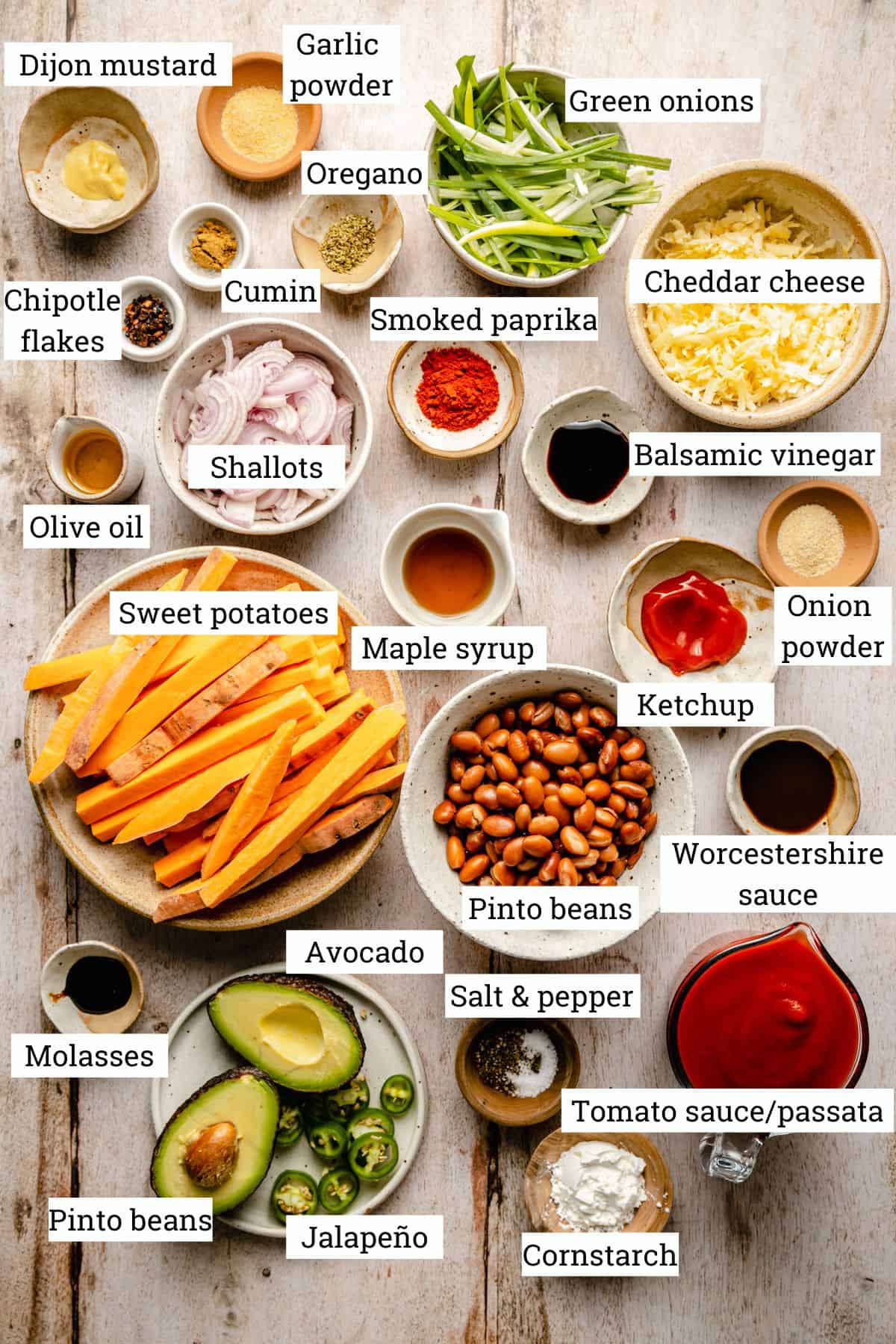 Sweet potato - we enjoy orange sweet potatoes, but you could also switch for white sweet potatoes if you have them available.
Cornstarch - a common ingredient we use to aid in crisping up the sweet potato fries. It's simple and readily available but really does work a treat.
Beans - you'll need pinto beans for the smoky beans, but you can readily use any beans you wish.
Smoky touch - with all the lovely spices we use, a key one is smoked paprika, or pimenton de la vera. Get the best quality you can, it REALLY does make a difference.
What to serve on top
There are a million options you can add on top of the loaded sweet potato fries, here are some of our recommendations:
Pulled meat - If you have any leftover pulled pork or chicken, that will add even more protein and make this even more filling.
Fried egg - a fried egg would be perfect on top of these, especially with a runny yolk!
Guacamole - think of these loaded fries like nachos and go crazy with guacamole, sour cream, pickled jalapeños, coriander and the like.
Bacon - fry up some crispy streaky bacon and crumble over the top or just add straight to the beans.
Customisations
We know you love to mix things up with customisations and substitutions so here are some of our recommendations:
Vegan - this recipe is vegan as long as you use vegan friendly toppings for the cheese and such. The additional options to serve with are up to you.
Seasoning - feel free to adjust the seasonings as you see fit. If you don't have chipotle flakes, just use red pepper flakes.
Beans - we love pinto beans in this recipe, but have used all types. Try it with kidney beans, cannellini beans, butter beans or even chickpeas if you must.
Cheese - go crazy with it, we use mozzarella and cheddar, but you can use whichever cheese takes your fancy. Smoked gouda would be a great option!
How to make loaded sweet potato fries
Follow these simple step by step guides to success for this recipe:
Making the fries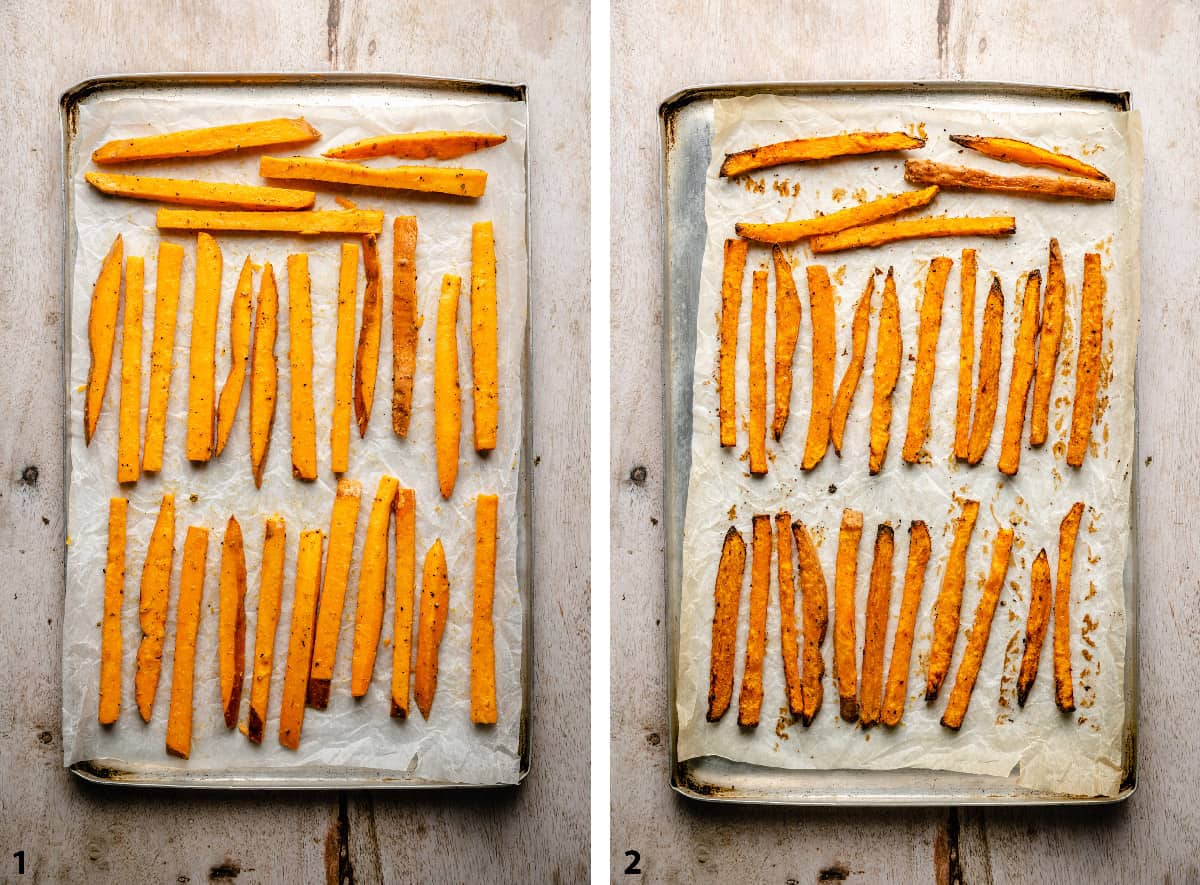 Cut the fries into an even size (and if you have time, soak them in cold water). Drain and thoroughly dry with paper towels. Place in a large bowl and drizzle over the oil and coat evenly. Sprinkle over the cornstarch and spices and rub them into the fries.
Place evenly on a parchment lined baking sheet with space between each fry and bake in an oven preheated to 225C/450F for 15 minutes, flip fries then bake for another 15 minutes until crispy and golden.
Making the smoky beans
In a medium saucepan, heat a teaspoon of oil and sauté the shallots gently for 4-5 minutes, until soft. Stir in the spices and cook for another minute.
Add the beans to the onion mix and stir together.
Add the tomato sauce, ketchup, maple syrup, molasses, balsamic vinegar, Worcestershire sauce and Dijon mustard and stir together.
Simmer over a medium heat for 5 minutes to allow the flavours to meld and develop.
Expert tips
Make sure to read and follow these expert tips to ensure complete success with this sweet potato fries recipe:
Cornstarch - cornstarch is the best way to get a crispy sweet potato fry. A good dusting of this will dry out the surface of the fry to help make them more stable for a bean sauce on top.
Rub - be sure to rub the spices and cornstarch well into the fries, ensuring every part of all the fries are coated evenly.
Make ahead - the smoky beans are great to make ahead of time and will store well in an air tight container in the fridge for up to a week. Reheat and spoon over your fries.
Skin on - we highly recommend leaving the skin on your sweet potatoes as that's where all the best nutrients are.
Beans - if you have leftovers of our Easy Three Bean Chili, you won't go wrong with slathering this chili on top of the fries either!
Tips for crispy fries
1. Soak - if you have time, soak the fries in cold water for 30 minutes or up to 8 hours to remove any excess starches, dry afterwards.
2. Cornstarch - this brings any extra moisture out of the fries to the surface which steams off when baking, leading to a crispier texture.
3. Seasoning - adding the spices whilst rubbing in the cornstarch will aid crisping by creating more surface area.
4. Oven temp - make sure your oven temperature is hot, no lower than 220C/425F, lower will cause the fries to steam.
5. Space out - use a parchment lined baking sheet and ensure the fries are in a single layer with space between them.
6. Even size - cut the fries to an even size, this allows for even cooking so some don't burn before others are fully cooked.
Recipe FAQs
What goes with sweet potato fries?

These loaded sweet potato fries are great as they are, but you can easily serve them alongside chicken wings or a burger. Alternatively, you can simply serve them with a dipping sauce or drizzled in our spicy bbq sauce from these Chicken Wings.
Why won't my sweet potato fries go crispy?

A couple of reasons:
1. You've over crowded your fries, make sure they are in one layer and spaced apart from each other.
2. You didn't dry them off properly before applying the oil, seasonings and cornstarch.
3. Oven temperature, if the oven is set at too low a temperature your fries will just steam.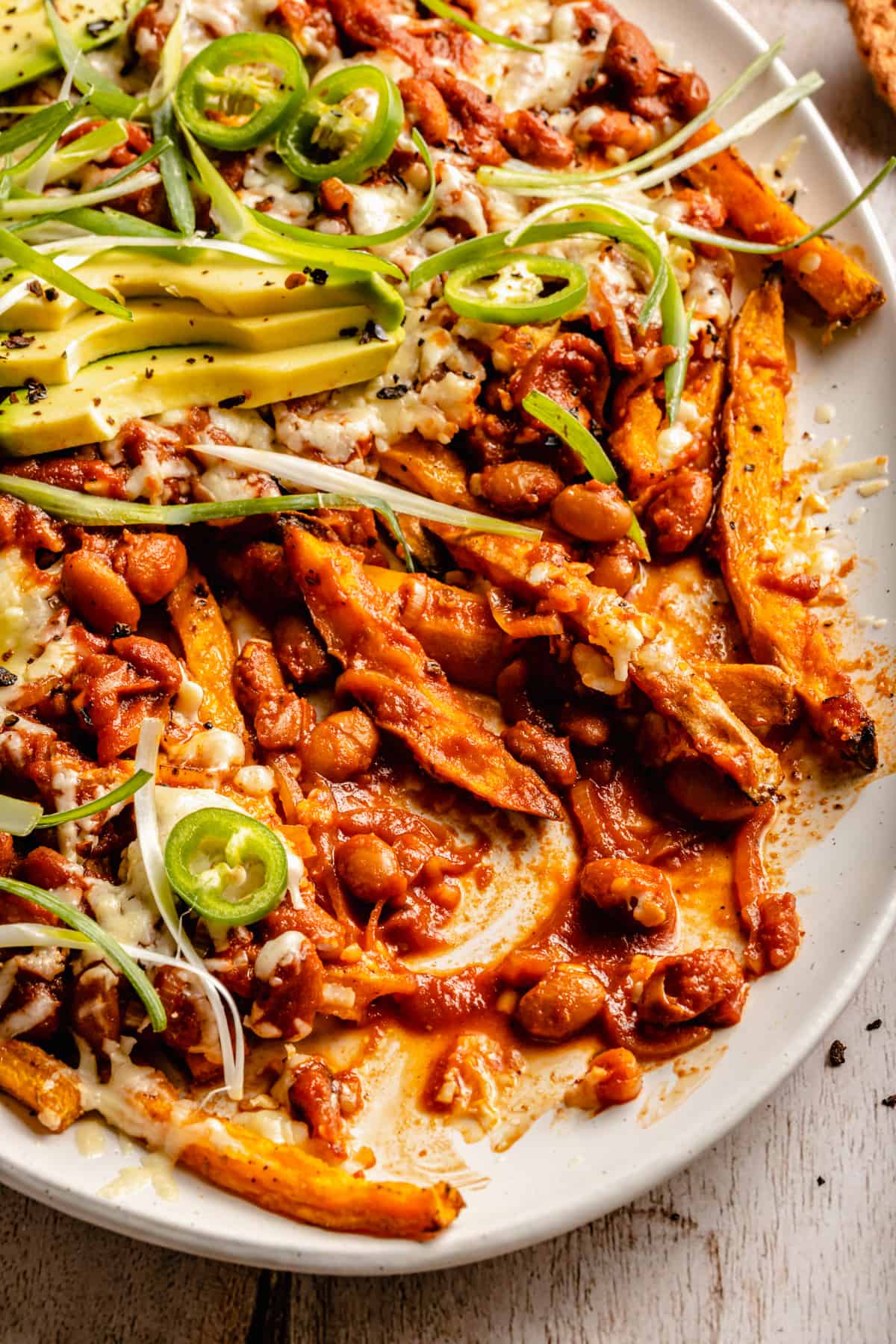 Related recipes
Love this loaded sweet potato fries recipe? Then you may want more of our vegetarian recipes - here are some suggestions to get you started:
Love this recipe? Leave us a 5-star ⭐️⭐️⭐️⭐️⭐️ rating in the recipe below and don't forget to leave a review in the comments section underneath the recipe. We love hearing from you!
Why not follow along with us on our social media channels @Instagram @Facebook and @Pinterest and tag us with #eatloveeats when you've tried one of our recipes!
📖 Recipe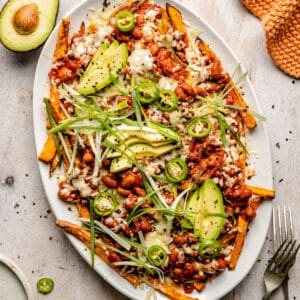 Loaded Sweet Potato Fries
Deliciously easy loaded sweet potato fries topped with incredible quick smoky beans. Dirty fries you can have any day of the week!
Print Recipe
Pin Recipe
⭐️ Rate Recipe
Ingredients
To serve
cheddar or mozzarella cheese

,

or any cheese you wish

green onions

,

spring onions

avocado

fried eggs

coriander

pickled jalapeño slices
Instructions
For the fries
Preheat oven to 220C (425F).

Chop each end off the sweet potatoes. Chop into even sized fries, about ¼ inch. If you have time, soak the fries in cold water for 30 minutes, drain and dry with paper towels.

Toss the dried fries in 1 tablespoon olive oil and coat evenly by rubbing them. Sprinkle in the cornstarch, onion powder, garlic powder oregano salt and pepper and rub together well.

1 tablespoon olive oil,

1 tablespoon cornstarch,

½ teaspoon garlic powder,

½ teaspoon onion powder,

¼ teaspoon oregano,

¼ teaspoon freshly ground black pepper,

½ teaspoon kosher salt

Spread out on a parchment lined baking sheet and bake for 25-30 minutes, turning halfway, until tender and crispy.
For the beans
Heat a teaspoon of oil in a small saucepan. Add the sliced shallot and a pinch of salt and fry gently under soft, about 4-5 minutes. Add the spices and stir to combine.

1 teaspoon olive oil,

1 large shallot,

1 teaspoon smoked paprika,

½ teaspoon oregano,

¼ teaspoon cumin,

¼ teaspoon chipotle chilli flakes

Pour in the beans and stir to coat in the spices. Add the tomato sauce (passata), ketchup, maple syrup, molasses, vinegar, Worcestershire sauce, mustard, salt and pepper and stir well to combine. Cook over a medium heat for 5 minutes until the sauce has reduced a little and all of the flavours have melded.

1 14 ounce can pinto beans,

1 cup passata,

1 tablespoon tomato ketchup,

1 tablespoon maple syrup,

½ teaspoon molasses,

1 teaspoon balsamic vinegar,

2 teaspoons worcestershire sauce,

¼ teaspoon dijon mustard,

¼ teaspoon ground black pepper,

¼ teaspoon kosher salt

Serve the sweet potato fries topped with the beans and whatever toppings you fancy.

cheddar or mozzarella cheese,

green onions,

avocado,

fried eggs,

coriander,

pickled jalapeño slices
Notes
Soak the sweet potato fries in cold water for 30 minutes and drain off the starchy water. But ensure they are fully dry before coating with oil and the other ingredients.
These fries are best served immediately. 
The nutrition does not include additional toppings to serve (cheese etc).
Nutrition
Calories:
457
kcal
|
Carbohydrates:
62.5
g
|
Protein:
12.8
g
|
Fat:
18.3
g
|
Saturated Fat:
2.6
g
|
Polyunsaturated Fat:
2.4
g
|
Monounsaturated Fat:
11.9
g
|
Sodium:
1139.4
mg
|
Potassium:
1427.2
mg
|
Fiber:
16.4
g
|
Sugar:
27
g
|
Vitamin A:
455
IU
|
Vitamin C:
333
mg
|
Calcium:
137.1
mg
|
Iron:
5.6
mg
Did you make this recipe?
Leave a comment below with how you got on and don't forget to give the recipe a rating ⭐️⭐️⭐️⭐️⭐️. You can also tag @eatloveeats on Instagram - we love to see your creations!