This beetroot feta walnut salad is sublime! Made with seasonal, colourful beetroot and topped with an incredibly addictive dukkah made with walnuts and pumpkin seeds. No more boring salads for you!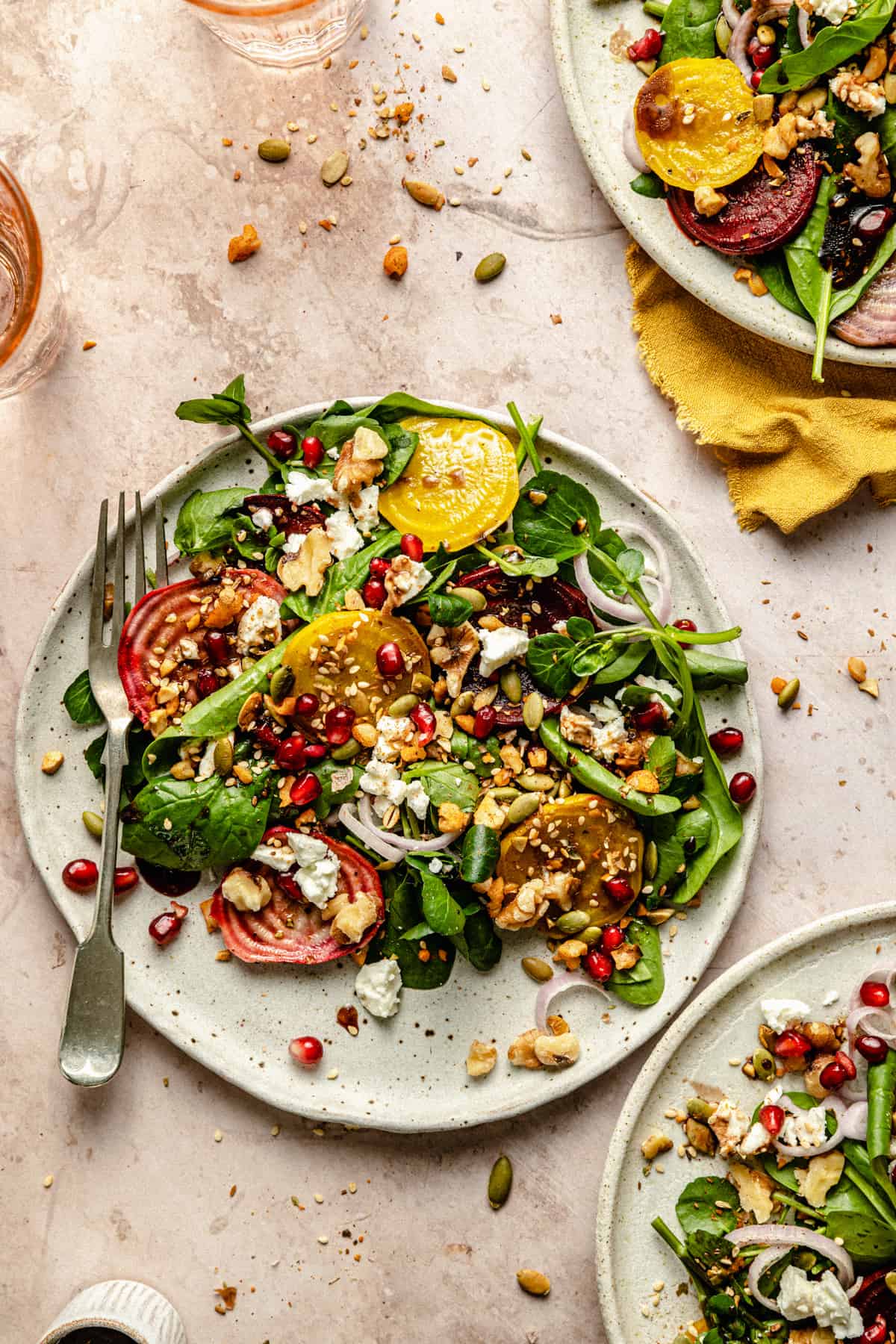 Oh what can we say about this insanely delicious beetroot feta walnut salad!? It's crunchy, warming, juicy and packed with flavour. With a Middle Eastern twist, this salad is dressed in a zingy, sweet and balanced pomegranate dressing and topped with an addictive dukkah.
You won't regret making this beetroot salad for a main or a side dish. It's healthy and satisfying with all the nutrients you need to keep you going throughout the day. Despite the list of ingredients, this salad is very simple to whip together and a lot of it can be prepared ahead of time. Another simple salad you'll love is this Sweet Potato Kale Salad, Kale Chickpea Salad with Chicken or warm through with our Roast Pumpkin Salad with Chorizo.
If you're in the market for other ways to use beetroots, don't forget to add our Easy Beetroot Falafel, Roasted Beetroot Hummus or Beetroot Avocado Feta Salad to the list to whip up too! We know you'll love this beetroot feta walnut salad, don't forget to leave us a rating on the recipe below! We love hearing from you. Just follow the links to where you need to go below.
Jump to:
Why you'll love this recipe
Here are some reasons why you need this beetroot feta walnut salad recipe in your life:
Healthy - full of nutrients and plenty of vitamins, this beetroot salad is also high in protein and fibre giving you all you need to enjoy a healthy balanced meal.
Vibrant - oh boy the colours of these beetroot are stunning, why not make the most of their colours and flavour in this vibrant salad?
Flavour - we've made the flavour BIG here, there will be some eyes rolling back into your head with enjoyment. Ha! Kidding, but seriously, proper flavour here!
Middle Eastern inspired - the dressing and spice condiment we guide you through making to sprinkle over the beetroot salad before eating are inspired by Middle Eastern cuisine. Trust us, you need them!
Dukkah - a homemade flavour train for your tongue, that's what dukkah is. Toasted nuts, seeds and spices make this the ultimate condiment to top your salad with. You will NOT regret making this.
Ingredients
You only need simple ingredients for this beetroot feta walnut salad recipe, this is what you'll need: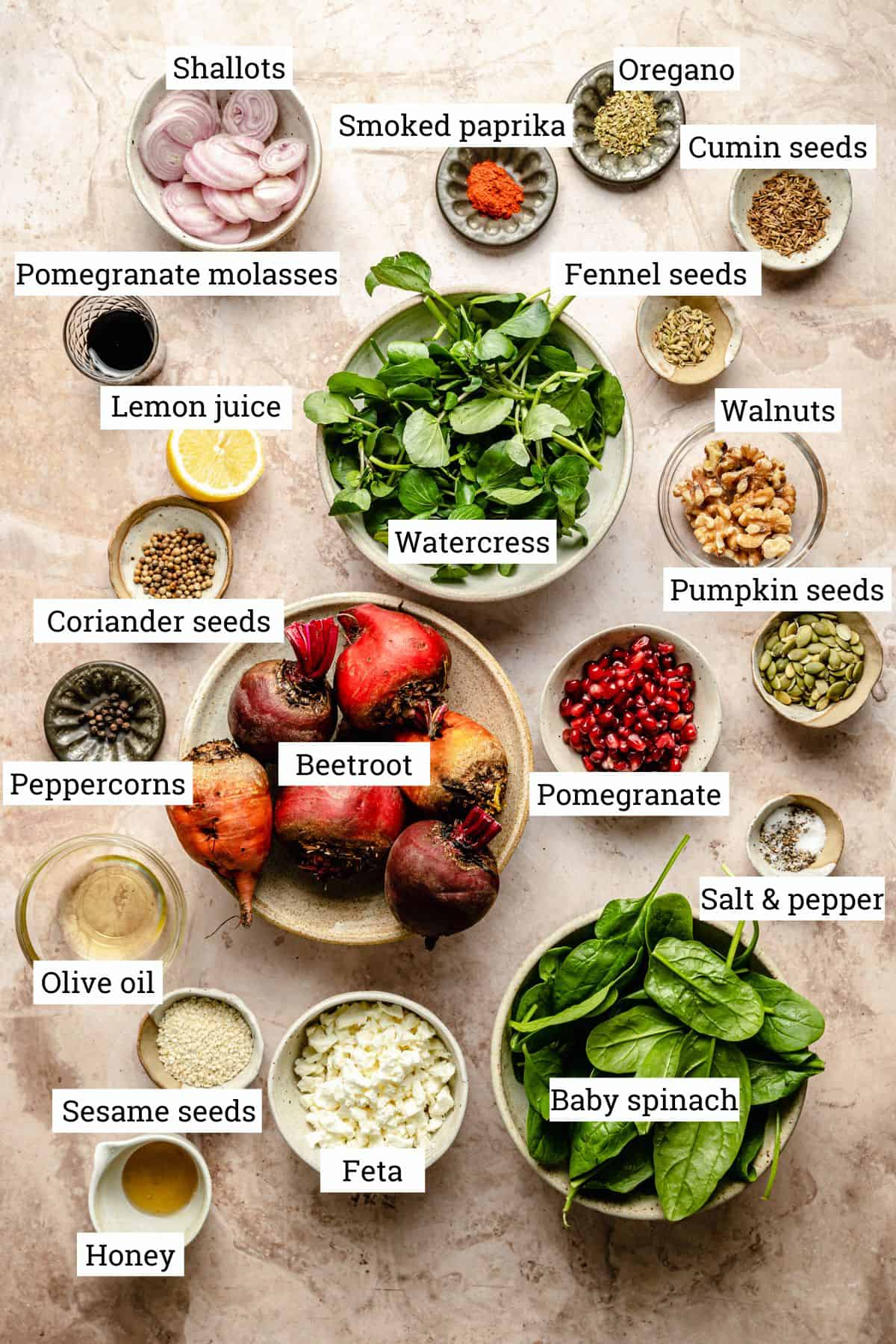 Beets - we managed to source some wonderful colourful beets; golden, candy and the traditional red beet. You don't have to use these, but they do make a pretty salad and they also taste amazing. Use what you have available.
Walnuts - walnuts are a key ingredient in this salad, they're toasted and crushed throughout the salad, but also integrated into the dukkah.
Feta - a good quality feta will add a nice salty touch but ultimately creamy flavour to the salad. You can also substitute with goat's or cotija cheese.
Dukkah - we guide you to make your own dukkah for this beetroot salad and it's awesome! But you can buy premade dukkah; depending on the brand the seasoning will change quite a bit.
What is dukkah?
Dukkah or duqqa is a Middle Eastern condiment made of herbs, nuts, seeds and spices. It's often served with dips and we decided to use it as a great flavour addition to our beetroot feta walnut salad.
Dukkah is most traditionally made with hazelnuts and is primarily made of ingredients that have been toasted and pounded together. The texture of the dukkah can vary significantly depending on where you get it or how it is made.
We've gone with a fairly coarse texture and switched the nuts to walnut, pumpkin and sesame seeds. Records show a varying spice blend from mint, coriander and cumin to marjoram and even the addition of chickpeas. Most commonly, you'll definitely find cumin and sesame seeds within the mix.
Customisations
We know you love to mix things up with customisations and substitutions so here are some of our recommendations for this beetroot salad recipe:
Cheese - we use feta cheese but you could substitute easily with goat's or cotija cheese if you prefer. You could even try roquefort or gorgonzola which pair well with beets, but there may be too much going on with our dressing and spices, you do you!
Dukkah - buy it premade or switch out the nuts/seeds to what you have, we recommend almonds, hazelnuts, pecans, sunflower seeds or flaxseeds and you can vary the level of spices if you wish. Although we do recommend trying the base recipe first then you can change it how you wish.
Pomegranate molasses - if you don't have pomegranate molasses, you can use balsamic vinegar instead for this beetroot salad. The dressing will taste different but it'll still be delicious.
Grains - if you want to bulk out this beetroot salad even more, you can throw in some Puy lentils or even a grain like farro or mixed grains.
How to make beetroot salad
Follow these simple step by step guides to success for this beetroot feta walnut salad recipe:
Roasting beets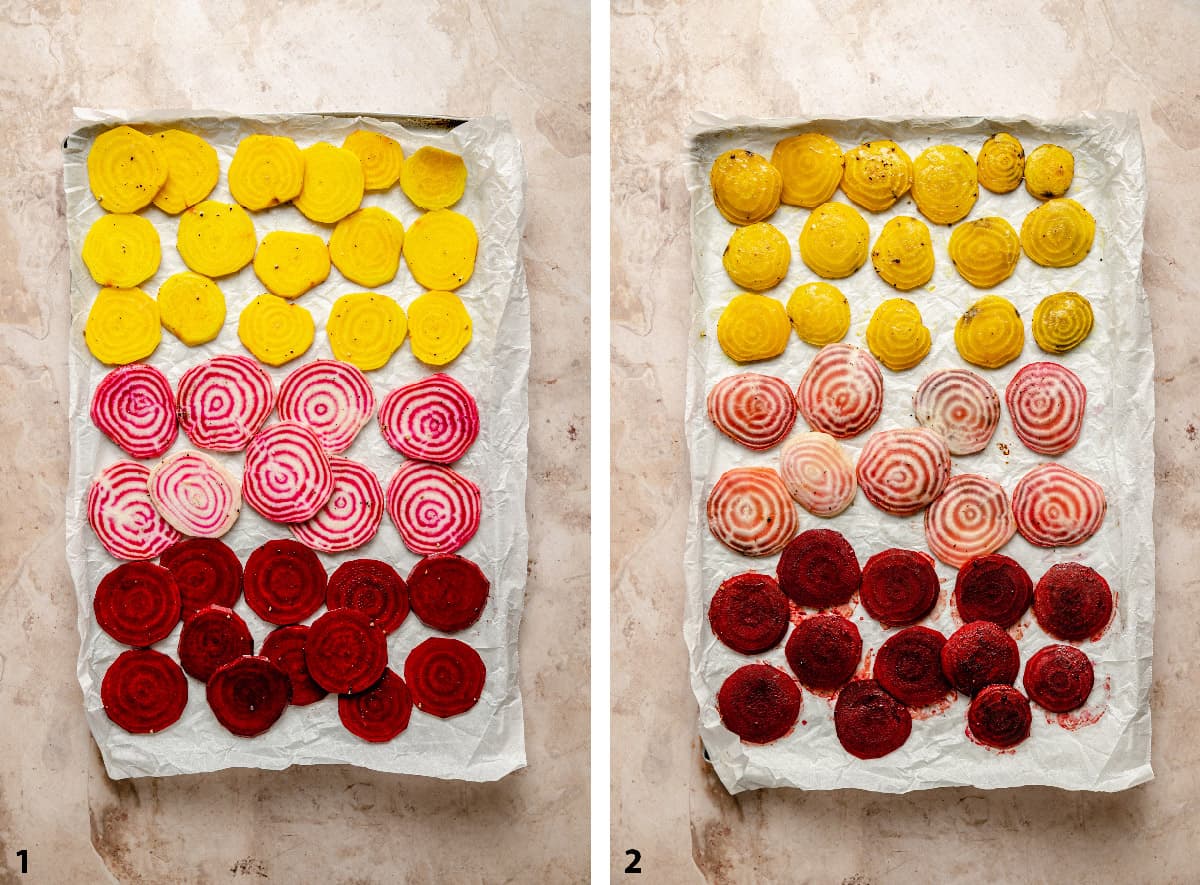 Peel and slice your beets into ¼ inch slices with a mandolin. Toss in the oil, salt and pepper. (separately if using different coloured beets to avoid colour transfer)
Roast in a preheated oven at 180C/350F for 10 minutes, turn and bake for another 10-15 minutes until tender. Set aside.
Making dukkah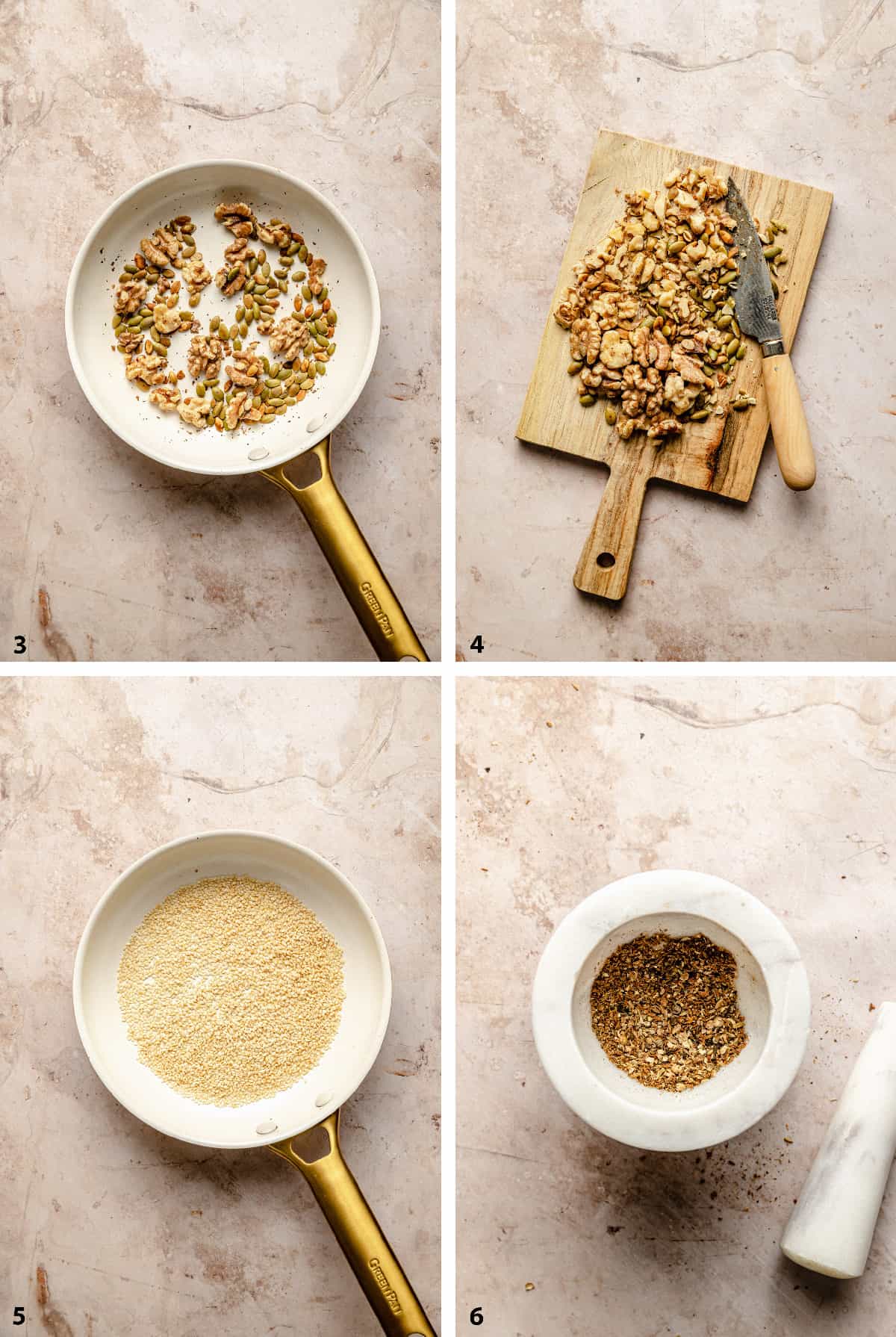 In a small skillet, toast the walnuts and pumpkin seeds until fragrant and the seeds start to pop. About 5 minutes.
Remove to cool on a chopping board, then roughly chop them to get an even texture across the board.
Toast the sesame seeds for a few minutes until golden.
Toast the cumin, coriander and fennel seeds with the black peppercorns for a few minutes until fragrant. Remove to a pestle and mortar and lightly bash to make a coarse powder.
Making the dressing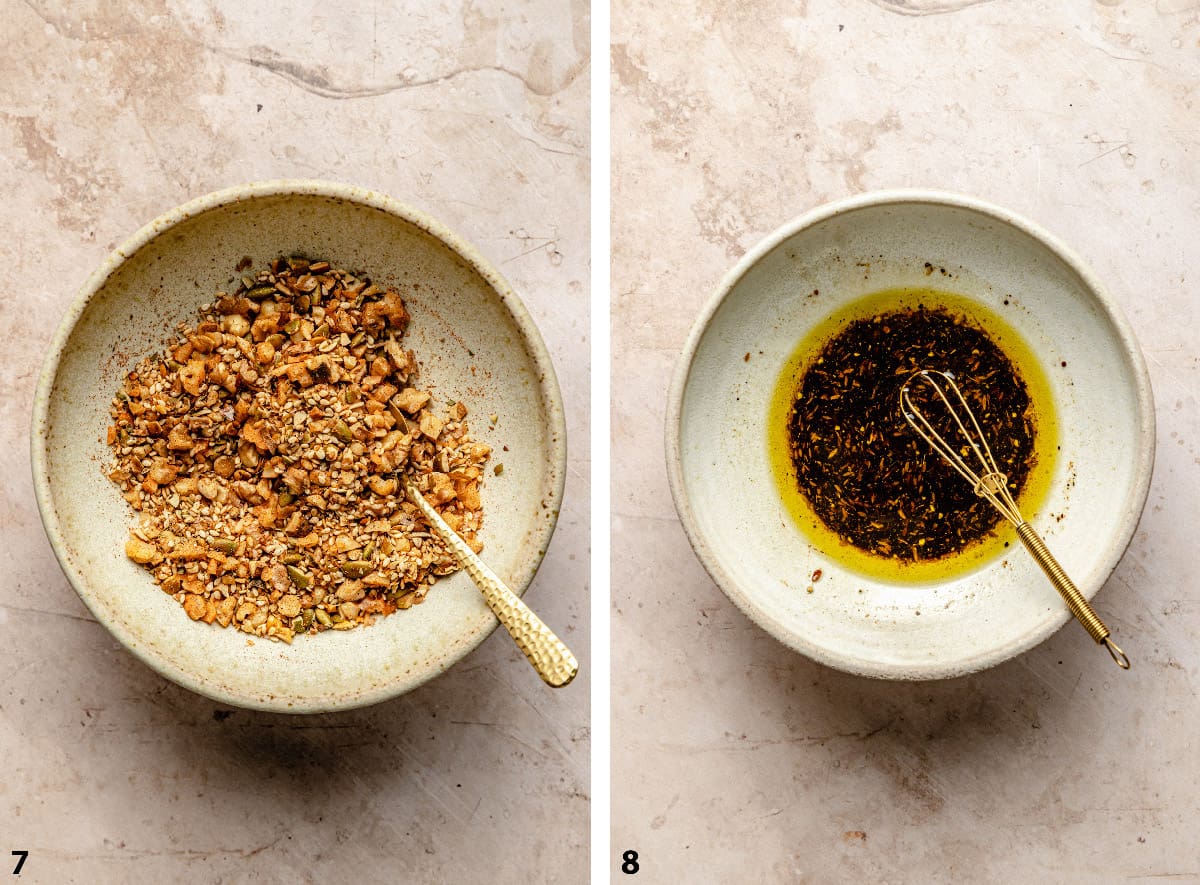 Mix the toasted chopped walnuts and pumpkin seeds with the sesame seeds, crushed spices and add smoked paprika, oregano and salt. Set aside. This dukkah will last for a month in a jar.
Stir together the olive oil, pomegranate molasses, lemon juice, honey, crushed cumin seeds, salt and pepper in a bowl. Drizzle over the salad to serve.
Expert tips
Make sure to read and follow these expert tips to ensure complete success with this beetroot feta walnut salad recipe:
Make ahead - the dukkah spice condiment can be made ahead of time and keeps in a jar for a month to use in various salads or dips as you please. You might even eat it with a spoon!
Eat immediately - once all the ingredients are tossed together and dressed we highly recommend eating immediately as the dressing will make the leaves wilt.
Cold - the beetroot component of the salad can be left to go completely cold and eaten whenever you are ready to throw it together.
Gloves - definitely wear gloves whilst peeling the beets, especially the red ones, unless you don't mind being caught red handed, literally. Stains will wash out with lemon juice and soapy water over time though.
Tips for roasting beetroot
Follow these tips for a successful time roasting beets at home.
Time - think about how long you want to roast the beets for. We've sliced ours thinly and roasted them for a shorter time. If you roast them whole they'll take longer, cut into wedges or cubes if you wish.
Less hassle - if you want to, you can roast the beets whole, by wrapping in foil with a touch of oil and roasting for 45-60 minutes until a knife goes through easily.
Peeling - you don't have to peel the beetroot, we did that purely for photography aesthetics, but you can leave the skin on and peel after roasting. Or roast them peeled. Either way, you can eat the skins if you thoroughly scrub them clean.
Seasoning - beetroot love a good seasoning. It really does bring out the sweetness in balance with the earthiness. Don't be shy with the salt. We layer the salt throughout; roasting, dressing, feta, dukkah. It all comes together in a majestic way.
Recipe FAQs
What cheese goes well with beetroot?

Sharp or acidic cheeses with strong flavours go well with beetroot. Feta, goat's cheese, roquefort, gorgonzola or stilton all work.
Why are beets healthy?

Beets are full of folate, vitamin B9, which is great for healthy blood and good for brain function. It's especially important in the production of the genetic material of our bodies. Beetroot eaten in a balanced diet will contribute to a healthy lifestyle.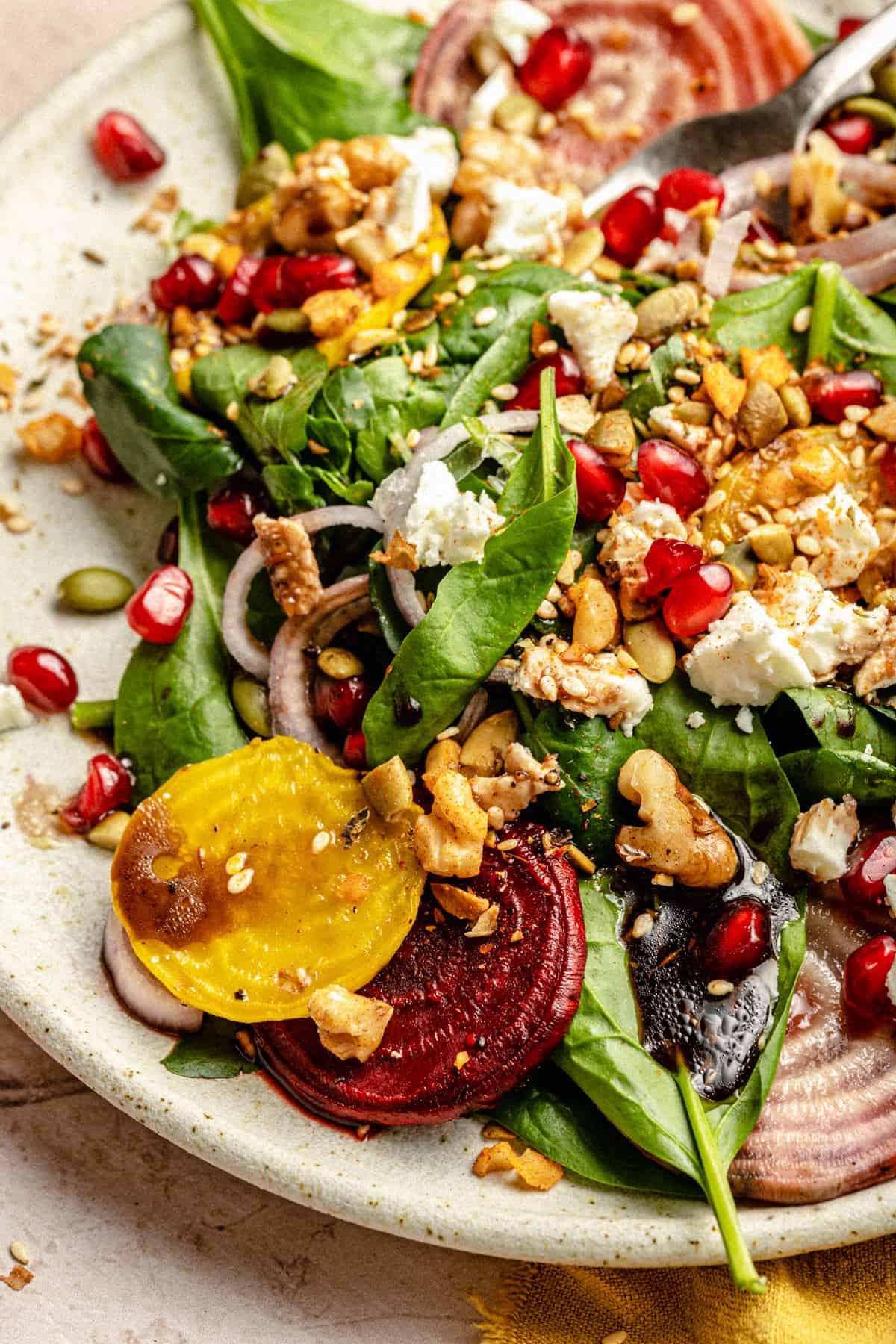 Related recipes
Love this beetroot feta walnut salad recipe? Then you may want more of our salad recipes, here are some suggestions to get you started:
Love this recipe? Leave us a 5-star ⭐️⭐️⭐️⭐️⭐️ rating in the recipe below and don't forget to leave a review in the comments section underneath the recipe. We love hearing from you!
Why not follow along with us on our social media channels @Instagram @Facebook and @Pinterest and tag us with #eatloveeats when you've tried one of our recipes!
📖 Recipe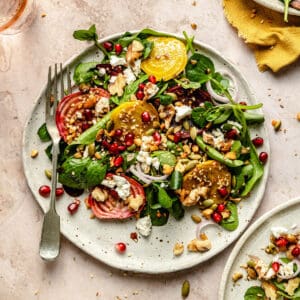 Beetroot Feta Walnut Salad with Dukkah
A rustic roasted beetroot, feta and walnut salad topped with a Middle-Eastern inspired dressing and an addictive homemade dukkah.
Print Recipe
Pin Recipe
⭐️ Rate Recipe
Ingredients
Walnut and pumpkin seed dukkah:
Instructions
Preheat oven to 180°C/350°F. Scrub and peel the beetroot then slice into ¼" thick rounds. Keep the colours separate to avoid staining them all red. Drizzle with olive oil, salt and pepper and toss to coat. Bake in a single layer in the preheated oven for 10 minutes then toss and bake for another 10-15 minutes or until fork tender.

1 ½ pounds mixed beetroot,

1 tablespoon olive oil,

½ teaspoon kosher salt,

¼ teaspoon freshly ground black pepper
Walnut & Pumpkin Seed Dukkah
Toast the walnuts and pumpkin seeds in a skillet over a medium heat for 5 minutes until fragrant and the pumpkin seeds start to pop. Remove and set aside on a chopping board to cool. Once cool, roughly chop to even sizes.

¼ cup walnuts,

2 tablespoons pumpkin seeds

In the same skillet toast the cumin seeds, coriander seeds, fennel seeds and black peppercorns for a few minutes until fragrant. Pour into a pestle and mortar and lightly crush into a medium/coarse powder. Toast the sesame seeds on their own for a few minutes until golden. Remove and add to a bowl.

½ teaspoon cumin seeds,

½ teaspoon coriander seeds,

¼ teaspoon fennel seeds,

¼ teaspoon black peppercorns,

2 tablespoons sesame seeds

Add the chopped walnuts and pumpkin seeds to a bowl along with the crushed toasted spices and sesame seeds. Add the smoked paprika, dried oregano, sea salt flakes and stir together. Set aside for later.

¼ teaspoon smoked paprika,

¼ teaspoon dried oregano,

½ teaspoon sea salt flakes
Pomegranate dressing
In a small bowl, whisk together the olive oil, lemon juice, pomegranate molasses honey, lightly crushed cumin seeds, salt and pepper until combined. Set aside.

2 tablespoons extra virgin olive oil,

1 tablespoon lemon juice,

1 tablespoon pomegranate molasses,

1 teaspoon honey,

¼ teaspoon cumin seeds,

¼ teaspoon kosher salt,

¼ teaspoon black pepper
Assemble the salad
Toss together the baby spinach, watercress and sliced shallot. Throw in the beetroot and mix together, then top with feta crumbles, pomegranate arils, crumbled walnuts and pumpkin seeds. Drizzle with the dressing, sprinkle over the dukkah and serve immediately.

1 large shallot,

½ cup feta,

⅓ cup pomegranate arils,

2 cups watercress,

2 cups baby spinach,

¼ cup walnuts,

2 tablespoons pumpkin seeds
Notes
The nutrition does not include the dukkah as it will make a lot more than you will be using.
Serve the salad whilst the beetroot are still warm, irresistible.
Dukkah heavily adapted from the book Salad Feasts.
Nutrition
Calories:
330
kcal
|
Carbohydrates:
29.2
g
|
Protein:
9.2
g
|
Fat:
21.8
g
|
Saturated Fat:
5.2
g
|
Polyunsaturated Fat:
5.7
g
|
Monounsaturated Fat:
9.8
g
|
Cholesterol:
16.7
mg
|
Sodium:
631.8
mg
|
Potassium:
847.7
mg
|
Fiber:
6.9
g
|
Sugar:
19.5
g
|
Vitamin A:
124.7
IU
|
Vitamin C:
23.8
mg
|
Calcium:
172
mg
|
Iron:
2.8
mg
Did you make this recipe?
Leave a comment below with how you got on and don't forget to give the recipe a rating ⭐️⭐️⭐️⭐️⭐️. You can also tag @eatloveeats on Instagram - we love to see your creations!