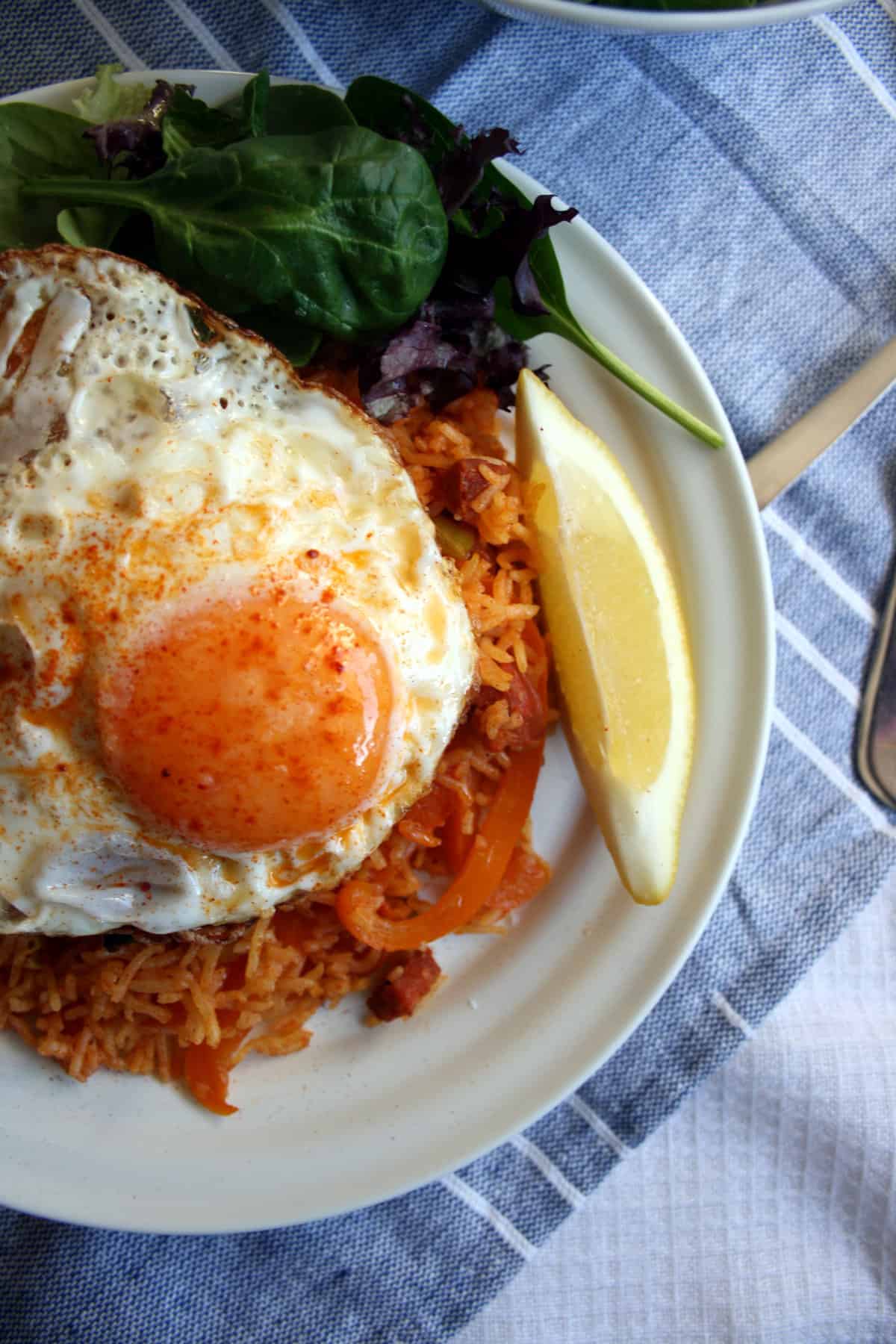 Now, I'm not one to cheat. When I'm cooking, I want the real deal. But, you know, I'm human and sometimes I come home from work and I just wanna EAT. Like, NOW. Even I just can't contemplate whipping up a real deal paella in that moment. And sometimes, I look in the fridge and it's like Old Mother Hubbard in there. Is there a more disheartening sight? Probably, but at 8pm after a long day at work, not to me. Enter 30-Minute Cheat's Paella. Emergency carbs delivery system for the minimally prepared and short of time.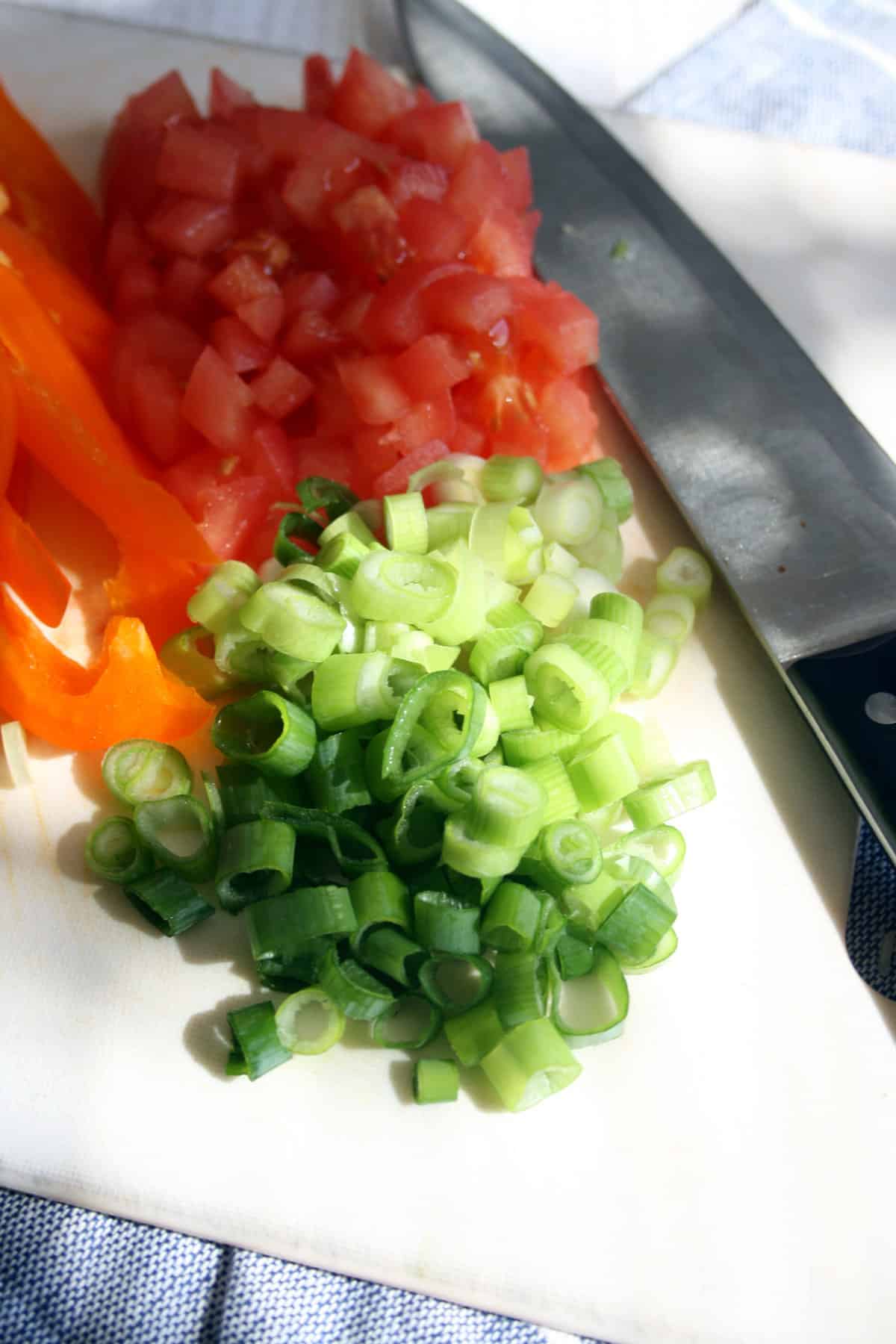 Now, there is some chopping involved, but I find that kinda therapeutic and you can do it whilst you're waiting for the rice to cook, so it's not like it adds to the cooking time at all. And the only meat involved is chorizo sausage so no dealing with raw meat at the end of a long day, let alone waiting for it to cook. You can even omit the chorizo if you really want to. But...really..?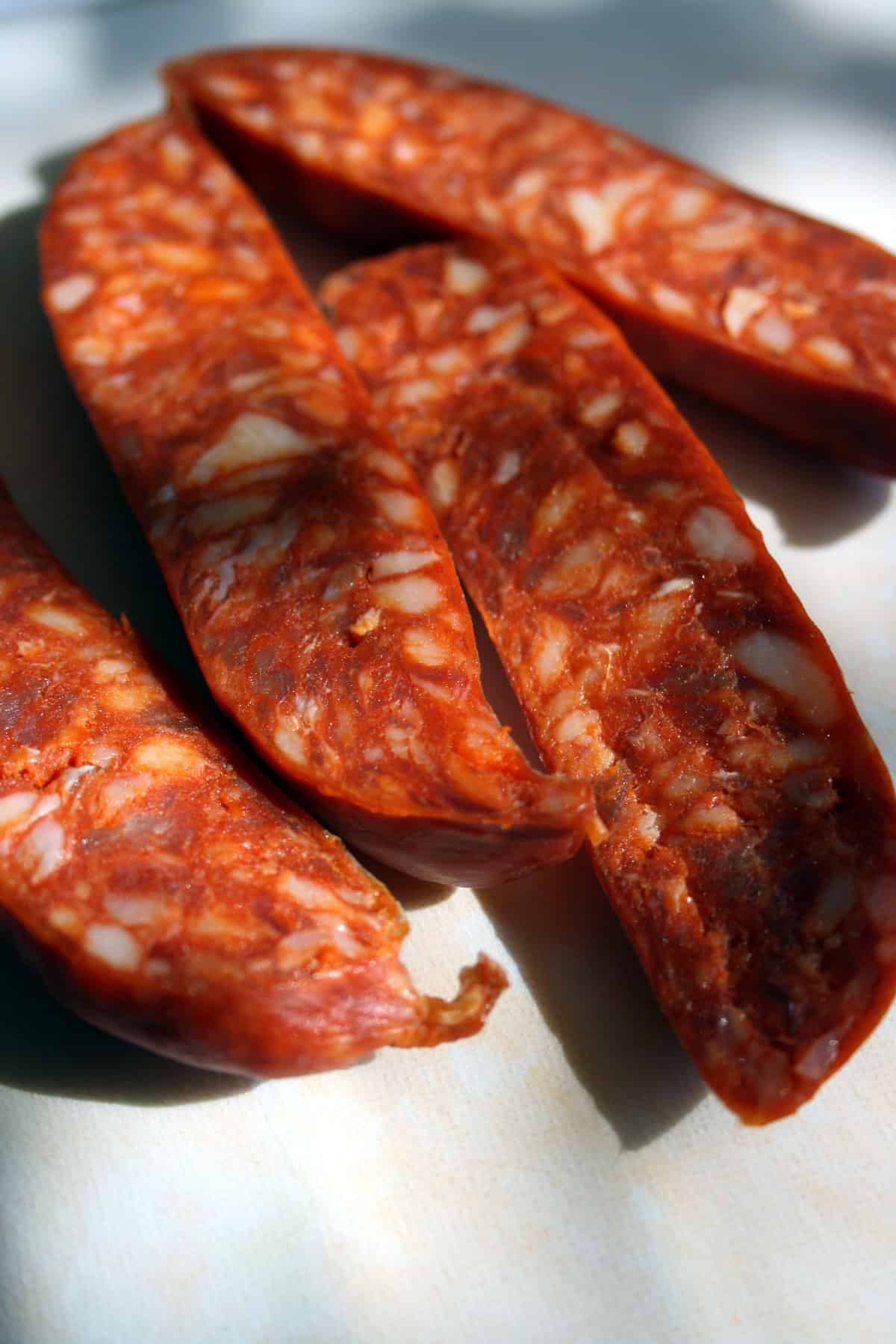 All things told, this is really nothing like paella. I mean, for a start, I'm using basmati rice here. And do they even put chorizo in paella? Probably not, but hey, we've already established that this isn't real paella. I daresay I'll probably post a recipe for actual paella one day. Anyway, this is really good comfort food and it comes together quickly. What more could you want? An egg on top, obviously.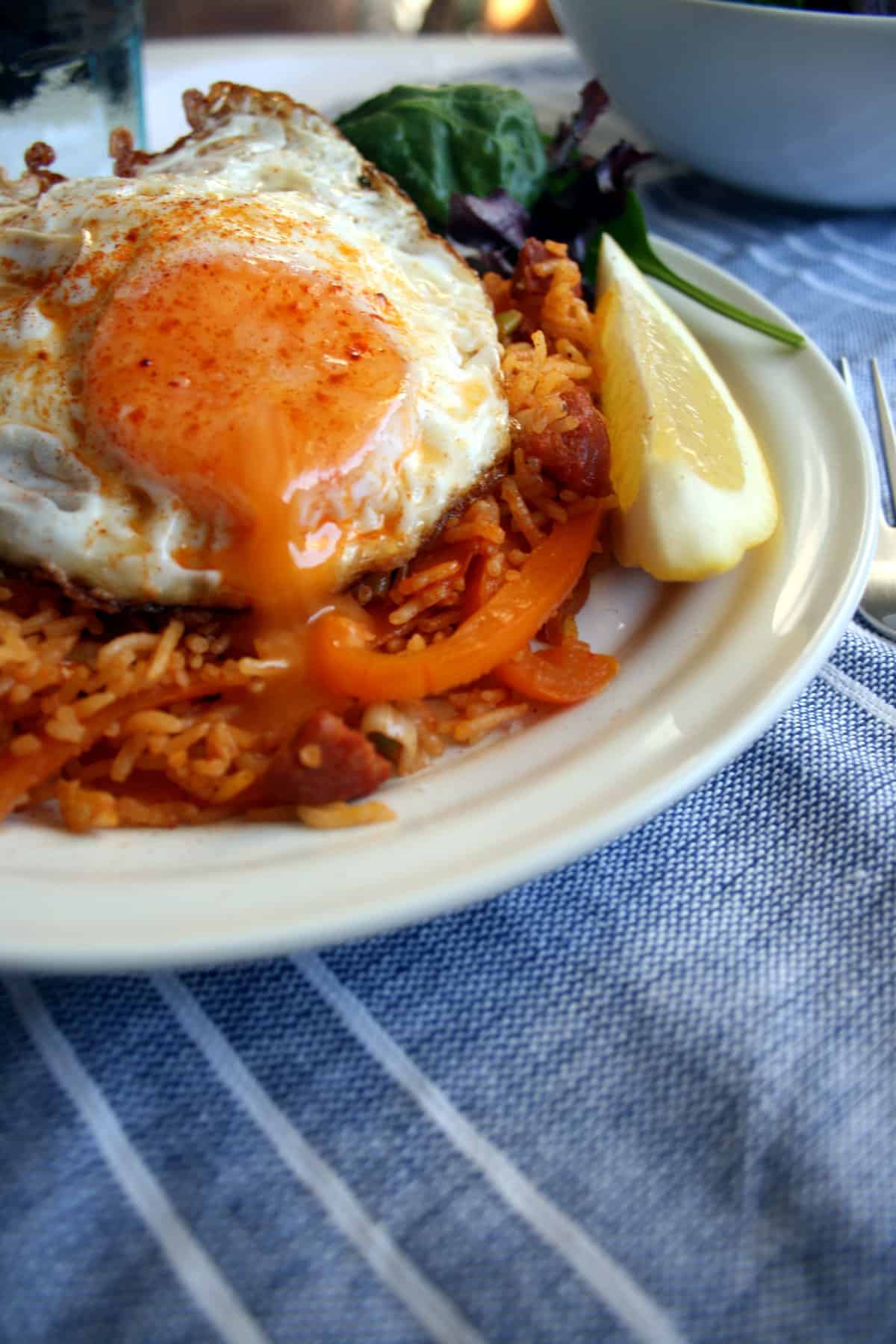 So here we have my 30-minute cheat's paella. It's fast, simple and delicious. I make it with chorizo, peppers and spring onions but you could pretty much change it up however you like. Don't like chorizo? Use bacon. Add mushrooms, peas, or any seasonal veg you like. Add prawns! That would be awesome. Whatever you have in your fridge, chuck it in. That's what this dish is about.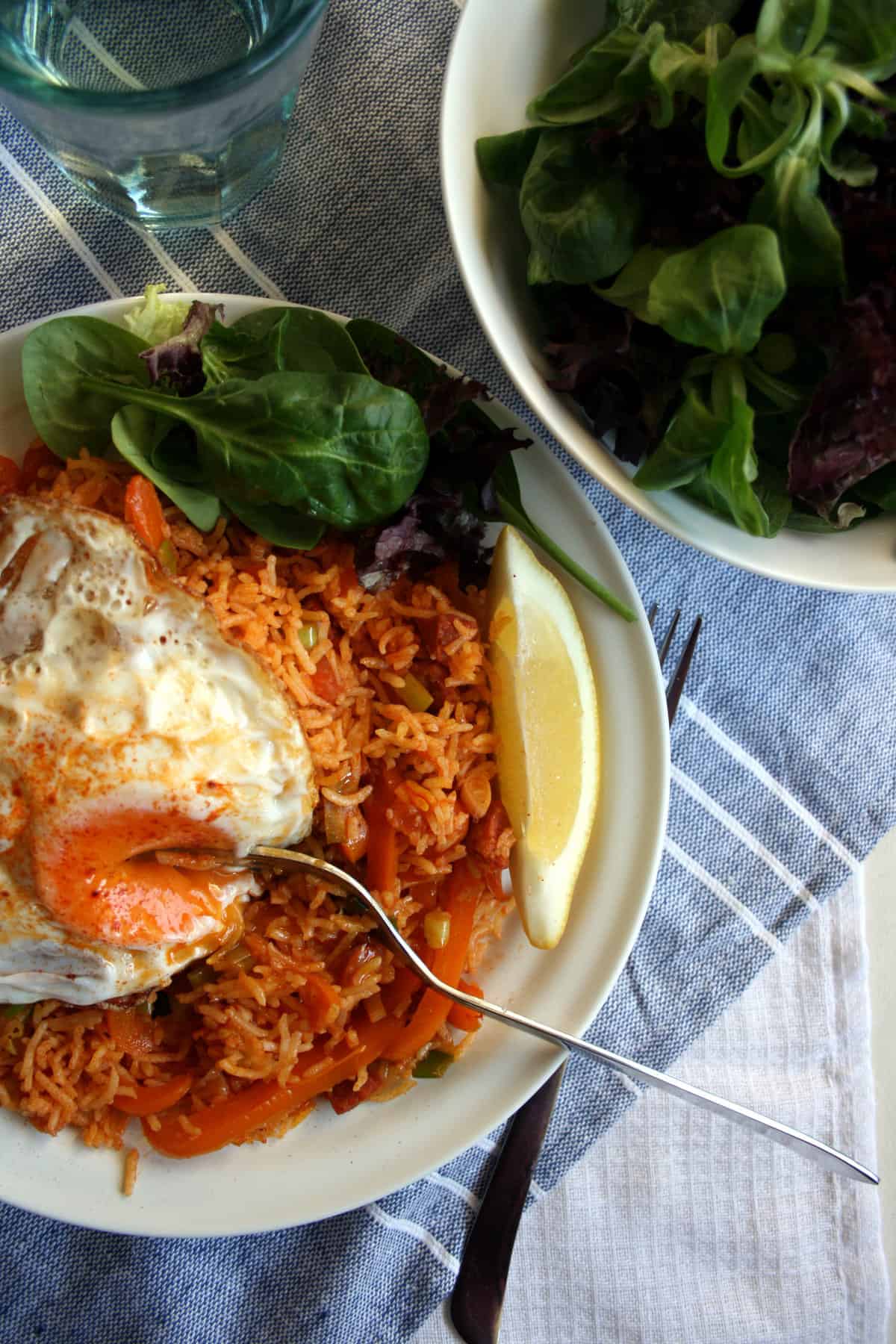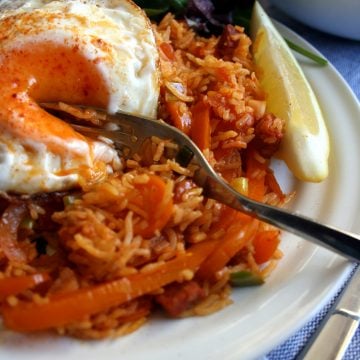 Ingredients
175

g/1 cup basmati rice

300

ml/1 ¼ cups chicken

,

or vegetable stock

pinch

of saffron

,

optional

100

g

spicy chorizo

,

2 small sausages, diced

1

bell pepper

,

finely sliced

3

spring onions

,

sliced

1

large tomato

,

peeled and diced

½

teaspoon

sweet smoked paprika

juice of half a lemon

salt and pepper

2

eggs
Instructions
First put the rice on to cook. In a medium saucepan (ideally heavy-based) add the rice, chicken stock and saffron along with a pinch of salt if the stock is unsalted. Bring to the boil. Once boiling, stir with a fork once only, clamp on a lid and turn the heat down as low as it will go. If your pan doesn't have a well-fitting lid, seal the pan with foil before putting on the lid. Cook for 10-12 minutes, turn off the heat and leave the lid on. Set aside.

175 g/1 cup basmati rice,

300 ml/1 ¼ cups chicken,

pinch of saffron,

salt and pepper

As the rice cooks, get started with the chorizo. Add the chorizo to a cold frying pan and turn the heat on to medium. Fry for 2-3 minutes until the fat runs out and the chorizo starts to crisp up but not burn. Remove to a small bowl with a slotted spoon and remove most of the fat from the pan.

Add the peppers to the pan and cook until softened, 5-10 minutes. Add the spring onions, tomatoes and smoked paprika and cook until softened and forming a sauce. Add back the chorizo.

1 bell pepper,

3 spring onions,

1 large tomato,

½ teaspoon sweet smoked paprika

After the rice has sat for at least 5 minutes, remove the lid and separate the grains with a fork. Add the forked rice to the vegetable and chorizo mixture along with the lemon juice. Season to taste.

juice of half a lemon,

salt and pepper

Heat a couple of tablespoons of olive or rapeseed oil in a frying pan until very hot. Crack in the eggs and fry over high heat until the white is cooked and the base is crispy and the yolk is still soft. Serve on top of a big pile of rice sprinkled with sea salt and smoked paprika.

2 eggs,

olive or rapeseed oil
Notes
The saffron is optional, but I do urge you to use it if you can. That pungent grassy note is unmistakeably paella.
If you choose to omit the chorizo, up the smoked paprika to 1 teaspoon to make sure you still get that smokey flavour.
Nutrition
Calories:
509
kcal
|
Carbohydrates:
46.2
g
|
Protein:
46
g
|
Fat:
10.1
g
|
Saturated Fat:
2.6
g
|
Polyunsaturated Fat:
2
g
|
Monounsaturated Fat:
3.3
g
|
Cholesterol:
295.5
mg
|
Sodium:
2647.7
mg
|
Potassium:
1280.5
mg
|
Fiber:
6
g
|
Sugar:
8.8
g
|
Vitamin A:
305.4
IU
|
Vitamin C:
149.1
mg
|
Calcium:
158.1
mg
|
Iron:
4.4
mg
Did you make this recipe?
Leave a comment below with how you got on and don't forget to give the recipe a rating ⭐️⭐️⭐️⭐️⭐️. You can also tag @eatloveeats on Instagram - we love to see your creations!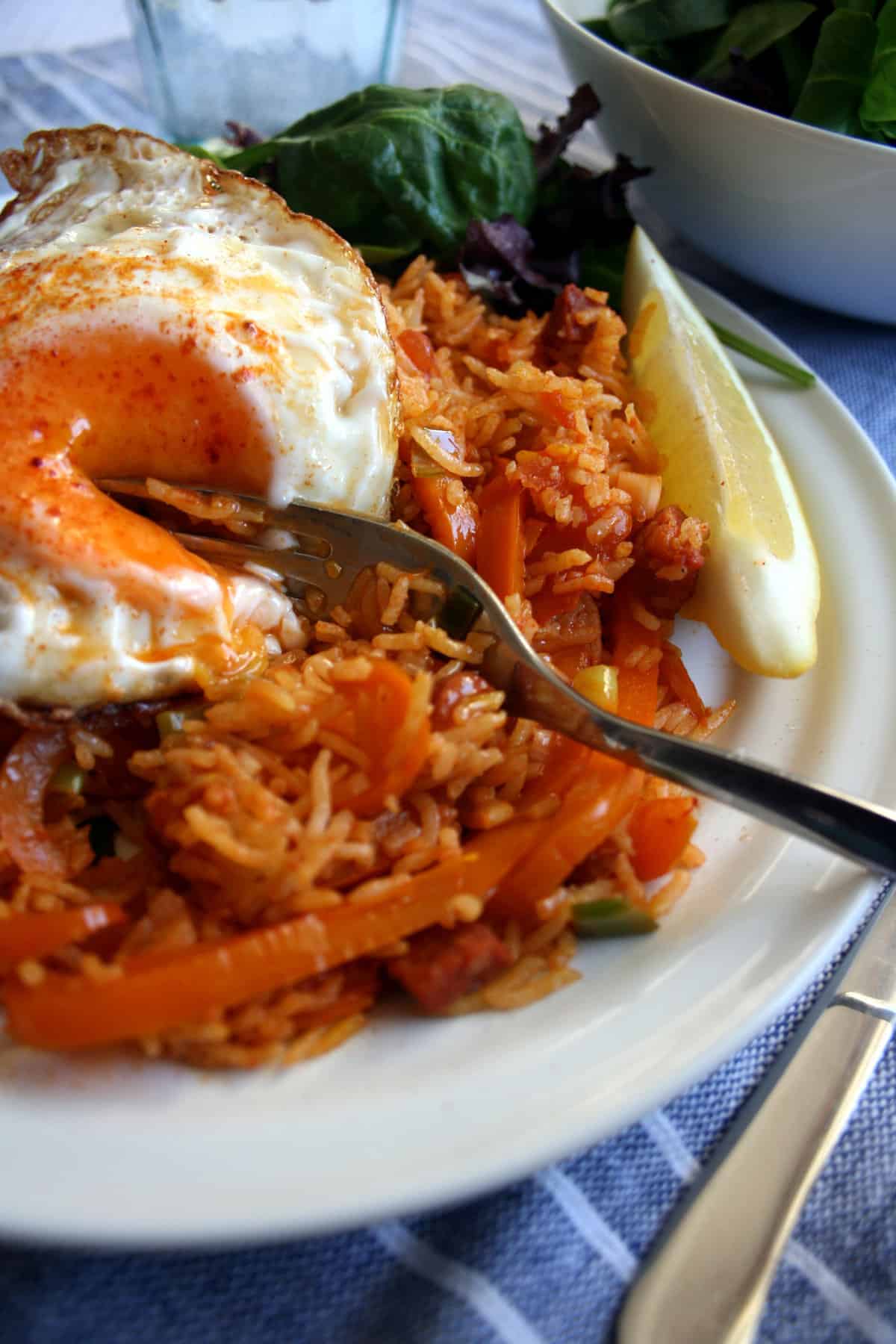 And don't forget that egg.