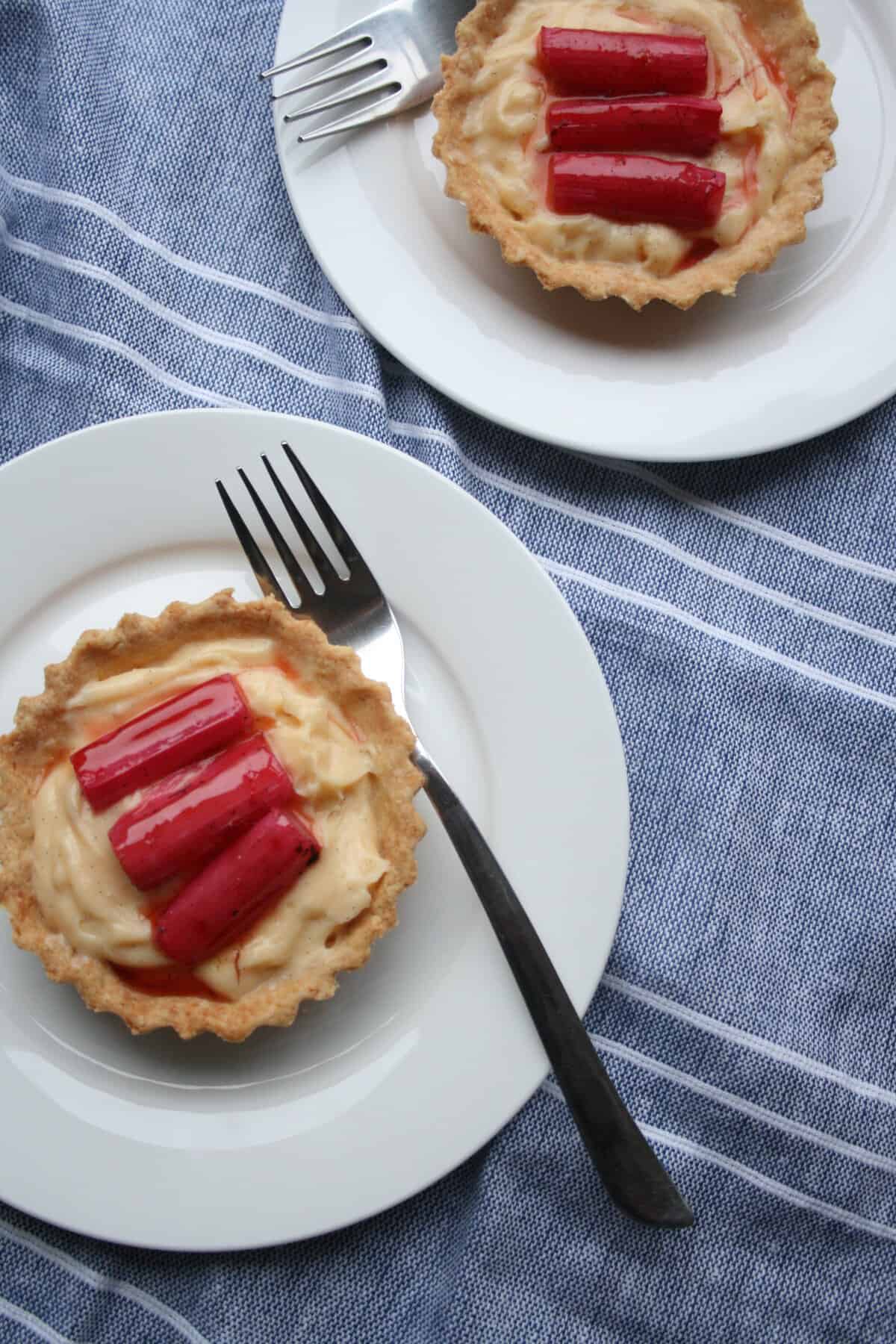 Who could resist the neon pink stems of forced Yorkshire rhubarb at this time of year? Not me, that's for sure. I mean, the contrast between those spindly pink spears and their chartreuse coloured withered leaves is pretty irresistible. Growing up, I loved rhubarb. We had a big patch of it in the back garden and I used to munch on it raw and dipped in sugar. I also loved rhubarb and custard sweets - the ones that burnt your mouth if you ate too many of them. Such an awesome combination, simple, yet perfect. So when I saw those beauties at my local greengrocers I knew what I must make.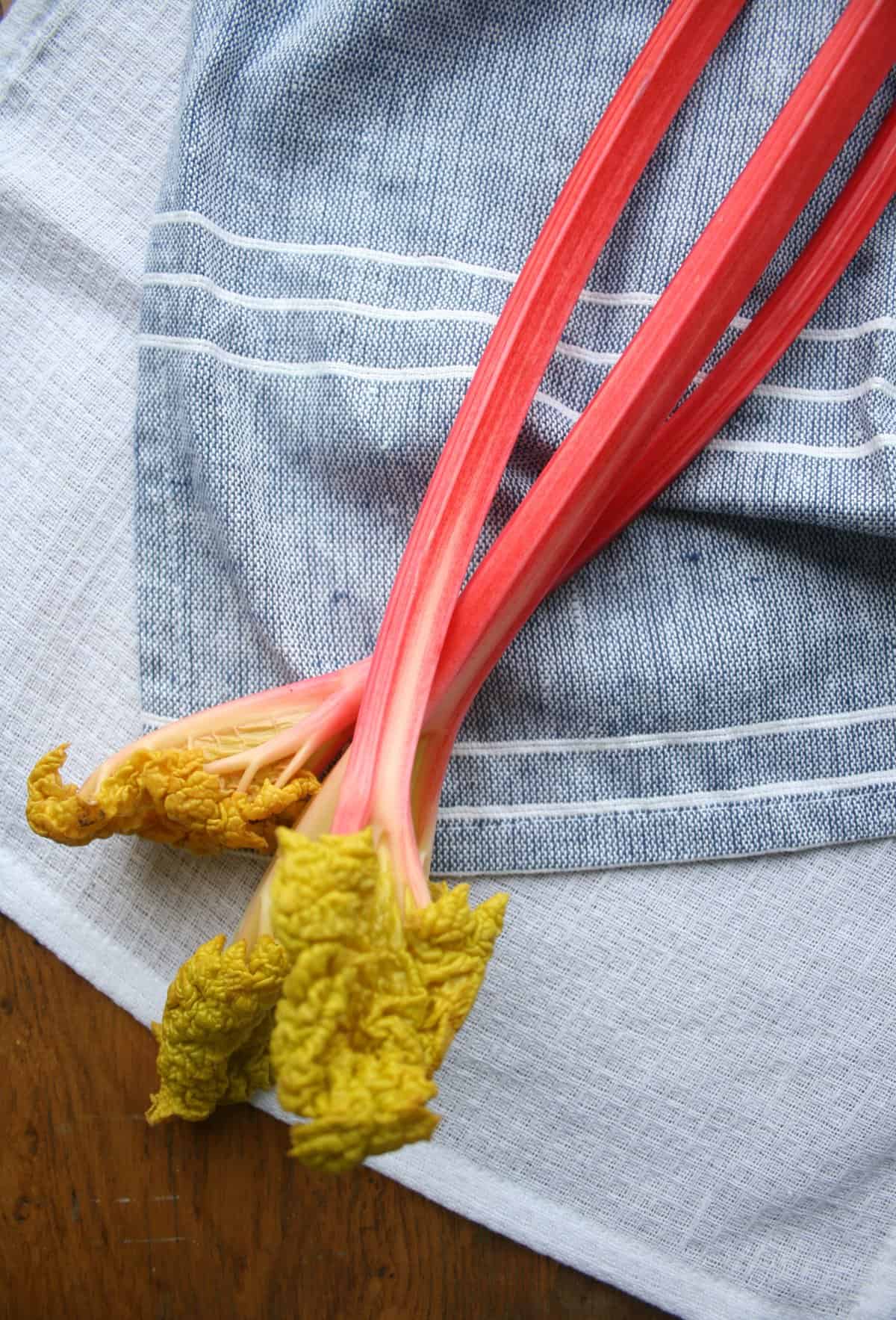 I wanted to do as little as possible to the rhubarb to really let it shine. There is nothing fancy about these tartlets - just a few good ingredients treated well. A light almond pastry encases a luscious, vanilla-rich crème pâtissière and is topped with the rhubarb, gently roasted with more vanilla and a touch of amaretto liqueur. A little indulgent treat. The cool thing about using forced rhubarb whilst it's here (grab it while you can!) is that it isn't as tart as field rhubarb so you don't have to add as much sugar to it. Also, the thick pastry cream provides the perfect counterpoint to the sharpness anyway - I'd hardly call it a health food but it helps!
This isn't a speedy dessert, but the individual processes are simple and make for a perfect afternoon of lazy baking if you like that kind of thing. I sure do.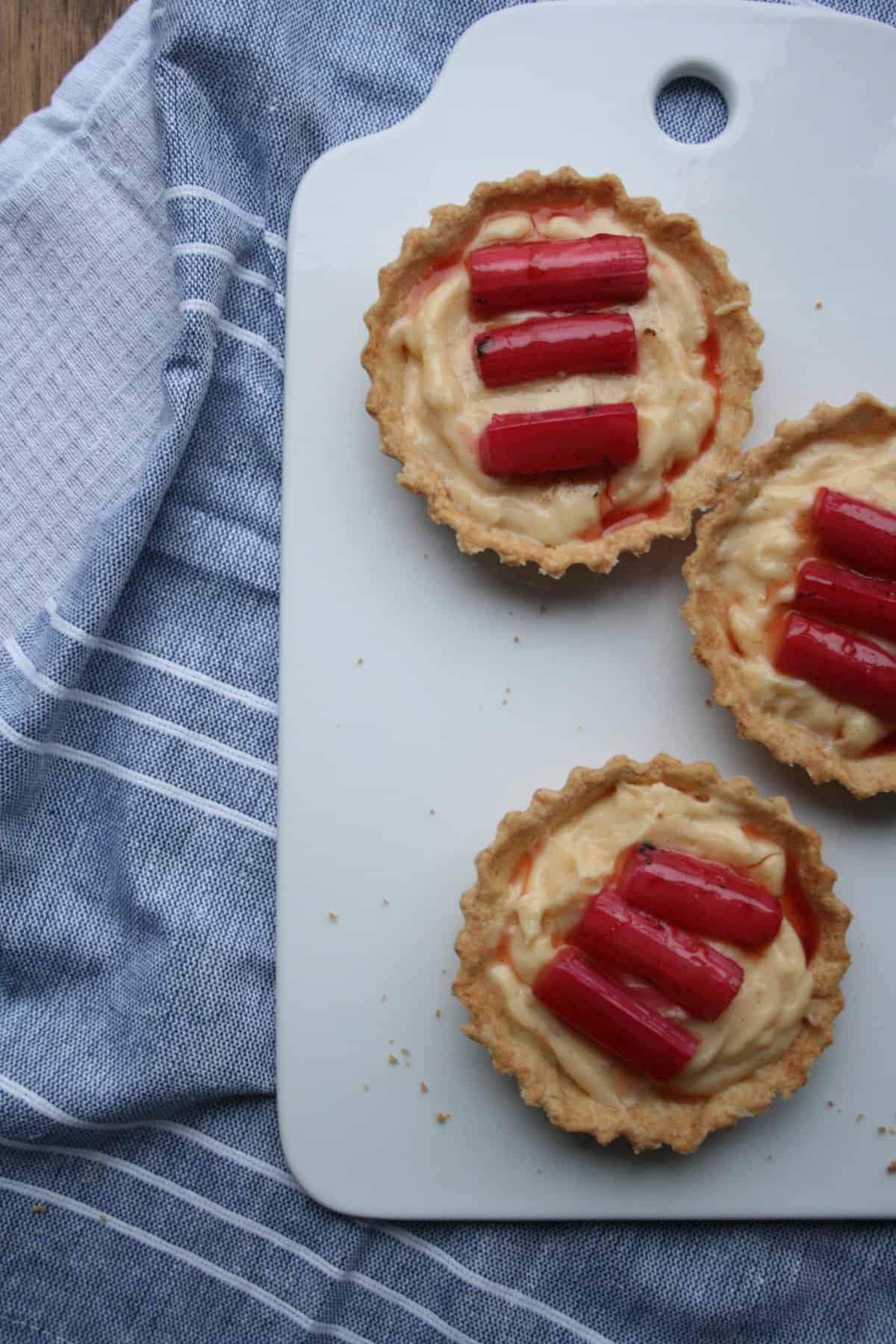 Ingredients
For the rhubarb
200

g

forced Yorkshire rhubarb

,

roughly 3 stems

½

vanilla pod

,

seeds scraped out

1

teaspoon

dark brown soft sugar

2

teaspoons

Amaretto liqueur

2

teaspoons

water

1

teaspoon

caster sugar
For the pastry
150

g

plain flour

50

g

ground almonds

pinch

of salt

100

g

cold unsalted butter

,

cubed

milk to bind

,

(roughly 3 tablespoons)

few drops almond extract

,

optional
Instructions
For the crème pâtissière
Whisk together the egg yolks, sugar and cornflour until thick and creamy. Add the vanilla pod and seeds to the milk and heat to boiling point. Remove from the heat and remove the vanilla pod. Pour the hot milk into the egg mixture gradually, whisking continuously.

3 egg yolks,

50 g caster sugar,

20 g cornflour,

½ vanilla pod,

250 ml whole milk

Return to the stove in a clean pan and heat gently until thickened, still whisking all the time. Once it has thickened, remove to a bowl and chill in the fridge until needed.
For the rhubarb
Preheat oven to 180°C. Wash and trim the rhubarb. Cut into 4cm pieces and place in a roasting tin. Sprinkle with the vanilla seeds and add the pod too. Sprinkle over the dark brown soft sugar, 1 teaspoon Amaretto and 2 teaspoon water. Roast for approximately 10 minutes or until tender but still holding their shape. Remove from the roasting tin and leave to cool.

200 g forced Yorkshire rhubarb,

½ vanilla pod,

1 teaspoon dark brown soft sugar,

2 teaspoons Amaretto liqueur,

2 teaspoons water

Pour the roasting juices into a small saucepan and add the remaining 1 teaspoon Amaretto and 1 teaspoon caster sugar. Heat briefly over a high heat so that the mixture reduces to form a glaze - scarcely a minute.

2 teaspoons Amaretto liqueur,

1 teaspoon caster sugar
For the pastry
Rub the flour, almonds and butter together until they resemble breadcrumbs.

150 g plain flour,

50 g ground almonds,

100 g cold unsalted butter,

pinch of salt

Add the almond extract, if using, along with the milk. Stir briefly and then turn the mixture out onto your work surface. Literally push it together with your hands - do not work this mixture at all. Wrap in cling film and chill for 20 mins.

few drops almond extract,

milk to bind

Roll out the pastry to 2-3mm thickness and cut out rounds that are slightly bigger than your tartlet tins. Push the pastry rounds gently into the tins - do not stretch them. Trim the edges (I find it easiest to roll my rolling pin over the top to do this but you can use a knife) and prick the bases with a fork. Chill for 10-20 mins.

Place a small piece of baking paper into each case and fill with baking beans or rice. Bake at 180°C for 10 mins. Remove the baking beans and return to the oven for another 5-10 mins until golden brown. Leave to cool.
To assemble
Fill each pastry case with a dollop of crème pâtissière. You could pipe this if you want to be fancy. Top with a few pieces of cooled rhubarb and drizzle the fruit with the glaze to make them glisten.
Notes
I can't be doing with making pastry in the food processor. Not only is it perfectly simple to make by hand, it is also much easier to control the results this way. You want your pastry to be as short and as crisp as possible and working it as little as humanly possible is the best way to guarantee this.
For a little twist, you could try flavouring the crème pâtissière with orange zest instead of, or in addition to, vanilla.
Nutrition
Calories:
575
kcal
|
Carbohydrates:
59.4
g
|
Protein:
12.9
g
|
Fat:
26.7
g
|
Saturated Fat:
14
g
|
Polyunsaturated Fat:
1.6
g
|
Monounsaturated Fat:
7.5
g
|
Cholesterol:
194.6
mg
|
Sodium:
647.3
mg
|
Potassium:
424.8
mg
|
Fiber:
2.7
g
|
Sugar:
22.8
g
|
Vitamin A:
225.1
IU
|
Vitamin C:
4
mg
|
Calcium:
226.8
mg
|
Iron:
2.4
mg
Did you make this recipe?
Leave a comment below with how you got on and don't forget to give the recipe a rating ⭐️⭐️⭐️⭐️⭐️. You can also tag @eatloveeats on Instagram - we love to see your creations!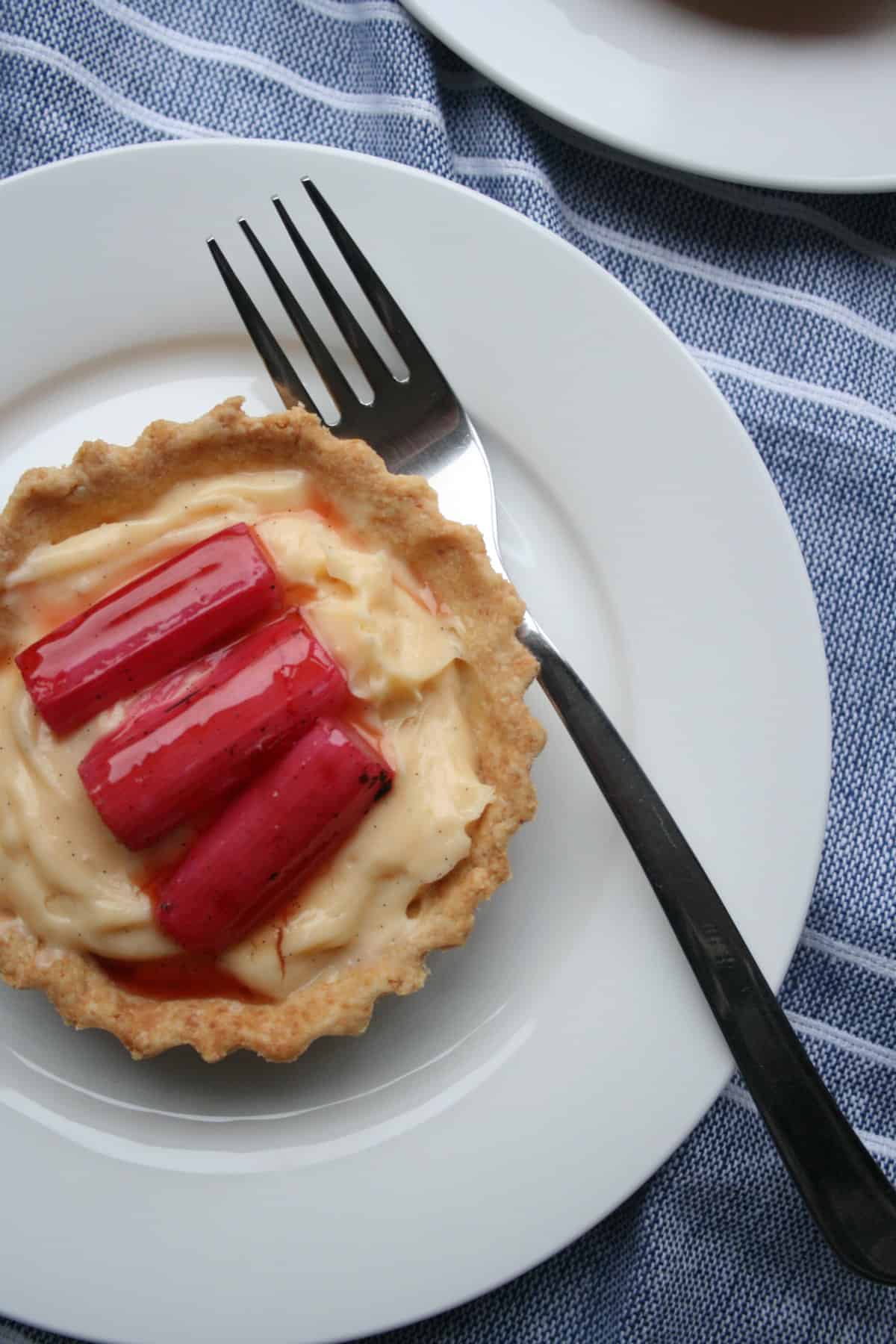 Crème pâtissière recipe from Rachel Khoo.