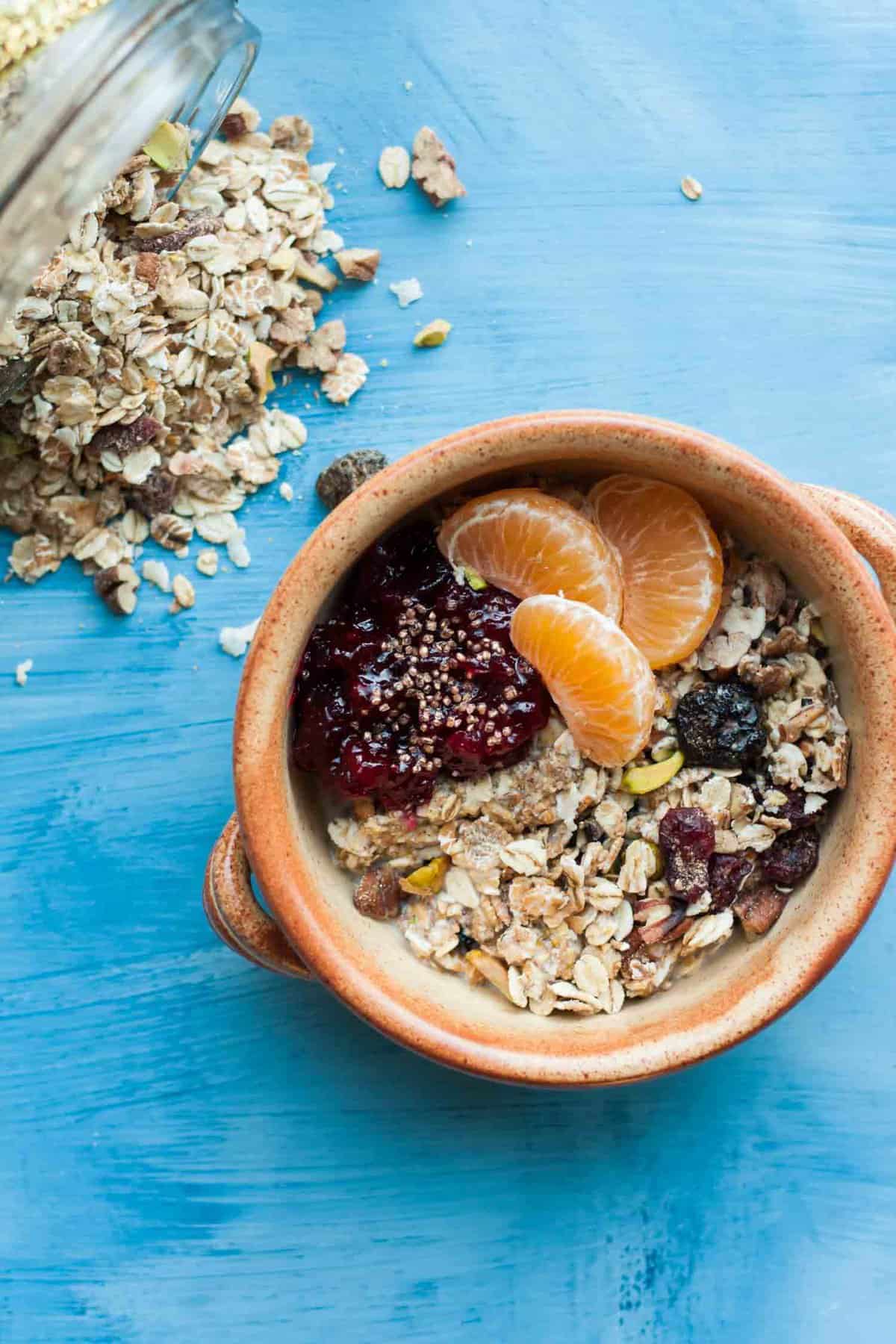 I can't believe we're here already, just a few short days away from Christmas Day! I'm feeling wonderfully chilled out right now - my husband and I have a few days off work and we're all ready for the big day. All that's left to do now is to relax, unwind and eat all the food! I'm definitely in my happy place.
Over the next couple of days I'm going to be making a few last minute treats to enjoy over the festive period. Another batch of chocolate dipped lebkuchen is an absolute must - in fact I think I'll probably be in the kitchen making those this evening! And I'll be taking a batch of festive rocky road with me when I go to see friends on Saturday. Both of those would be perfect if you're looking for a last minute edible gift to give to friends or family. If neither of those take your fancy (who are you?!) then fear not, as I have two more ideas to share with you before Christmas, starting today with this gloriously easy, yet incredibly delicious Christmas Muesli!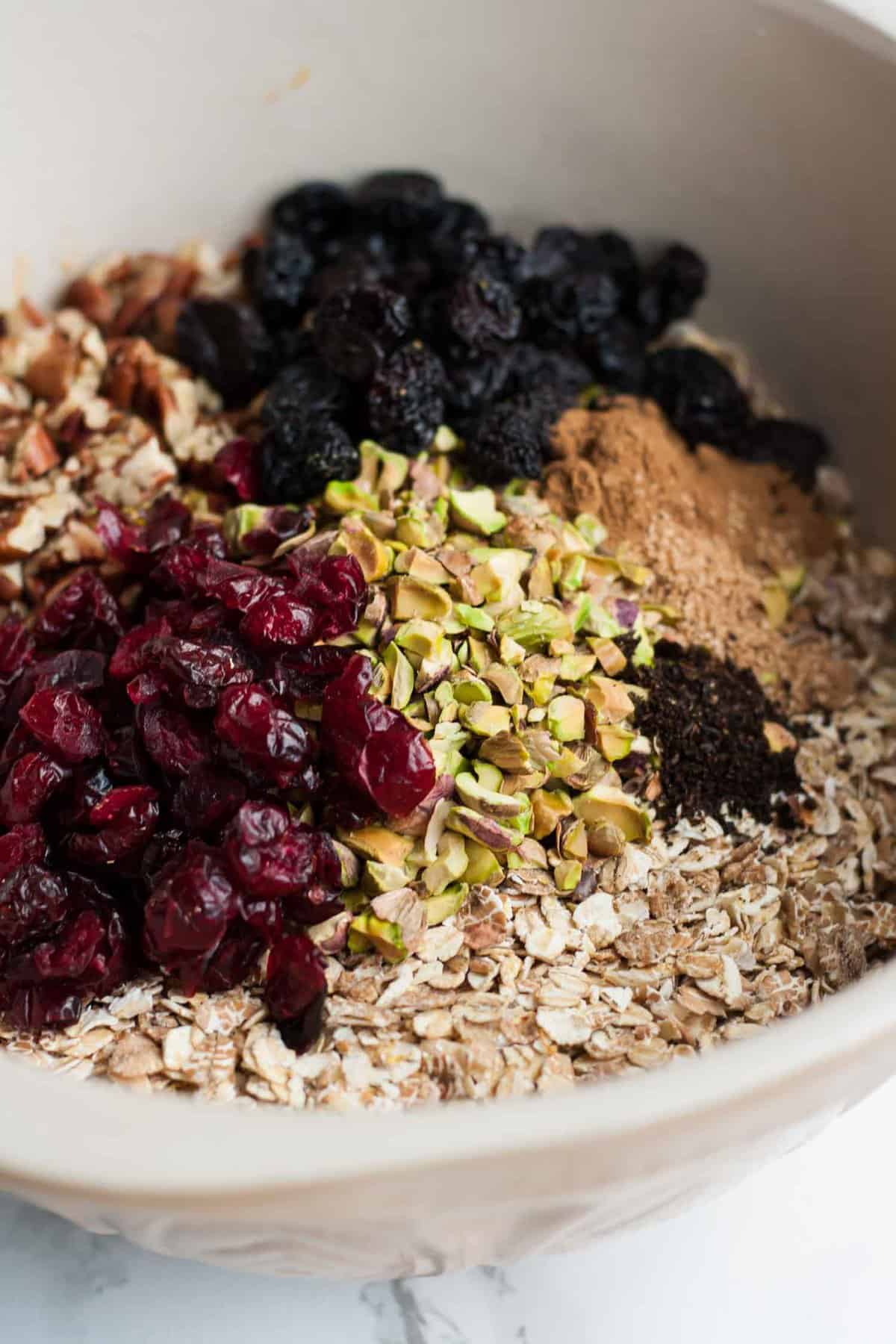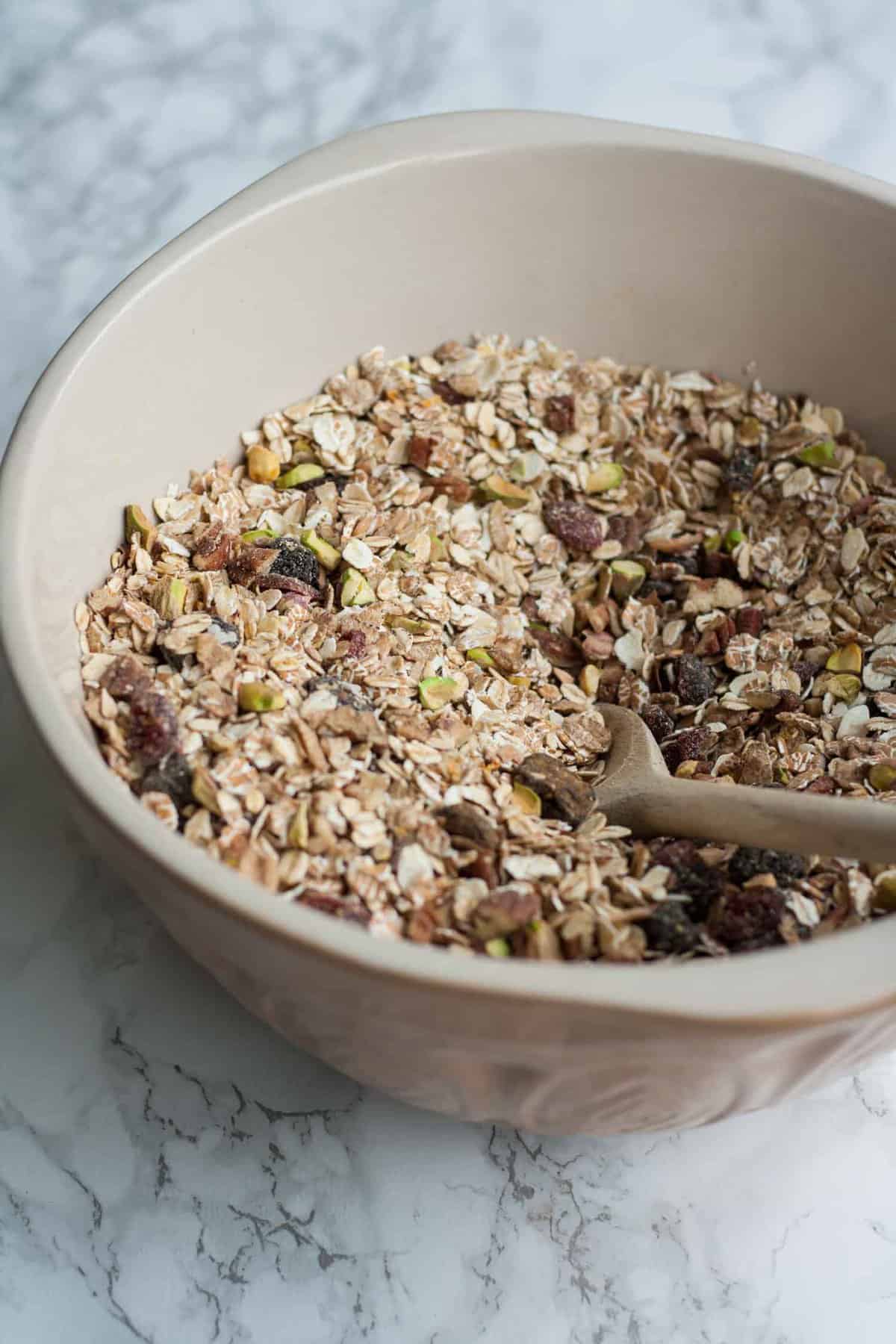 This Christmas Muesli is a dream. I'm a recent convert to muesli, believing for years that a bowlful of muesli was simply a bowlful of over-sweetened dust (and in many cases, it kinda is). But not this muesli! Not so long ago, I came across a packet of plain, 100% sugar and salt free muesli base mix, full of a variety of crunchy flakes. It was the perfect base to add to, though mostly I ate it with simply a few nuts, a few raisins and a good splash of almond milk. It was the ideal breakfast for early mornings before work - fast, wholesome and only barely sweetened.
That was all well and good but then this magical festive time descended upon us and well, I just had to make a Christmas version! And trust me, it's seriously good. We're talking pecans, pistachios, dried cranberries and my eternal favourite - dried cherries. But that's not all, everything is subtly spiced with hints of clementine zest, cinnamon, nutmeg and vanilla. It's still only slightly sweet, but there's an option to add a quick cranberry compote if you feel like pimping it up a bit! This would make the ideal festive breakfast for anybody who doesn't want to overindulge over the holidays. It would also make a lovely edible gift! It looks so pretty layered up in a big glass jar. And let's face it, this is too good to only make once a year, so get ready to work this into your everyday breakfast rotation, especially if you're on the lookout for something a little lighter with January just around the corner.
As I mentioned before, this is incredible just by itself, but to really elevate this to even higher levels, I recommend you try serving it with the quick cranberry compote. This adds a touch more sweetness but also a hit of tartness which I can't get enough of! Throw on a few segments of clementine - or your own personal favourite citrus - and you're done! Well, almost. I couldn't resist a good sprinkle of glimmering golden sugar, but of course that's totally optional. And pretty over the top too but hey, it's Christmas!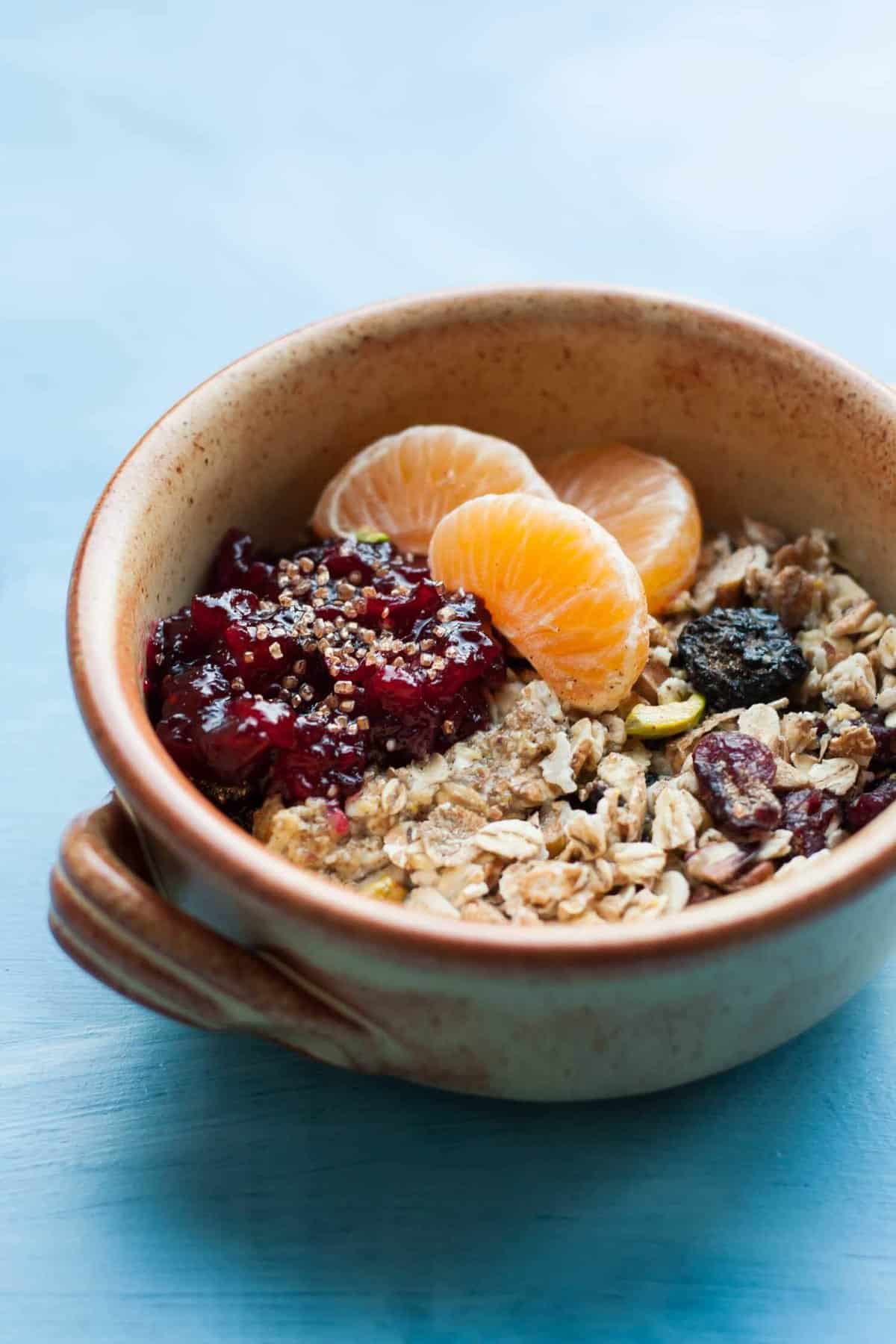 So go on now, go and make some Christmas Muesli because it's just too easy. And remember to check back tomorrow for one more Christmas treat! I promise it'll be worth it!
Christmas Muesli
Why not start the day with a festive bowl of muesli to extend that Christmas feeling, great to prep ahead to have on hand for breakfast, or even as an edible gift!
Print Recipe
Pin Recipe
⭐️ Rate Recipe
Ingredients
Quick cranberry compote
100

g

fresh cranberries

,

(1 cup)

50

g

light brown sugar

,

(¼ cup)

1

tablespoon

maple syrup

2

tablespoons

clementine juice
Instructions
Preheat oven to about 120°C.

Spread the muesli base mix out on a large baking sheet. Sprinkle over the clementine zest and use your fingers to distribute it throughout the muesli. Place the tray into the warmed oven for 5 minutes or so, turning halfway through, until the zest has dried out.

500 g muesli base*,

2 clementines

Mix with the remaining ingredients and leave to cool. Store in a large jar or container.

50 g pecans,

50 g pistachios,

50 g dried cranberries,

50 g dried cherries,

1 teaspoon ground cinnamon,

½ teaspoon freshly grated nutmeg,

½ teaspoon vanilla powder
For the cranberry compote
Place all ingredients into a small saucepan and place over a medium heat. Simmer until the cranberries have burst and the compote has reduced and thickened a little. This should take around 5-10 minutes.

100 g fresh cranberries,

50 g light brown sugar,

1 tablespoon maple syrup,

pinch of cinnamon,

2 tablespoons clementine juice
Notes
*The muesli base mix that I use contains oats, wheat, barley, brown rice and spelt flakes and flaxseed. You could simply use oats as a base or get creative mixing up your own. Health food shops tend to sell the above either by themselves or in a variety of mixes.
Nutrition
Calories:
261
kcal
|
Carbohydrates:
45.8
g
|
Protein:
7.1
g
|
Fat:
3.1
g
|
Saturated Fat:
1
g
|
Polyunsaturated Fat:
0.9
g
|
Monounsaturated Fat:
1.6
g
|
Sodium:
1.4
mg
|
Potassium:
722.9
mg
|
Fiber:
6.2
g
|
Sugar:
9.8
g
|
Vitamin A:
1
IU
|
Vitamin C:
4.6
mg
|
Calcium:
38.5
mg
|
Iron:
2.1
mg
Did you make this recipe?
Leave a comment below with how you got on and don't forget to give the recipe a rating ⭐️⭐️⭐️⭐️⭐️. You can also tag @eatloveeats on Instagram - we love to see your creations!