Mushrooms. As a little girl, I used to love them and I'd eat them all the time. And then *something* happened and I seriously have no recollection of what that something was and I stopped eating them. Hated them. It was like the time that I stopped eating baked beans. I can recall exactly why that was. For some unknown reason, I decided to suck my baked beans instead of just chewing them like a normal person and at the point that I realised that the bean was white underneath the sauce, I swore off eating them for months. Years? Anyway. Baaack to the mushrooms.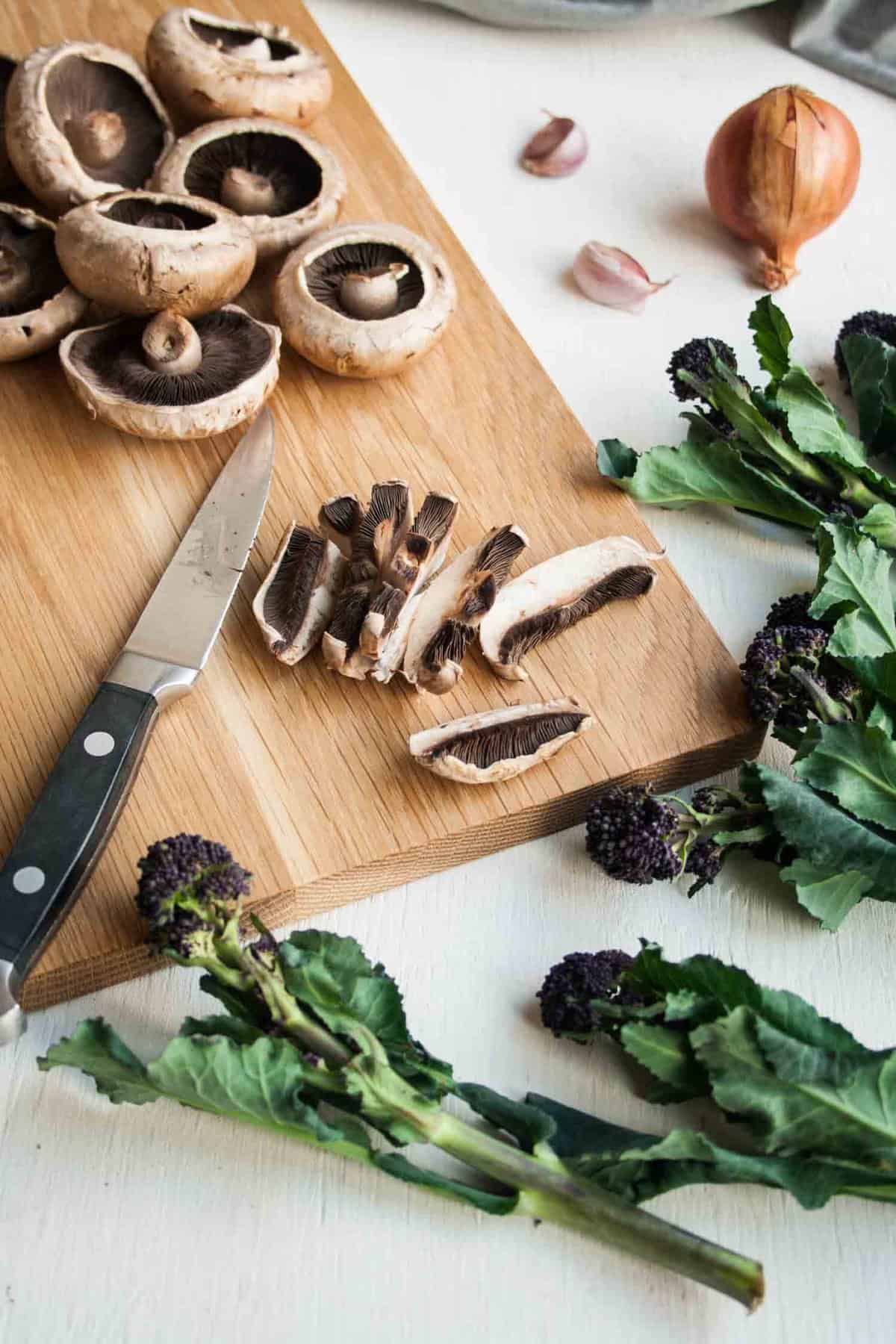 For years and years I wouldn't eat them and to be frank, they are not exactly my favourite food to this day. Which is sad for my husband because he loves the things. But! When they're cooked down like this, bathing in their rich, mushroomy juices, they really are pretty fantastic. Super savoury. And the broccoli acts as the ideal counterpoint: when the mushroomy intensity starts to get too much, it provides sweet, brassic greenery. I used the beautiful in-season purple sprouting broccoli here. I love that it's leafy, providing yet more of a textural contrast. If PSB isn't available where you are, then use tenderstem or failing that, just regular broccoli. It's all good.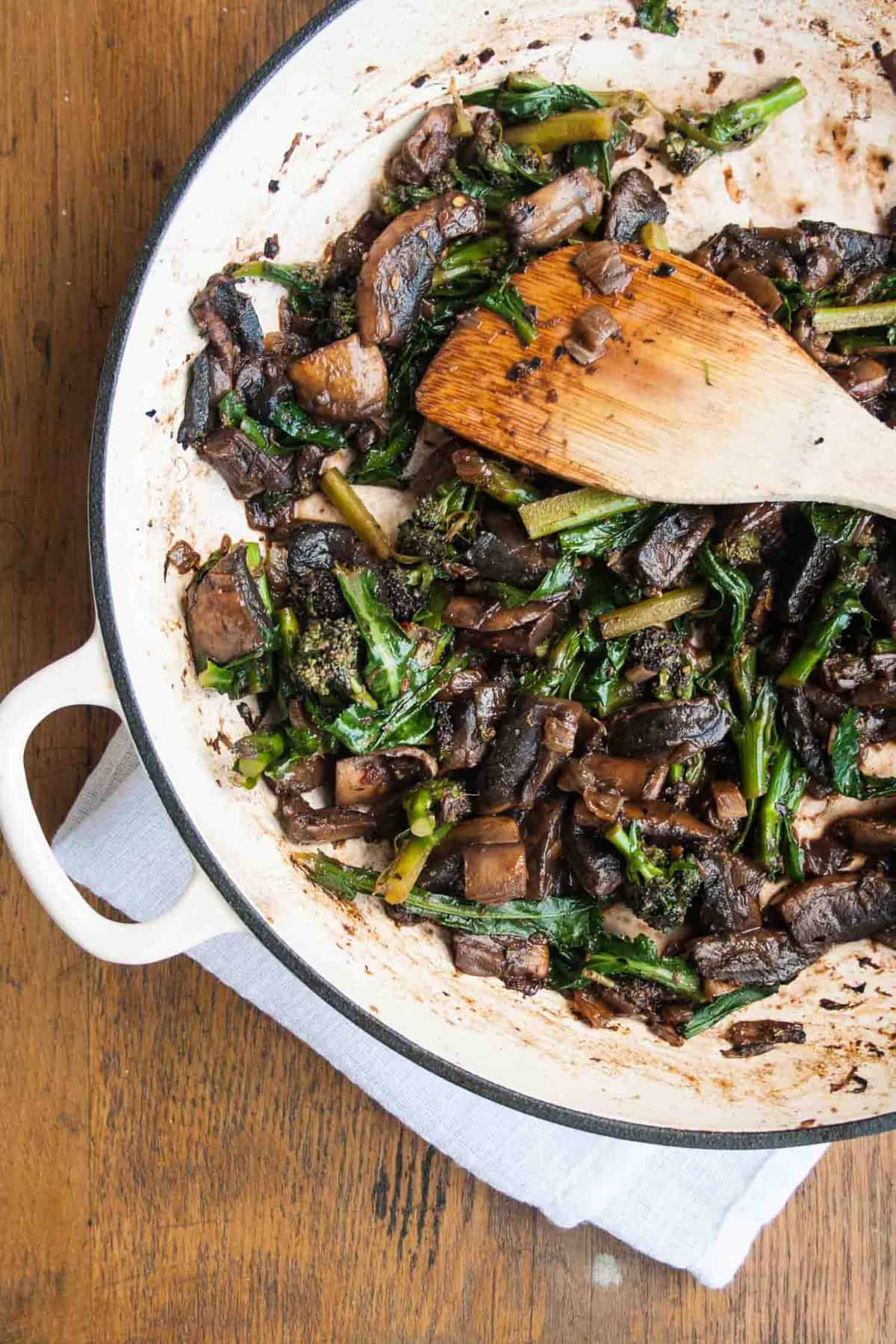 I have a habit, if you haven't noticed by now, of giving dishes tenuous names. It's not that I mean to deliberately mislead you, it's just that sometimes, I get a name in my head and have to run with it. I know exactly what it is (or isn't) that I'm making, but the dish still ends up with some flouncy name. Like this simple mushroom and broccoli ragoût. Now, you're either saying 'what on earth is ragoût?' or 'that is not a ragoût' by now. I'm with you. This is not a ragoût. But it looks like one and it tastes amazing, so tell me, what else could you possibly need to know? This is just a super simple, comforting dish of mushrooms and broccoli, served over creamy polenta, ready in 35 minutes, or quicker if you're organised.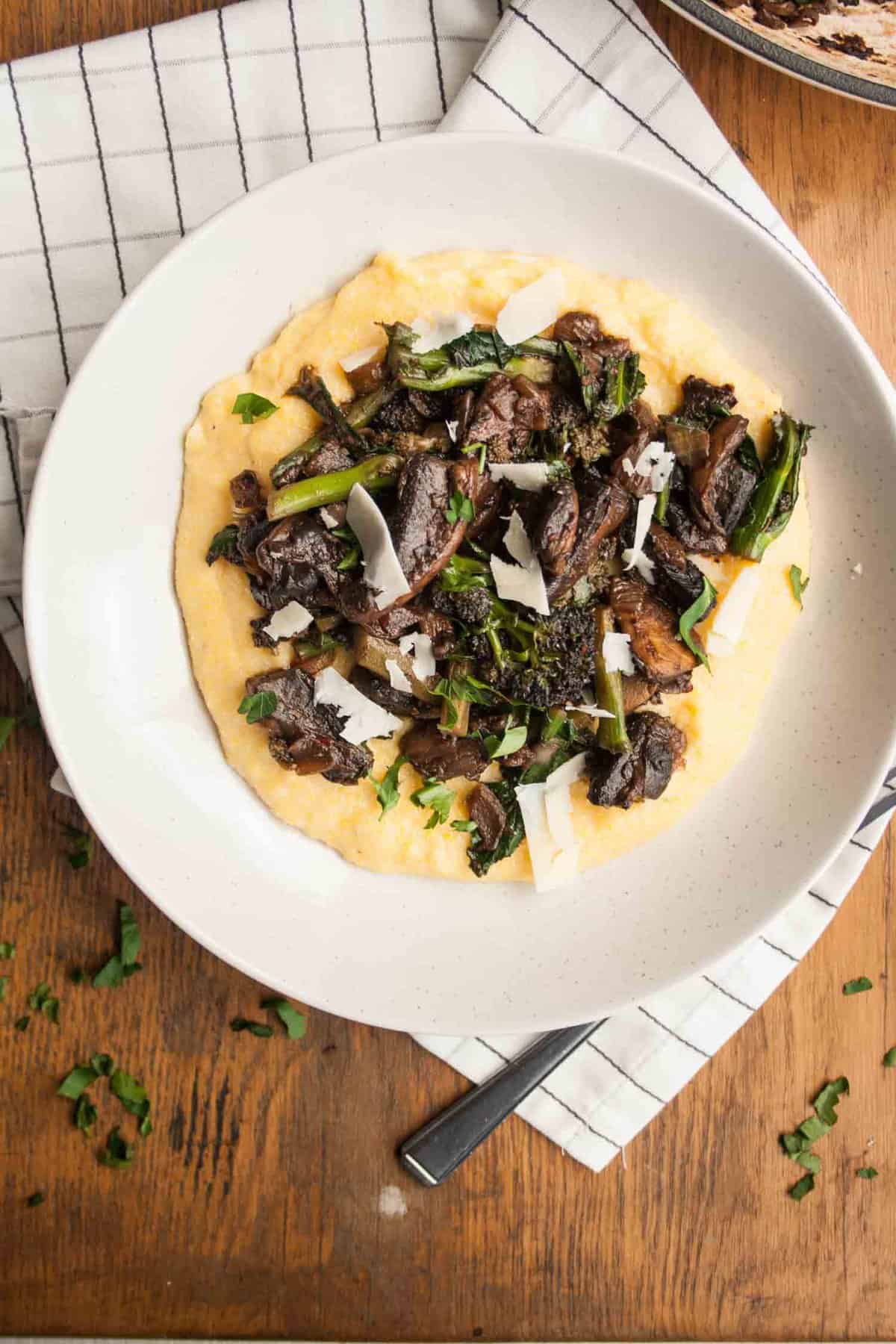 This dish doesn't require lots of fancy ingredients and you can tailor it to your preferences. Don't have any red wine open? Use more veg stock, or beef stock for depth. Don't like chilli? Leave it out, although the gentle kick it provides adds yet another layer of flavour. But, bottom line - you have no excuse not to make this!
📖 Recipe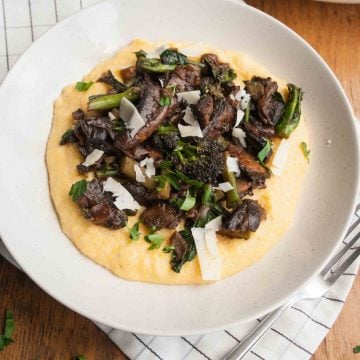 Ingredients
1

tablespoon

rapeseed or olive oil

1

tablespoon

butter

,

(15 g)

1

onion

,

roughly chopped

4

portabella mushrooms

,

(about 300 g) sliced

150

g

purple sprouting broccoli

,

a small bunch

2

cloves

garlic

,

crushed or grated

½

teaspoon

dried mixed herbs

1

teaspoon

tomato purée

60

ml

red wine

,

(¼ cup)

60

ml

vegetable stock or water

,

(¼ cup)

salt and pepper
Polenta
250

ml

vegetable stock or water

,

(1 cup)

250

ml

milk

,

(1 cup)

1

tablespoon

butter

125

g

quick-cooking polenta

,

(¾ cup)

25

g

grated cheese (cheddar, parmesan, gruyère, etc)

,

(½ cup)

salt and pepper
Instructions
Heat the oil and butter over medium heat in a large frying pan. Sauté the onions until softened and starting to colour, about 5 minutes.

1 tablespoon rapeseed or olive oil,

1 tablespoon butter,

1 onion

Trim any woody ends from the broccoli and steam or boil for 2-3 minutes until tender. Set aside.

150 g purple sprouting broccoli

Add the mushrooms to the pan along with a pinch of salt. Cook over low heat for 5-10 minutes until the mushrooms have let out their juices and softened.

Add the mixed herbs, chilli flakes, garlic and tomato purée to the mushrooms and continue to cook for 2 minutes.

2 cloves garlic,

½ teaspoon dried mixed herbs,

pinch of chilli flakes,

1 teaspoon tomato purée

Pour in the red wine and allow to bubble down and reduce. Add the vegetable stock (or water). Roughly chop the broccoli and add to the stew. Season to taste and add more stock or water as desired. Serve immediately on top of the polenta.

60 ml red wine,

60 ml vegetable stock or water,

salt and pepper
Polenta
In a medium-sized saucepan heat the vegetable stock (or water), milk and butter.

250 ml vegetable stock or water,

1 tablespoon butter,

250 ml milk

Once almost boiling, reduce the heat and gradually pour in the polenta, whisking constantly. Cook until thickened, whisking all the time. This should take 2-3 minutes. Stop when you reach your desired consistency - I don't like to let it get too thick and sometimes let it down with a little more milk or water. Stir in the grated cheese (I find it easiest to switch to a spatula or wooden spoon at this point) and season to taste with salt and pepper.

125 g quick-cooking polenta,

25 g grated cheese (cheddar, parmesan, gruyère, etc),

salt and pepper
Nutrition
Calories:
616
kcal
|
Carbohydrates:
77.5
g
|
Protein:
20.5
g
|
Fat:
24.8
g
|
Saturated Fat:
10.9
g
|
Polyunsaturated Fat:
2.2
g
|
Monounsaturated Fat:
10.1
g
|
Cholesterol:
42.1
mg
|
Sodium:
2545.4
mg
|
Potassium:
643.6
mg
|
Fiber:
7.8
g
|
Sugar:
16.7
g
|
Vitamin A:
171.1
IU
|
Vitamin C:
74.9
mg
|
Calcium:
407.2
mg
|
Iron:
2.7
mg
Did you make this recipe?
Leave a comment below with how you got on and don't forget to give the recipe a rating ⭐️⭐️⭐️⭐️⭐️. You can also tag @eatloveeats on Instagram - we love to see your creations!