These are just about the tastiest enchiladas I have ever made. And I've made quite a lot of enchiladas, some of which were very good indeed.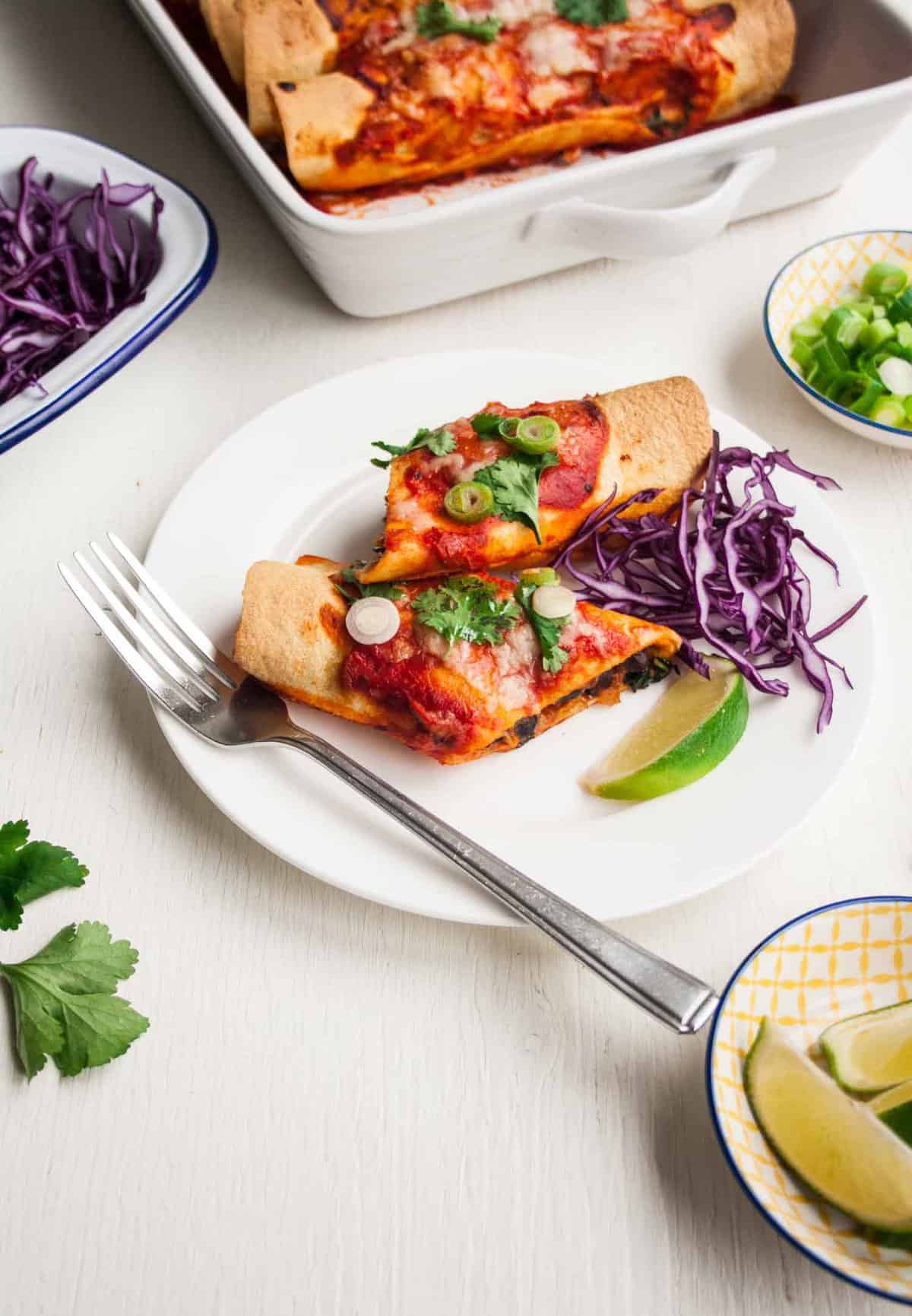 And it's funny, because with every batch of enchiladas I have made, I have said to myself: "these are good, but they're not good enough." How many times have you ever said that to yourself, or to others, about something that you have done, or made, or just about yourself in general? I'm guessing probably hundreds, or thousands, of times a day - I know that's certainly true for me.
Well, these Chicken Enchiladas with Brussels Sprouts and Kale are delicious, I can promise you that. They are definitely good enough. But the number of times that I second-guessed myself during the process of cooking, photographing, editing the photos, it's a wonder I ever got anywhere near hitting publish on this post. Or any of my posts, in fact. If I always listened to that pesky voice in my head, telling me on constant loop that I am not good enough, then none of these recipes would get published. Most probably, this blog would not even exist. And so, with every photograph I take, or recipe I create, or blog post I write, I get to learn a little bit more. Become a little less stupid. Do things a little differently next time. With each one, I grow that little bit more. There is no growth without discomfort and with no growth...well, we might feel safe and comfortable but that's not really living is it? So go and do what you want to do and remember that however it turns out, you are good enough. And I'll do my best to remember that too.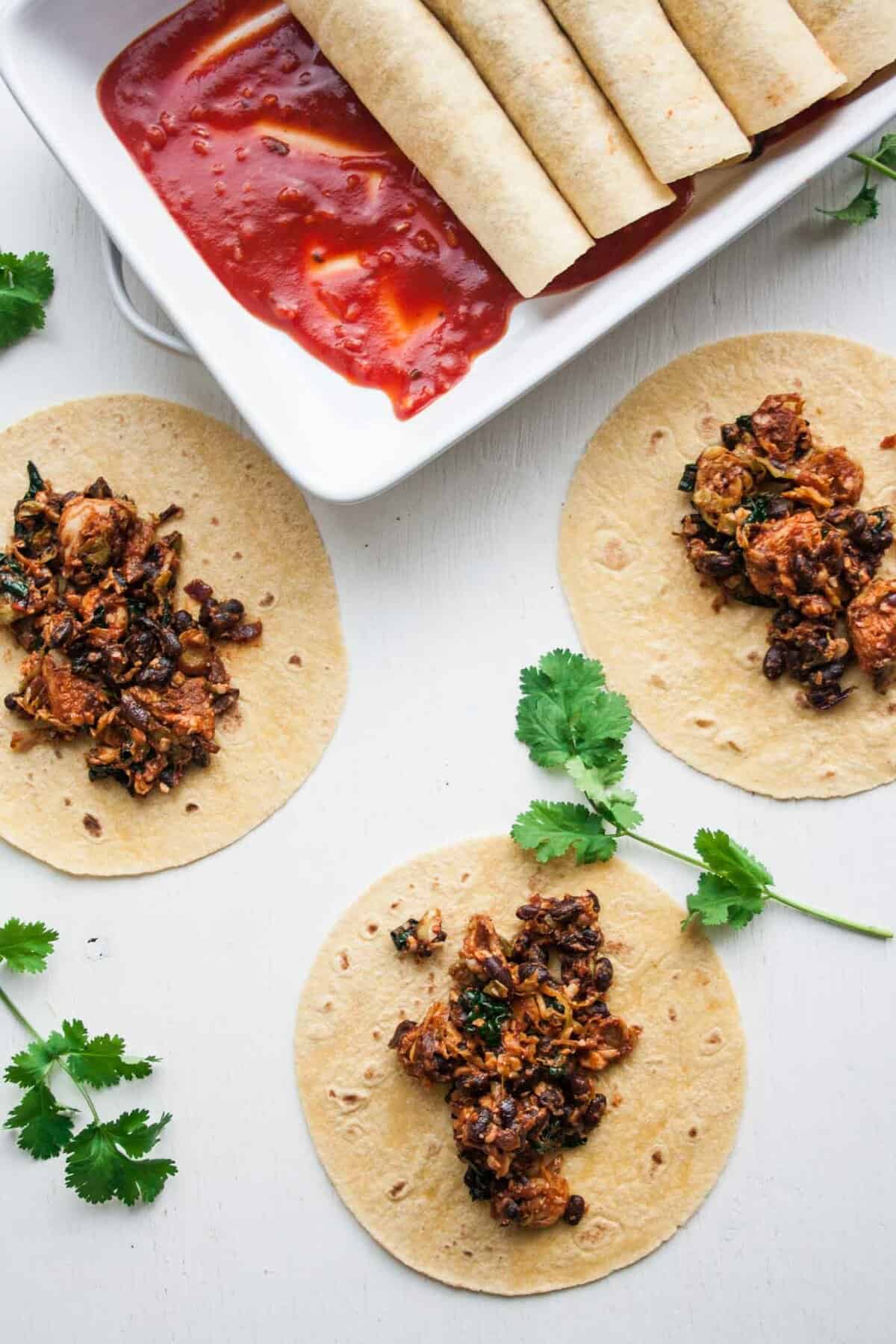 As it happens, I am really excited about these enchiladas. I know that it crossed my mind that chicken enchiladas have been done before. And they have, many, many times. But not by ME. Everybody puts a different spin on things and that's what this is all about in the end, isn't it? Hey, that's what life is all about. And it's what makes it all so joyful. So here is my version of chicken enchiladas - me, somebody who has certainly never been to Mexico and most definitely was not brought up eating such dishes. Nope, I've just read books, looked at photographs, eaten at restaurants, all with my own perspective and these are the enchiladas that I like to make and devour in my own kitchen. Seriously, I could eat half of the tray in one sitting. (Never have though.)
(Never.)
(Really.)
(OK I have and I'm STILL good enough.)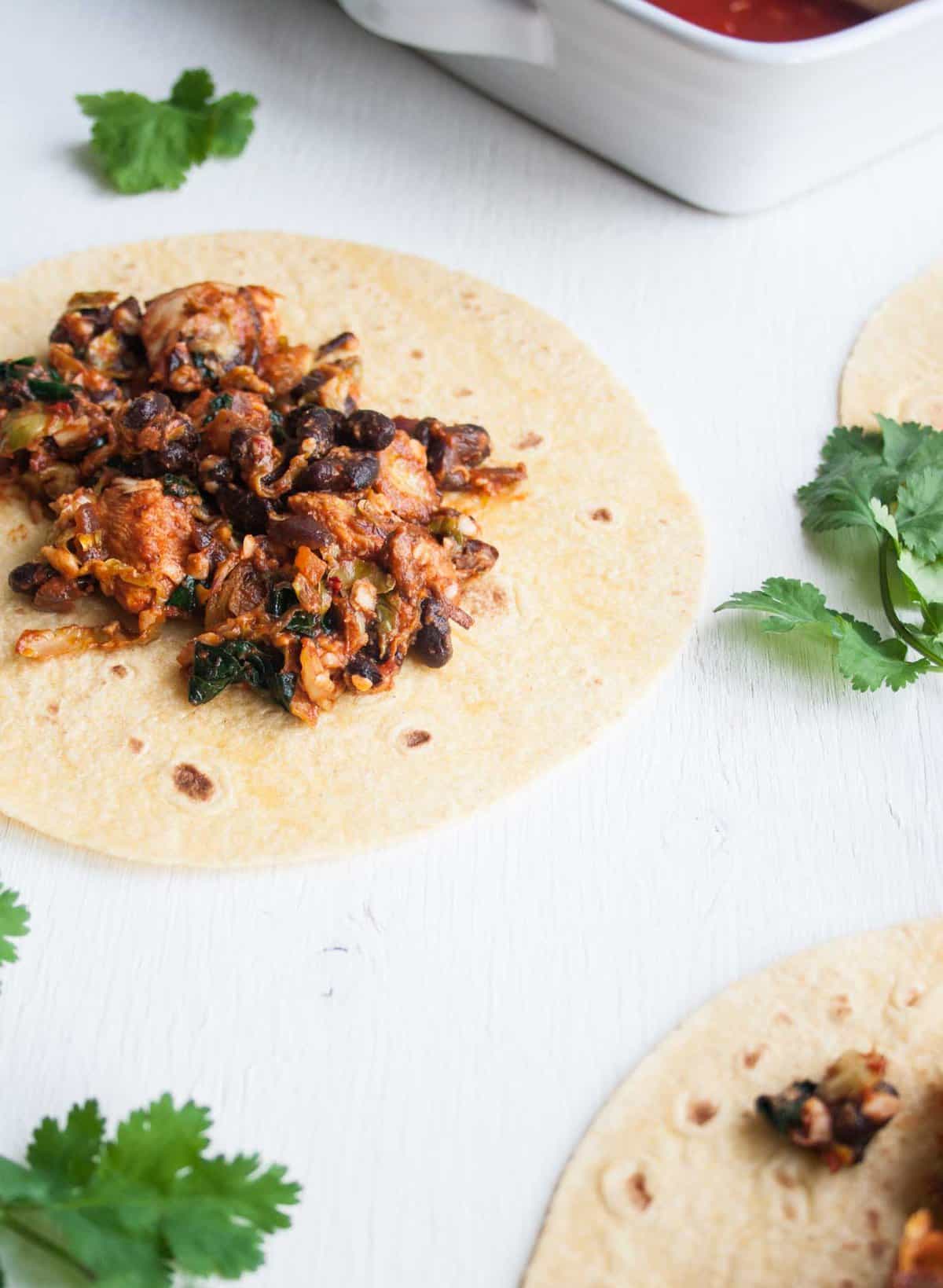 So let's talk about the enchiladas. I use corn tortillas. I'm pretty sure that's traditional, but in any case, I like the corn ones best for enchiladas. And for somebody who is almost always about cooking from scratch, this is one of those times that I use ready-made tortillas because who has the time or patience to make enchilada sauce and a filling and tortillas? Not me that's for sure - I save the homemade ones for tacos, where it really counts.
The enchilada sauce is seriously easy. In true Mexican style, I start my sauce off by letting some onions get really soft and jammy in a good spoonful of goose fat (OK so they use lard, but it's almost the same!) before adding spices, tomato passata, a little vegetable stock and making sure it's all perfectly seasoned.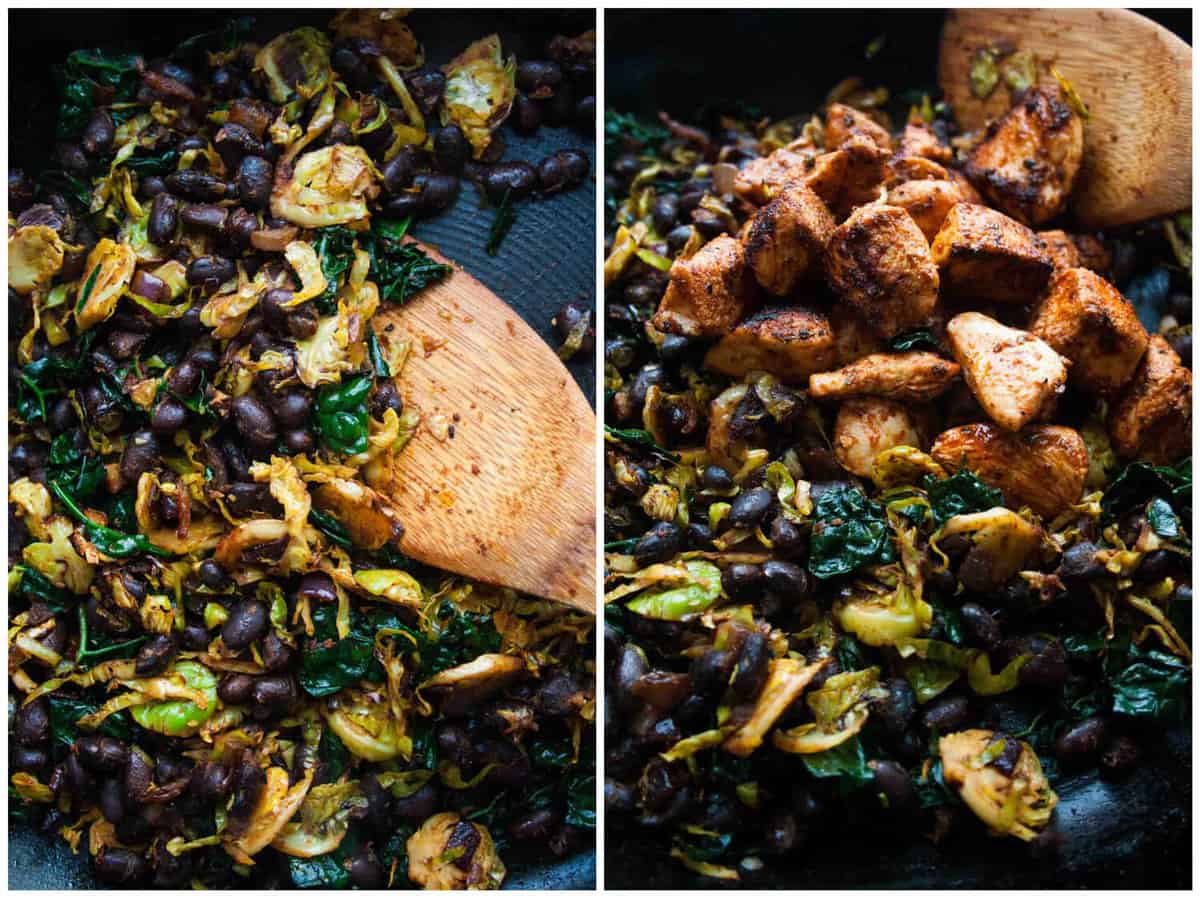 The filling consists of spiced chicken breast pieces, the savoury bite of black beans and a good helping of those delicious winter greens, brussels sprouts and kale. I added them because I love the ferrous note that they contribute but it's never lost on me when I can cram some extra veggies into a dish. That's always a win in my book.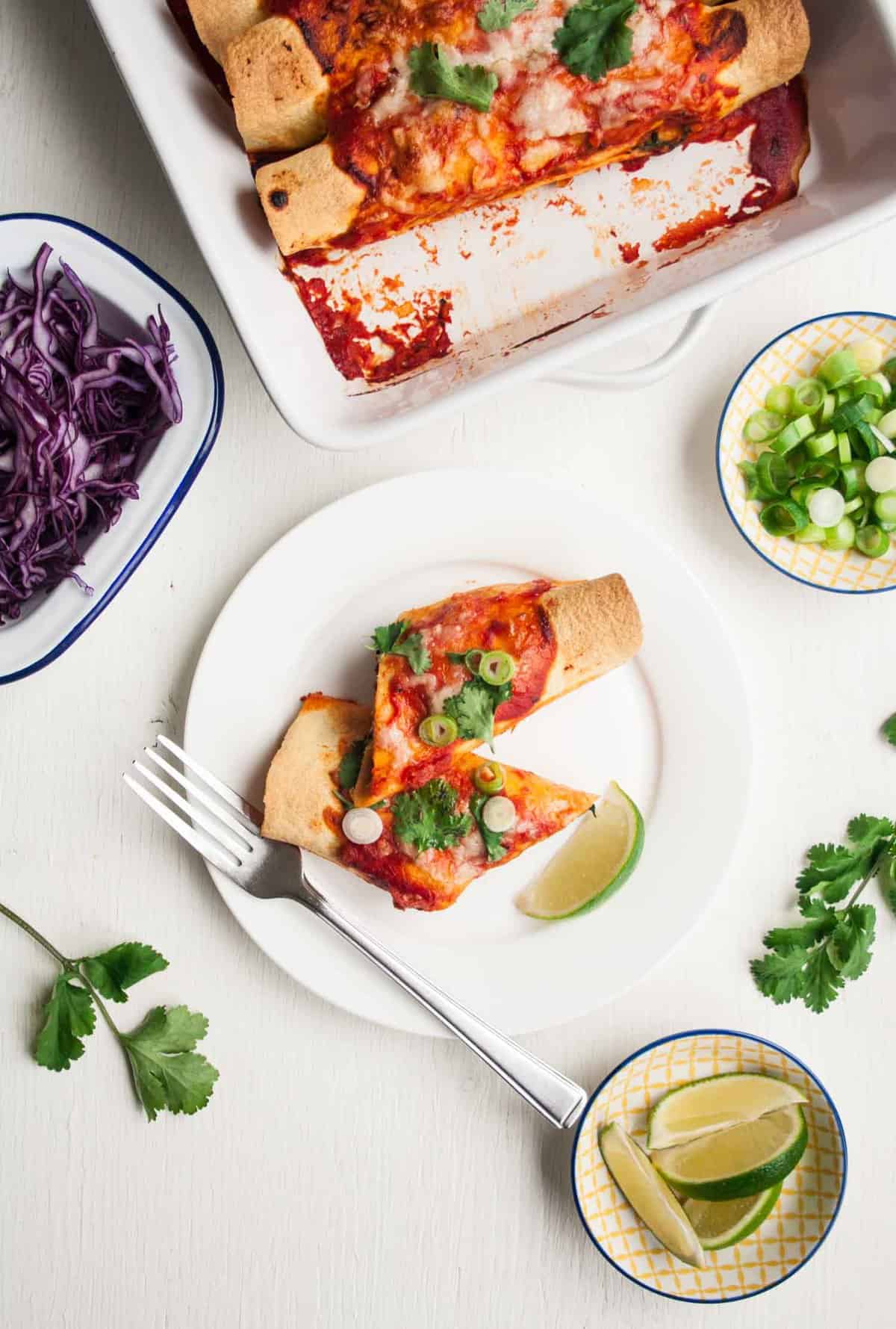 So what are you waiting for?! Get to it and make yourself some Chicken Enchiladas with Brussels Sprouts and Kale now! Go!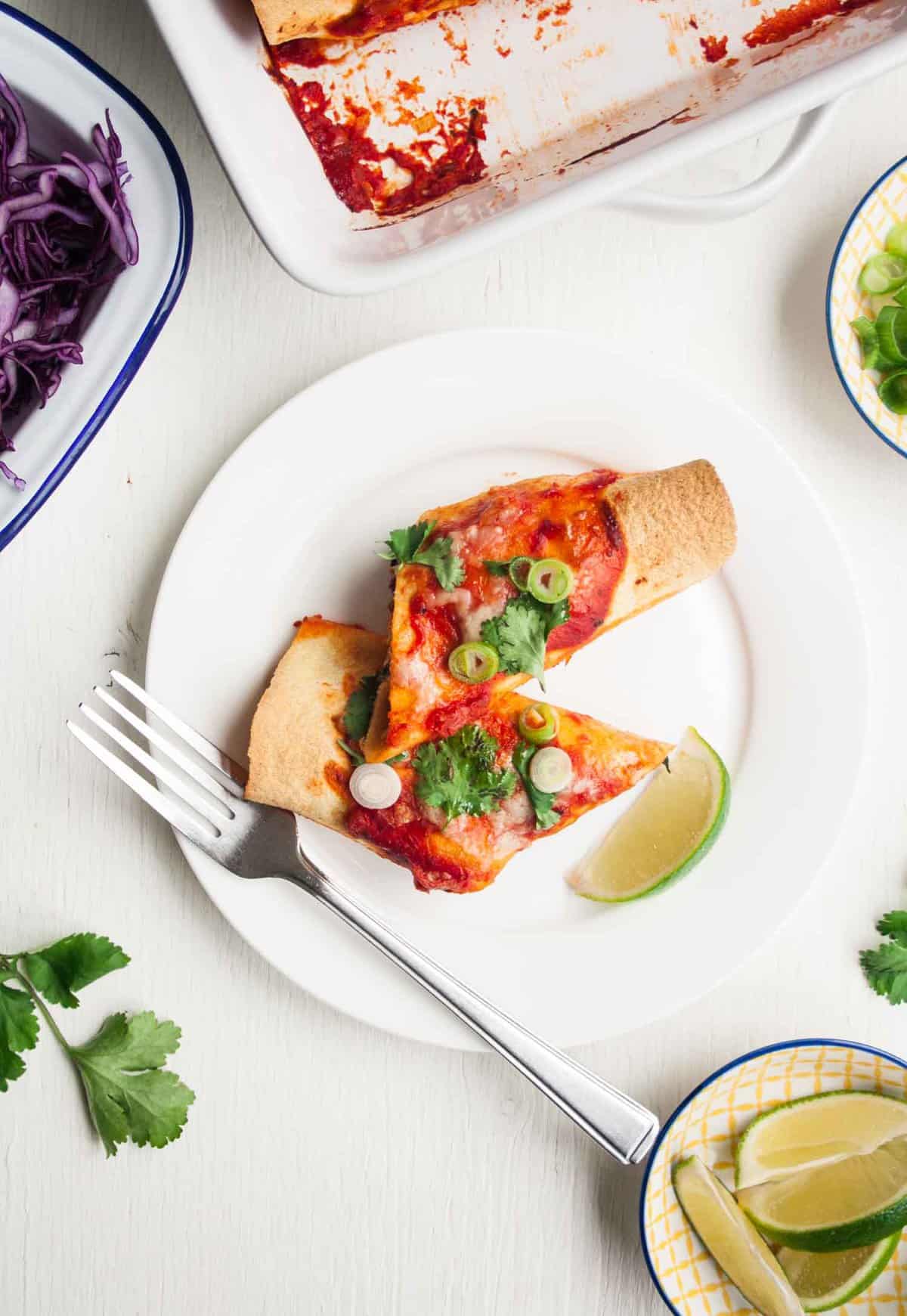 I know, I know, that's not a real portion.