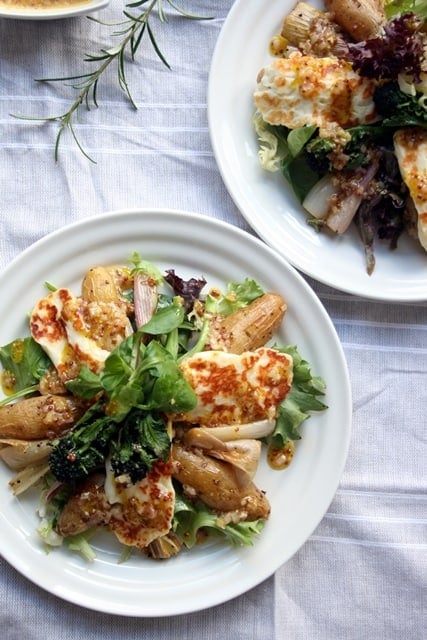 I love this time of year. I genuinely love every season. Okay so perhaps that's easy to say when you live in England, where we enjoy an embarrassingly tame climate but trust me - when the rest of the world (or so it seems) is waist-deep in snow, the merest smattering of flakes sends us Brits into panic mode. I read an article a few days ago which said something along the lines of "Boston currently under 9271 inches of snow, yet city is functioning as normal" and nearly wet myself.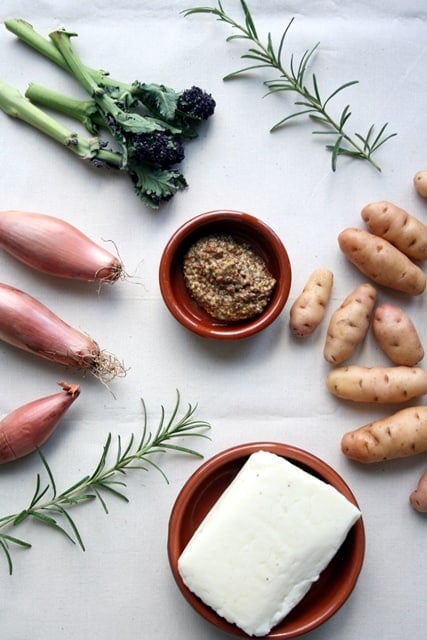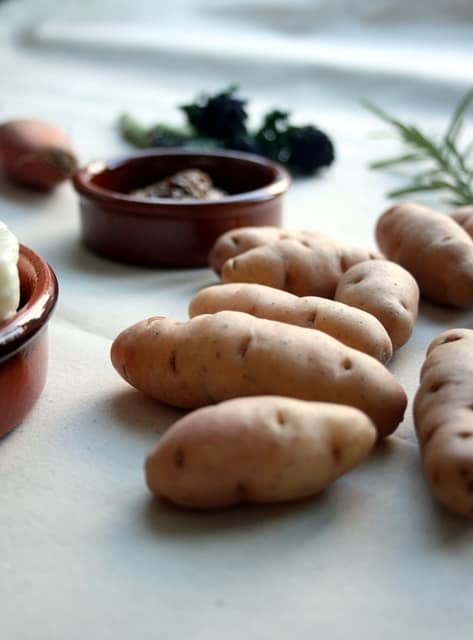 Third post in and I'm talking about the weather. Did I mention I'm British? What was I talking about again?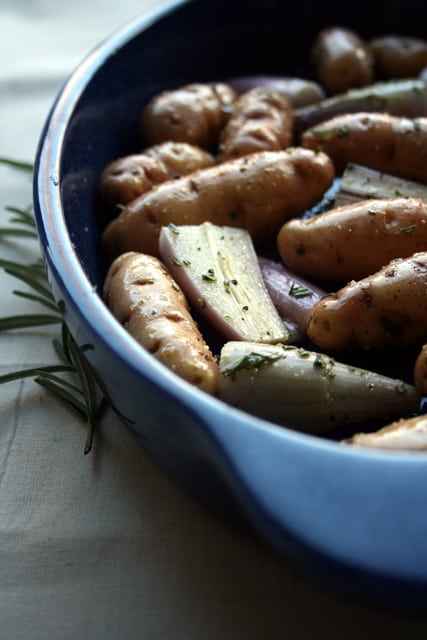 Ah yes. My unseemly love of winter. I just think that whatever time of year it is, there is always something to be grateful for. For my food-obsessed self, one such thing is seasonal produce. There is always something exciting to embrace during its fleeting season. Right now, I'm thrilled for the reappearance of purple sprouting broccoli. Not sure if it's the flavour or the mere look of the stuff. It's so pretty! We eat with our eyes as much as anything else, right? I just love how robustly flavoured winter veg is. It's like all that effort to grow in these difficult months is just so worth it.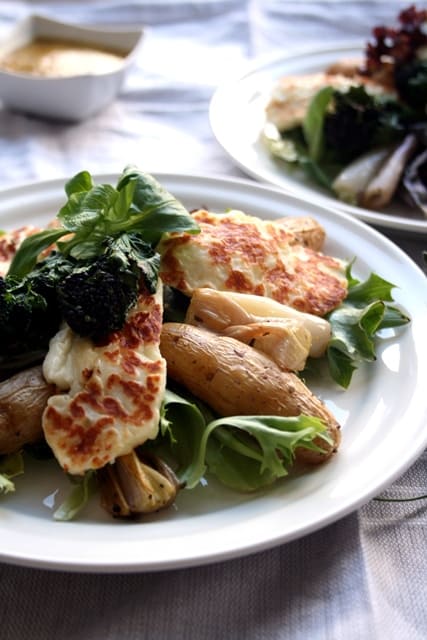 So onto this salad. In the dead of winter, let's face it - we're not craving salad. But I'm using the term loosely here. No, this is real comfort food. Sweet shallots, creamy roasted potatoes, salty, chewy halloumi and that pretty purple PSB with a lovely tangy dressing drizzled on top? Salad? Only because I piled it all on top of a handful of leaves, really.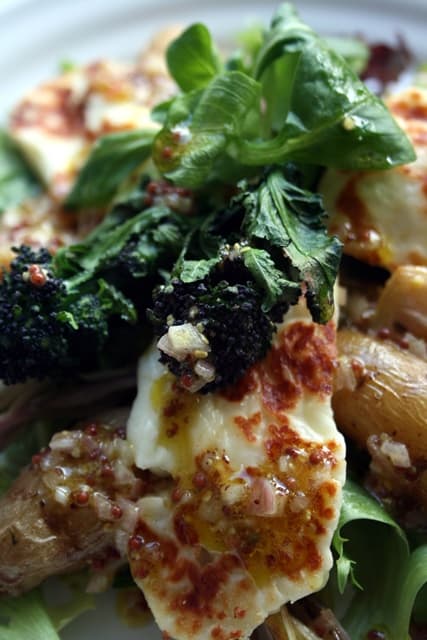 Ingredients
10-12

Anya potatoes

,

or potatoes of your choice

3

banana shallots

,

2 cut into quarters, 1 very finely chopped

1

sprig rosemary

,

finely chopped

1

tablespoon

cold-pressed rapeseed or olive oil

4

tablespoons

cold-pressed rapeseed or olive oil

1

tablespoon

wholegrain mustard

2

tablespoon

apple cider vinegar

salt and pepper

a few stems of purple sprouting broccoli

,

or other long-stemmed broccoli

125

g

halloumi

,

roughly half a block (though I won't judge you if you use the whole block)

a few handfuls of salad leaves
Instructions
Preheat oven to 180 degrees C. Toss the potatoes and quartered shallots with 1 tablespoon oil, the rosemary and some salt and pepper. Roast for 30-35 minutes or until the potatoes are cooked through.

10-12 Anya potatoes,

1 sprig rosemary,

1 tablespoon cold-pressed rapeseed or olive oil,

salt and pepper

Whilst the potatoes are roasting, prepare the dressing. Whisk together the finely chopped shallot, mustard, vinegar and remaining 4 tablespoons of oil with some seasoning until combined. Set aside.

3 banana shallots,

4 tablespoons cold-pressed rapeseed or olive oil,

2 tablespoon apple cider vinegar,

1 tablespoon wholegrain mustard

Blanch the purple sprouting broccoli in boiling water for 3 minutes. Drain well.

a few stems of purple sprouting broccoli

Slice the halloumi using a sharp knife into 1cm slices. Heat a dry frying pan over medium-high heat and fry the halloumi for a minute or two on each side until golden brown.

Place a couple of handfuls of salad leaves onto each plate. Assemble the potatoes, shallots, broccoli and halloumi on top. Drizzle the dressing generously over the top.

a few handfuls of salad leaves
Notes
I used Anya potatoes for this recipe. These are a cross between Desiree and Pink Fir Apple potatoes. If you could get hold of Pink Fir Apple they would be perfect for this. You could substitute any potato you like for this but waxy new potatoes are best. If you use a maincrop, be sure to chop them up before roasting - 1 inch pieces should be about right.
This salad would be amazing with asparagus too when it is in season. The same goes for Jersey Royal potatoes!
Nutrition
Calories:
882
kcal
|
Carbohydrates:
73.8
g
|
Protein:
27.3
g
|
Fat:
56
g
|
Saturated Fat:
18.6
g
|
Polyunsaturated Fat:
4
g
|
Monounsaturated Fat:
25
g
|
Cholesterol:
55.6
mg
|
Sodium:
2230.4
mg
|
Potassium:
2011.4
mg
|
Fiber:
12
g
|
Sugar:
7.3
g
|
Vitamin A:
109.9
IU
|
Vitamin C:
192.8
mg
|
Calcium:
854.9
mg
|
Iron:
4.4
mg
Did you make this recipe?
Leave a comment below with how you got on and don't forget to give the recipe a rating ⭐️⭐️⭐️⭐️⭐️. You can also tag @eatloveeats on Instagram - we love to see your creations!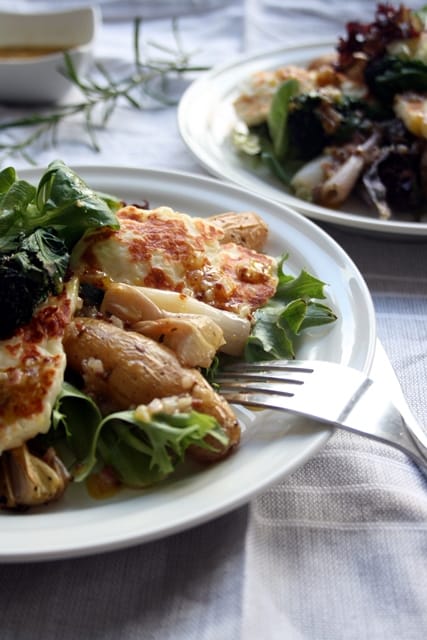 Dressing slightly adapted from The French Kitchen.