Happy Friday! It's the weekend and I'm back on solid food (boy, is it good to be eating again. I don't think I've felt so hungry on a juice cleanse before). Yep, everything is GOOD.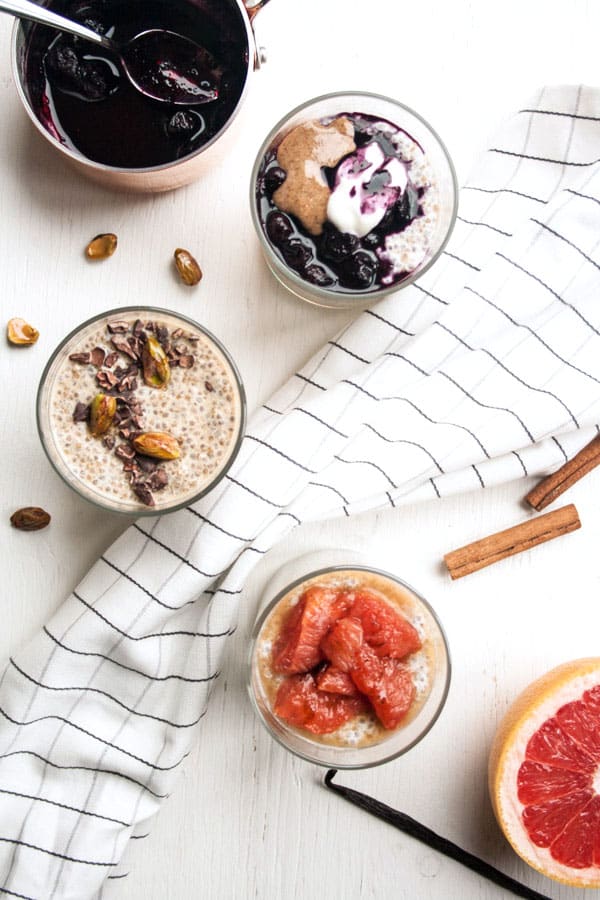 And I made us breakfast! Now, is it just me, or do you ever find yourself in a breakfast rut? And/or, do you find yourself becoming hungry again, approximately 11 minutes after eating your breakfast? If you answered yes to either of these questions, then I have just the thing for you! A breakfast saviour if you will.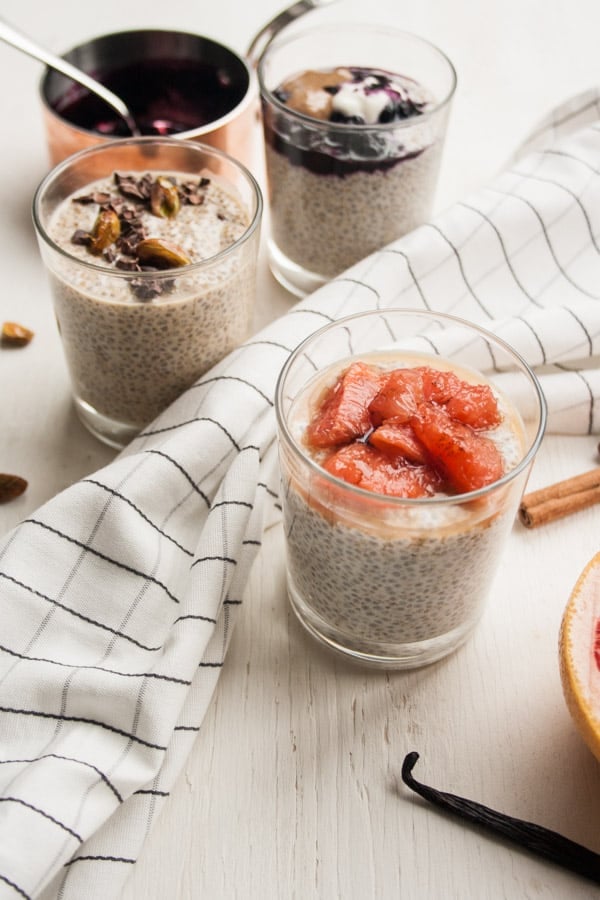 I was relatively late to the chia pudding game. I've wanted to try it for ages since it was so trendy and yet it took me an age to actually get round to buying some chia seeds. So, a few months ago when I finally did, I was half expecting to hate it as I'd read so often that you either love or hate the texture. Well, imagine my fascination when I found that I loved it! I loved it so much that I kept making it for breakfast for a few weeks (until I got bored, of course). But I found that it kept me full for barely anytime at all. Unless I threw a whole load of granola or something on top. And sometimes that's a little too much effort first thing in the morning, y'know?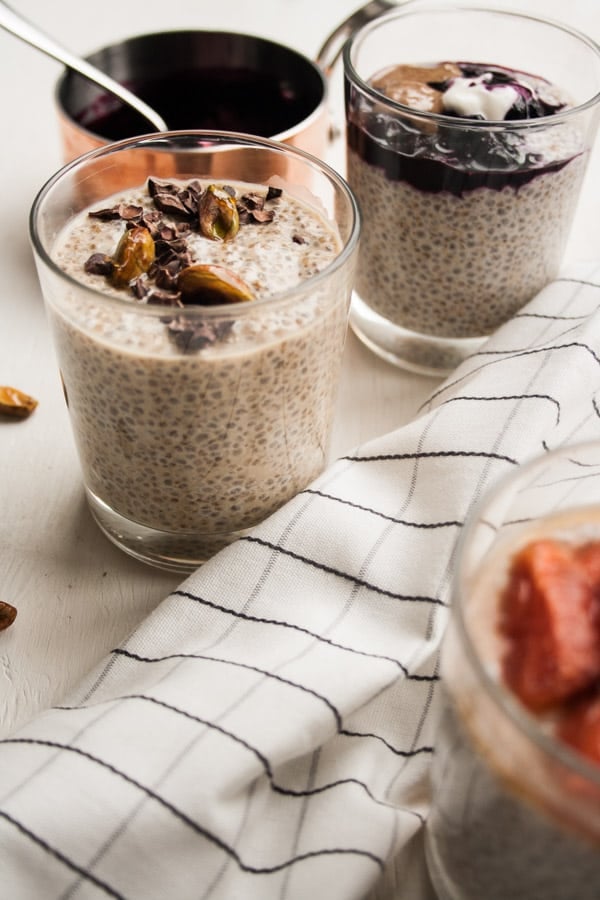 So I had the idea to stir in some cooked quinoa to bulk it out a bit and also to make it feel more substantial to eat. There isn't much bite to chia pud and I like to get my teeth into something in order to feel satiated. Trust me, this did the trick. I got almost all the way to lunchtime without feeling hungry - win! And the best thing about these babies? You can make all component parts ahead, leave it in the fridge and grab and go in the morning when you have to leave the house at stupid o'clock. Yay!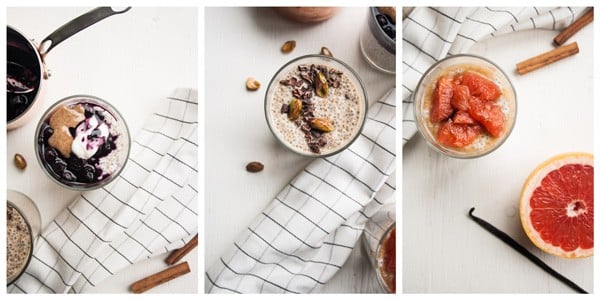 You could play around with whatever flavour combos take your fancy for this - just like a regular chia pudding. Switching it up and keeping it interesting are key for me - in order to avoid breakfast rut type situations. From left to right we have: Peanut Butter with Blueberry Compote, Maple Espresso with Cacao Nibs and Maple Coated Pistachios and last but not least, Vanilla with Cinnamon Grapefruit Compote.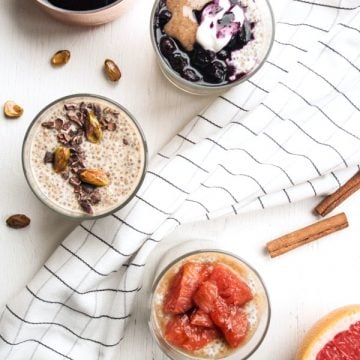 Ingredients
Instructions
For the quinoa chia pudding
Mix together the almond milk and chia seeds. I find it easiest to do this in a jar. Shake a few times until the seeds are suspended in the milk. Leave to soak overnight in the fridge.

1 ⅓ cups almond milk, or milk of your choice,

3 tablespoons chia seeds,

1 cup cooked quinoa,

½ cup Greek yoghurt

In a small mixing bowl combine the soaked chia seeds and almond milk, the quinoa and the Greek yoghurt. Mix well.
Peanut Butter and Blueberry
Mix together the quinoa chia pudding with the peanut butter. Place in serving glass or bowl.

1 cup quinoa chia pudding,

1 teaspoon smooth peanut butter

In a small pan, add the blueberries, maple syrup and lemon juice. Simmer over low heat until the blueberries have burst and the juice has thickened to your liking. Leave to cool and spoon over the quinoa chia pudding along with an extra dollop of peanut butter and Greek yoghurt.

½ cup frozen blueberries,

½ teaspoon maple syrup,

squeeze of lemon juice,

peanut butter and Greek yoghurt
Maple Espresso
Mix together the quinoa chia pudding with the espresso powder, maple syrup and a pinch of sea salt. Place in serving glass or bowl.

1 cup quinoa chia pudding,

½ teaspoon espresso powder,

1 teaspoon maple syrup,

pinch of sea salt

Place the pistachios in a small pan with the maple syrup and heat briefly to coat. The syrup should create a sticky glaze on the nuts. Transfer to a non-stick mat and leave to cool. Serve the pudding with a sprinkling of cacao nibs and the glazed pistachios.

small handful pistachios,

cacao nibs
Vanilla and Cinnamon Grapefruit
Mix together the quinoa chia pudding with the vanilla bean paste and a pinch of sea salt and place in a serving glass or bowl.

1 cup quinoa chia pudding,

¼ teaspoon vanilla bean paste,

pinch of sea salt

Cut the grapefruit into chunks and place in a small saucepan with the maple syrup and ground cinnamon. Heat gently until the grapefruit gives up some of its juice and this begins to thicken. Remove from the heat before the pieces of grapefruit turn mushy. Leave to cool. Serve the pudding with the grapefruit compote and an extra drizzle of vanilla bean paste, if liked.

½ ruby grapefruit,

1 teaspoon maple syrup,

pinch of ground cinnamon,

vanilla bean paste
Notes
The particular almond milk that I was using was a blend of almond and rice milk and was therefore fairly sweet - you may need to sweeten your quinoa chia pudding more according to your taste or the variety of almond milk you use.
Prep time does not include overnight soaking time.
The nutrition label is for the quinoa chia pudding without any toppings.
Nutrition
Calories:
201
kcal
|
Carbohydrates:
21.2
g
|
Protein:
9.8
g
|
Fat:
8.8
g
|
Saturated Fat:
1.7
g
|
Polyunsaturated Fat:
4.2
g
|
Monounsaturated Fat:
2.5
g
|
Cholesterol:
6.2
mg
|
Sodium:
105.7
mg
|
Potassium:
303.9
mg
|
Fiber:
6.2
g
|
Sugar:
2.4
g
|
Vitamin A:
51
IU
|
Vitamin C:
0.2
mg
|
Calcium:
369.4
mg
|
Iron:
2.3
mg
Did you make this recipe?
Leave a comment below with how you got on and don't forget to give the recipe a rating ⭐️⭐️⭐️⭐️⭐️. You can also tag @eatloveeats on Instagram - we love to see your creations!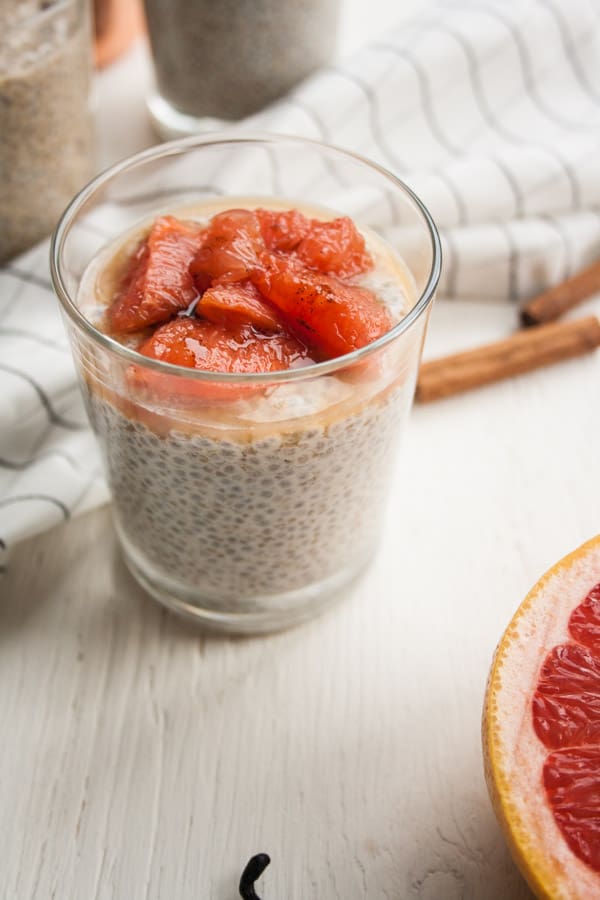 That should keep us going for a few days at least.