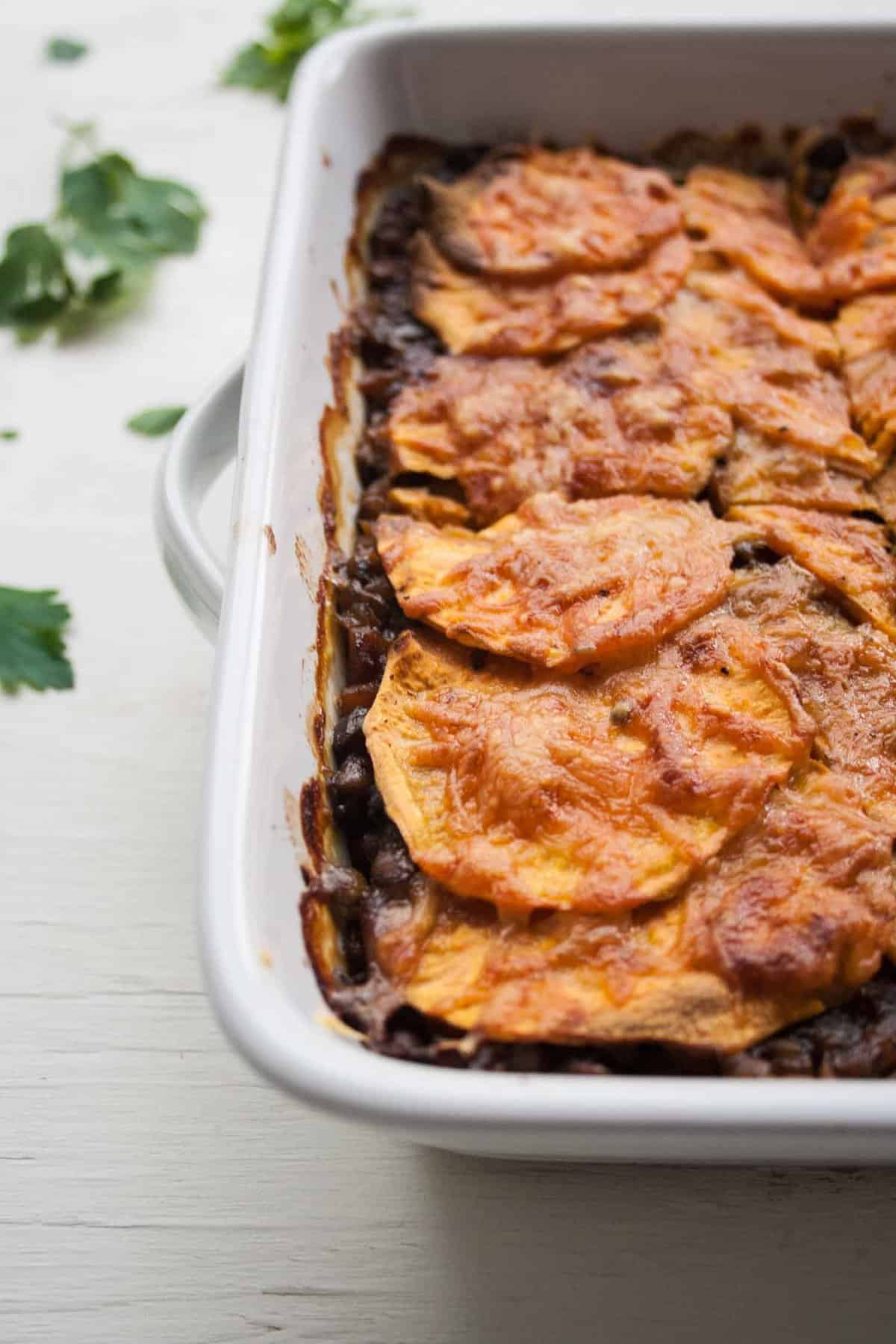 I've been way too hard on myself lately when it comes to food. I'm not sure when it happened exactly, but at some point I started to let my mealtimes function as some kind of barometer for my worth. Now don't get me wrong here - I wholeheartedly believe in being responsible with what I put into my body. But there needs to be balance. And by that I don't mean a doughnut followed by a bowlful of kale (although I'm game for that).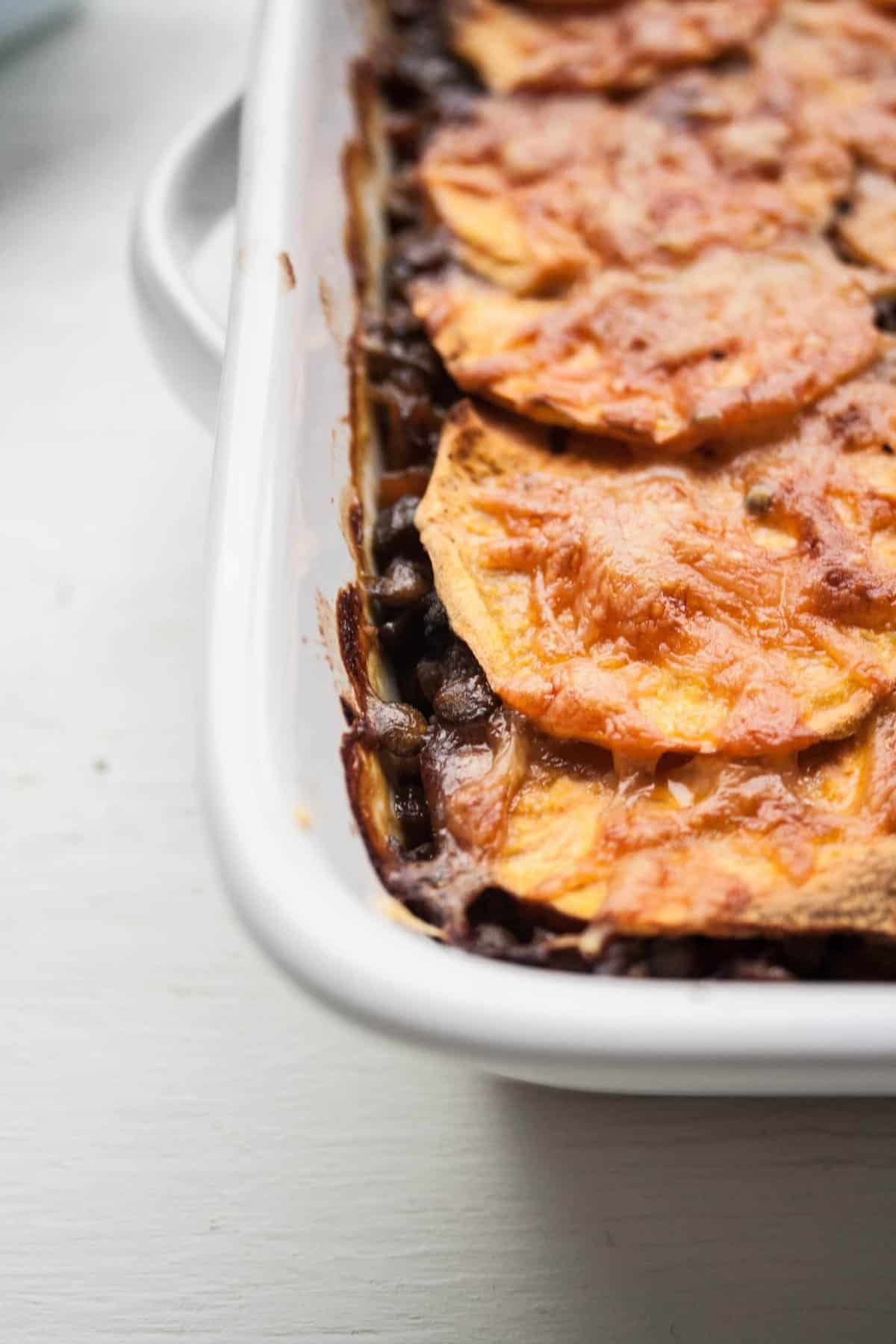 No, I mean that it's all well and good eating virtuously, but if that type of eating is driven by a belief that I 'should' be eating that way, then I've got it all horribly wrong. There is no right or wrong way to eat, only choices to be made that lead to happiness or fear. And lately I've been entertaining too much of the latter. This all occurred to me last night whilst I was sat watching Nigella's Christmas special. I've always been a big believer in her food philosophy and I'm not sure at what point my inner voice started to sound less like Nigella and more like the health police...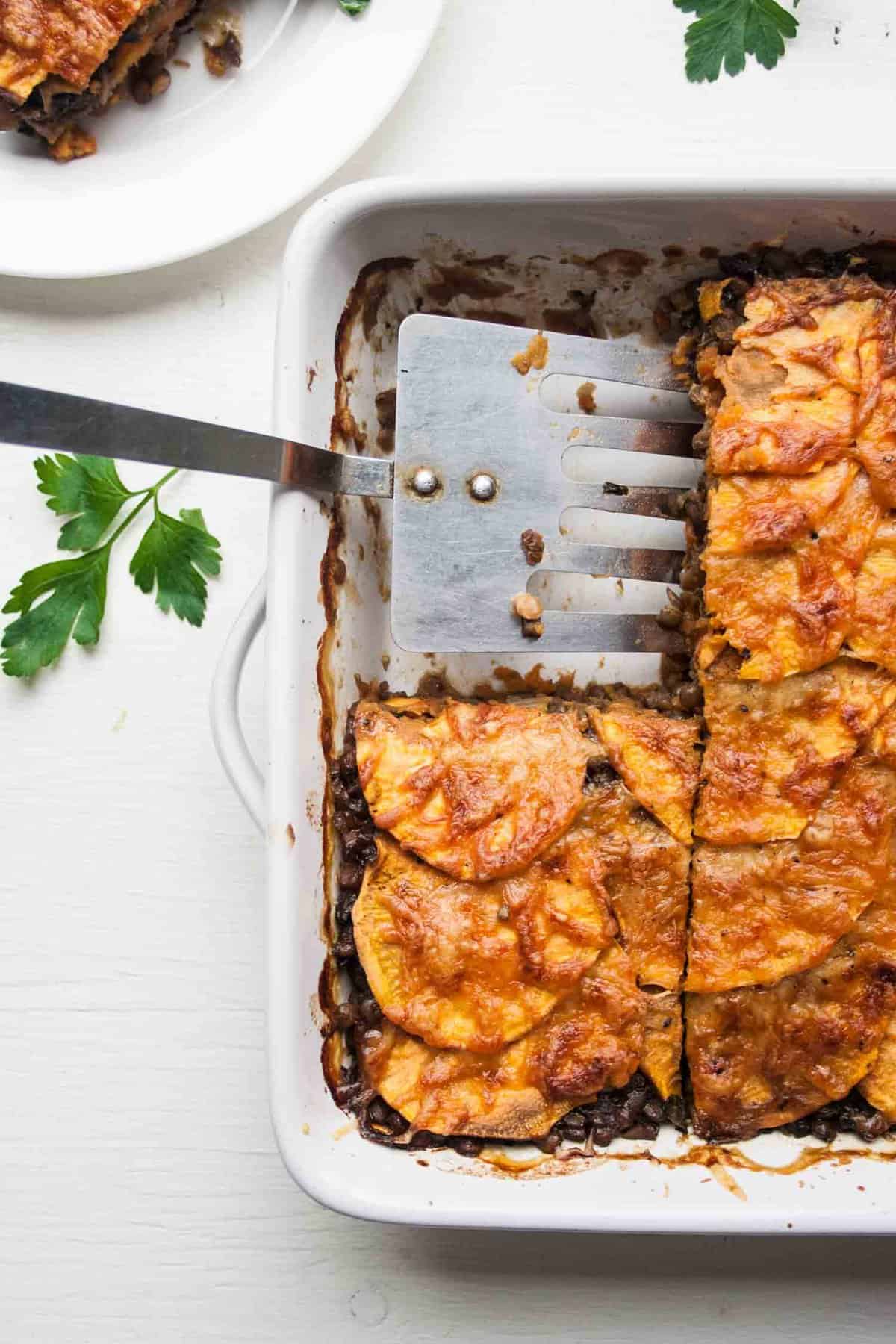 Anyway, with all that said, today I present to you my lentil and sweet potato lasagne. I can't quite remember how and why this recipe came to be, but ironically, yes, it does happen to be pretty virtuous... *insert blushing face emoji*. The fact that I am sitting here telling you about this lasagne on the same day that I am telling you my feelings about healthy eating is entirely coincidental I promise. Either that or I'm just plain stupid...
...
...
Next recipe will be something completely and ridiculously non-virtuous I promise!
So this lentil and sweet potato lasagne. Is nothing like lasagne whatsoever. I'm doing just a fantastic job today aren't I? It's just that, I didn't really know what else to call it. I considered calling it a hotpot but decided against it for the following reasons:
Does anybody know what a hotpot is outside of northern England?
It is actually nothing like a hotpot.
At that point I gave up and called it a lasagne. And then threw a whole load of cheese on top to make sure it wasn't too healthy.
See, balance!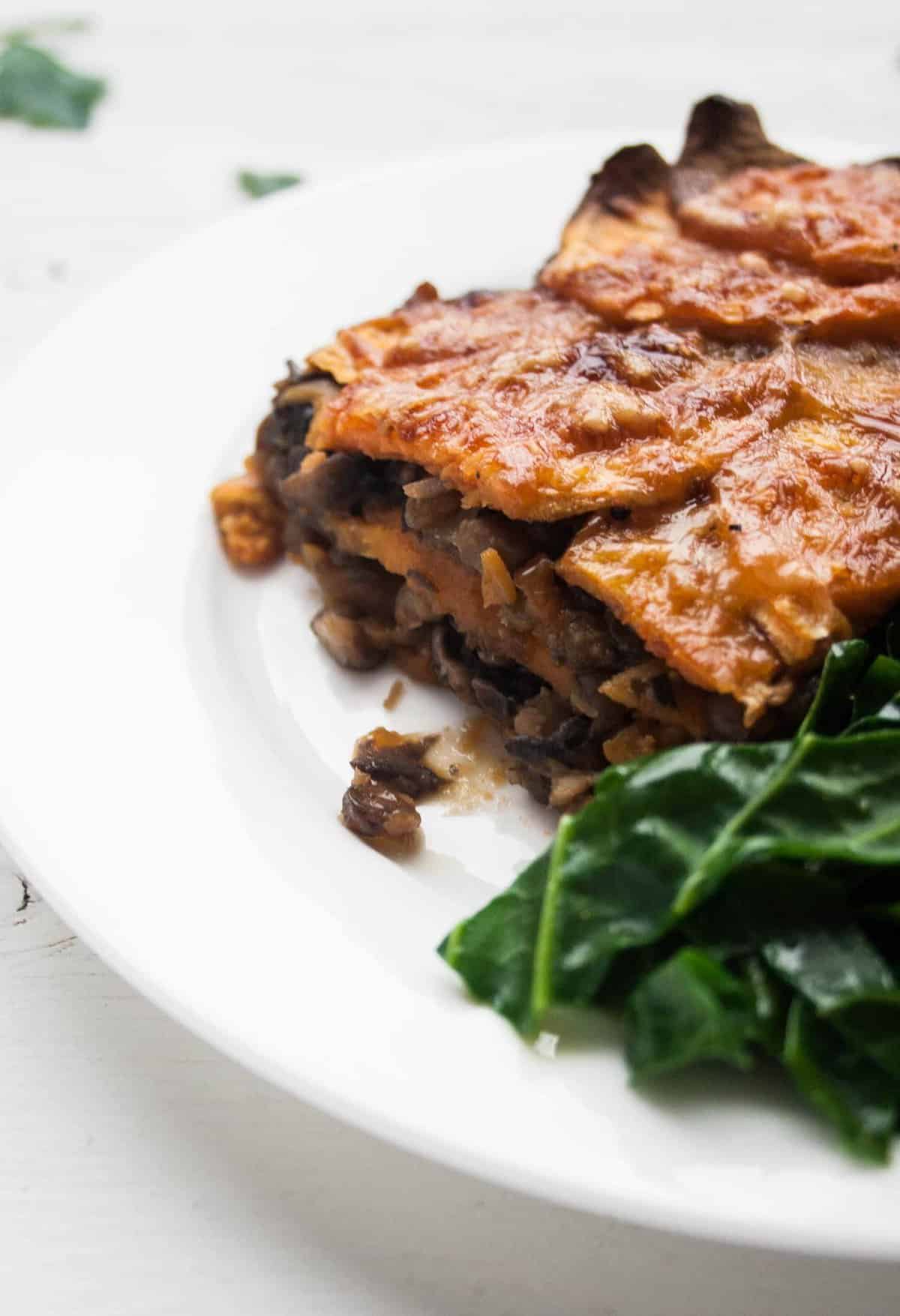 This lentil and sweet potato lasagne is simple and surprisingly satisfying. The earthy lentils and the umami depth of the porcini mushrooms offset the sweetness of the potatoes, resulting in a deeply savoury but light dinner. It's also vegan without the cheese but we don't care about things like that today...
📖 Recipe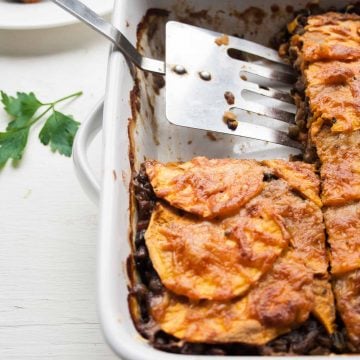 Lentil and Sweet Potato Lasagne
A simple and tasty vegan lentil and sweet potato lasagna layered with thinly sliced sweet potatoes the perfect lighter dinner.
Print Recipe
Pin Recipe
⭐️ Rate Recipe
Ingredients
1

onion

2

carrots

2

celery stalks

1

tablespoon

rapeseed or olive oil

2

garlic cloves

a punnet of chestnut mushrooms

,

(250 g)

a small handful of dried porcini mushrooms

,

(roughly 5 g)

a few sprigs of thyme

1

cup

Puy lentils or lentilles vertes

,

(150 g)

2

cups

vegetable stock

,

(500 ml)

2

bay leaves

1

teaspoon

yeast extract

,

(optional)

a small handful of chopped parsley leaves

2

sweet potatoes

,

peeled

grated cheddar to top

,

(optional)
Instructions
Preheat the oven to 180ºC (350ºF). Chop the onions, carrots and celery into small dice (approx ½cm). Crush or grate the garlic. Dice the mushrooms. Rehydrate the porcini mushrooms by soaking in ¼ cup (60 ml) boiling water for 5-10 minutes, then drain and chop finely, reserving the liquor.

In a large, heavy bottomed pan, heat the oil and then sauté the diced veggies, with a pinch of salt, for about 5 minutes until softened. Add the garlic to the vegetables and cook for about a minute. Add the mushrooms, porcini and the leaves from the thyme sprigs and cook for 4-5 minutes over medium high heat until their juices have evaporated.

1 onion,

2 carrots,

2 celery stalks,

1 tablespoon rapeseed or olive oil,

2 garlic cloves,

a punnet of chestnut mushrooms,

a small handful of dried porcini mushrooms,

a few sprigs of thyme

Rinse the lentils and add them to the pot along with the vegetable stock, bay leaves, yeast extract (if using) and the porcini soaking liquid (taking care not to add any grit left at the bottom). Bring to the boil and then simmer, partially covered, for approximately 25 minutes or until the lentils are just tender. You might need to add more stock or water, depending on how much is absorbed during the cooking process - I added an extra 100 ml (~½ cup). Taste and season as required, depending on the saltiness of your stock and whether or not you used yeast extract. I didn't need to add any salt, but added lots of pepper. Stir in the chopped parsley and remove the bay leaves.

1 cup Puy lentils or lentilles vertes,

2 cups vegetable stock,

2 bay leaves,

1 teaspoon yeast extract,

a small handful of chopped parsley leaves

Slice the sweet potatoes using a mandolin or as thin as you can using a sharp knife. Starting and ending with sweet potato, layer in an ovenproof dish (mine measured about 11"x8"). I got two layers of lentil mixture. Top with as much or as little grated cheddar as you like and bake for 40 minutes until the sweet potato is tender and the top is golden.

2 sweet potatoes,

grated cheddar to top
Notes
Puy lentils and lentilles vertes are one and the same thing, but only those lentilles vertes grown in the Puy region of France can be labelled as such...so if you can't find Puy lentils, look for lentilles vertes instead.
To make this vegan just switch out the cheddar with a vegan alternative. 
Nutrition
Calories:
278
kcal
|
Carbohydrates:
34.3
g
|
Protein:
14.4
g
|
Fat:
10.3
g
|
Saturated Fat:
4.6
g
|
Polyunsaturated Fat:
0.8
g
|
Monounsaturated Fat:
3.8
g
|
Cholesterol:
21.8
mg
|
Sodium:
426.8
mg
|
Potassium:
712.8
mg
|
Fiber:
6.3
g
|
Sugar:
6.5
g
|
Vitamin A:
604.9
IU
|
Vitamin C:
20.8
mg
|
Calcium:
219.4
mg
|
Iron:
3.1
mg
Did you make this recipe?
Leave a comment below with how you got on and don't forget to give the recipe a rating ⭐️⭐️⭐️⭐️⭐️. You can also tag @eatloveeats on Instagram - we love to see your creations!
Serve with greens. *sniggers*