Today we're wrapping a celeriac in a salty blanket and baking it whole. And then making risotto with it. Before you run away, wait! This is actually a seriously easy recipe that is so worth your time.
Have you ever salt-baked anything before? No, me neither, until now of course. It's a cooking method I've wanted to try for ages having seen it on numerous TV shows because it just looked so cool!
The basic premise is that you coat whatever you want to cook (you can do this to vegetables, whole birds, etc) in a salt-based mixture and then bake it slowly so that it is cooked and seasoned to perfection. There are two main ways to do it: using a mixture of salt, flour and water or salt and egg whites. I decided to go the flour and water route as it seemed like a less frivolous use of resources and I'm practical and fun like that.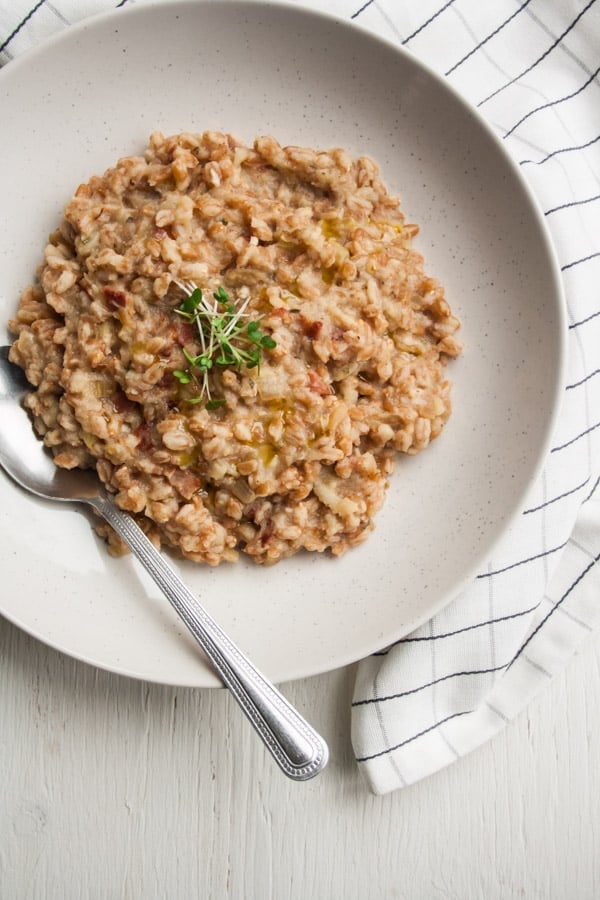 The result? Magical!
After I (OK I won't lie, my husband) had managed to hack my way through the hard exterior, I could barely contain my excitement to see what lay inside. Oh, it was golden, butter-soft and smelt and tasted divine. Absolutely worth the 2 ½ hours it has spent in the oven. And we had wrapped a few baby potatoes in some of the leftover salt pastry and baked those too and well, those? I could have just eaten a bowl of them for dinner and been done with it.
But no, I pressed on and in less than half an hour had just the most perfect bowlful of food for the cold and wintry evening that it was. You have to do yourself a favour and make yourself a glorious bowlful of this salt-baked celeriac and bacon farro risotto tonight. Or tomorrow night, after you've rushed to the shops and bought yourself a nice, knobbly celeriac. If you've ever wondered what on earth to do with such a beastly looking vegetable before, this is it. (I'm sorry celeriac, it's true).
I will take this opportunity to apologise for the lack of a photo of the fine salt-robed celeriac (happily, I had leftover celeriac to make the risotto again to share with you here), but we were simply too caught up in the magic of the moment. And as I mentioned, it was a cold and wintry January evening. You will just have to make it to see for yourself! Those poor, unloved celeriacs of the world will thank you for bringing them to such a triumphant end.
What you will be rewarded with is a steaming hot bowl of creamy (with no cream!) and nutty and delightfully savoury farro risotto, studded with smoky bacon pieces and topped with a oozy, runny poached egg. (Oh no, don't you forget that egg). Comfort food at its finest.
Ingredients
For the salt-baked celeriac purée
1

teaspoon

black peppercorns

few sprigs of rosemary

,

needles picked

2

bay leaves

300

g

coarse sea salt

400

g

plain flour

250

ml

cold water

,

(1 cup)

1

celeriac

,

base trimmed, skin on (roughly 0.8-1kg)

milk

,

to purée
For the farro risotto
170

g

farro

,

(1 cup) rinsed

4-6

rashers

smoked streaky bacon

,

sliced into strips

1

tablespoon

rapeseed or olive oil

1

onion

,

finely chopped

1

stick celery

,

finely chopped

splash of white wine

,

optional

2

cloves

garlic

,

grated

1

sprig rosemary

,

finely chopped

250

ml

celeriac purée

,

(1 cup)

250

ml

vegetable stock

,

(1 cup)

poached eggs

,

to serve
Instructions
For the salt-baked celeriac purée
Preheat the oven to 170ºC/340ºF. Whizz the peppercorns, rosemary needles and bay leaves in a food processor until finely chopped and fragrant. Mix together with the salt, flour and water to form a stiff dough. Roll the dough out to ½ to 1 cm thick. Encase the celeriac tightly within the dough, ensuring it is properly sealed. Trim away any excess. Place on a baking tray and bake for 2-3 hours, depending on the size of your celeriac.

Once cooked, crack open the salty armour (prepare to use a bit of muscle!) and scoop out all of the soft, yielding flesh into a mixing bowl. Using a hand blender (you could also a food processor) whizz the flesh into a purée, adding a little milk as you go to achieve a luscious consistency. The flesh will be soft so you shouldn't need much liquid.
For the farro risotto
Start by cooking the farro. Place in a pan with around twice its volume of cold water, bring to the boil and simmer for 20 minutes. Drain and set aside.

Whilst the farro is cooking, fry the bacon strips until golden and crisp, around 5 minutes.

In a heavy based pan heat 1 tablespoon of rapeseed or olive oil over medium heat. Add the onions and celery along with a pinch of salt and cook until soft and golden, around 10-15 minutes. As they cook, add the splash of white wine, if using, or a splash of water. Check that the celery is no longer crunchy.

Add the rosemary and the garlic and cook for a further 2 minutes until fragrant. Add in the bacon.

Add to the pan the cooked and drained farro, the celeriac purée and the vegetable stock. Heat through and stir until you have a creamy consistency, adding more stock or water if required. Season well with pepper - you shouldn't need much, if any, salt, but taste and season as you see fit.

Serve with soft poached eggs.
Notes
You will likely have excess salt dough - when I made this I salt-baked some potatoes too and they were delicious. I'm sure that you could use the leftovers to salt-bake all kinds of veggies!
The purée can be made in advance and either kept in the fridge for a couple of days until needed or frozen. 1 celeriac yields around 2 cups of purée so you could either double this recipe to feed 4-6 or freeze half of the purée for another day.
Makes enough risotto for two with some leftovers (or two hungry people!)
Salt-baked celeriac recipe slightly adapted from Gut Gastronomy by Vicki Edgson and Adam Palmer via the Telegraph.
Nutrition
Calories:
766
kcal
|
Carbohydrates:
93.2
g
|
Protein:
29.7
g
|
Fat:
32.6
g
|
Saturated Fat:
9.6
g
|
Polyunsaturated Fat:
5.1
g
|
Monounsaturated Fat:
15.8
g
|
Cholesterol:
132.4
mg
|
Sodium:
925.4
mg
|
Potassium:
1106
mg
|
Fiber:
13.3
g
|
Sugar:
17.6
g
|
Vitamin A:
1068
IU
|
Vitamin C:
20.5
mg
|
Calcium:
361.8
mg
|
Iron:
4.2
mg
Did you make this recipe?
Leave a comment below with how you got on and don't forget to give the recipe a rating ⭐️⭐️⭐️⭐️⭐️. You can also tag @eatloveeats on Instagram - we love to see your creations!
I mean it. The pool of yolk? That's the best bit.