Today we're wrapping a celeriac in a salty blanket and baking it whole. And then making risotto with it. Before you run away, wait! This is actually a seriously easy recipe that is so worth your time.
Have you ever salt-baked anything before? No, me neither, until now of course. It's a cooking method I've wanted to try for ages having seen it on numerous TV shows because it just looked so cool!
The basic premise is that you coat whatever you want to cook (you can do this to vegetables, whole birds, etc) in a salt-based mixture and then bake it slowly so that it is cooked and seasoned to perfection. There are two main ways to do it: using a mixture of salt, flour and water or salt and egg whites. I decided to go the flour and water route as it seemed like a less frivolous use of resources and I'm practical and fun like that.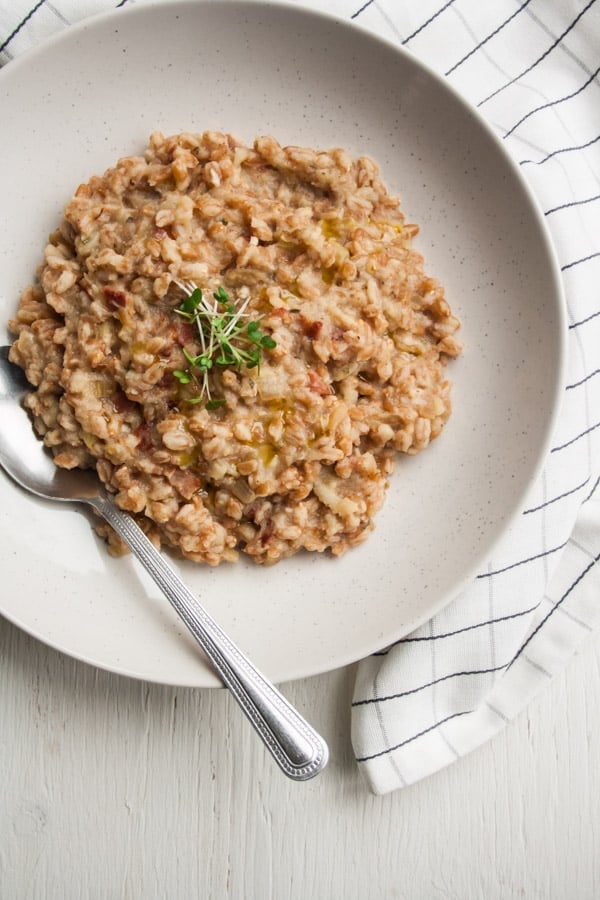 The result? Magical!
After I (OK I won't lie, my husband) had managed to hack my way through the hard exterior, I could barely contain my excitement to see what lay inside. Oh, it was golden, butter-soft and smelt and tasted divine. Absolutely worth the 2 ½ hours it has spent in the oven. And we had wrapped a few baby potatoes in some of the leftover salt pastry and baked those too and well, those? I could have just eaten a bowl of them for dinner and been done with it.
But no, I pressed on and in less than half an hour had just the most perfect bowlful of food for the cold and wintry evening that it was. You have to do yourself a favour and make yourself a glorious bowlful of this salt-baked celeriac and bacon farro risotto tonight. Or tomorrow night, after you've rushed to the shops and bought yourself a nice, knobbly celeriac. If you've ever wondered what on earth to do with such a beastly looking vegetable before, this is it. (I'm sorry celeriac, it's true).
I will take this opportunity to apologise for the lack of a photo of the fine salt-robed celeriac (happily, I had leftover celeriac to make the risotto again to share with you here), but we were simply too caught up in the magic of the moment. And as I mentioned, it was a cold and wintry January evening. You will just have to make it to see for yourself! Those poor, unloved celeriacs of the world will thank you for bringing them to such a triumphant end.
What you will be rewarded with is a steaming hot bowl of creamy (with no cream!) and nutty and delightfully savoury farro risotto, studded with smoky bacon pieces and topped with a oozy, runny poached egg. (Oh no, don't you forget that egg). Comfort food at its finest.
I mean it. The pool of yolk? That's the best bit.