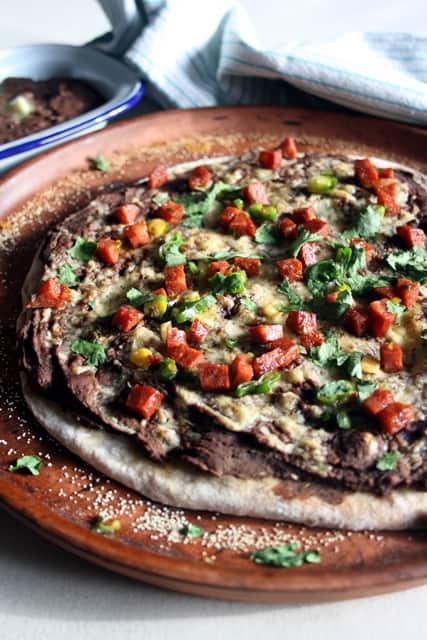 I'm starting this little blog here and I have no idea what to say so I'll open with the truth. The truth is, I'm pretty afraid. Afraid of making a mistake? Yep. Afraid of getting it all wrong? Too right. Afraid of making some unbeknownst to me blogging faux-pas? Absolutely!
But do you know what else is the truth?
There is no right or wrong way, and as I sit here and really feel that, I relax. I am me, unique, like no other. And yeah, I might make a few (or many!) mistakes along the way, but if I am wise, I'll choose to learn from them. Seems like a better choice than crippling fear, doesn't it?
So here I am, posting my first little recipe onto the internet. Wholemeal pizza crust, spread thickly with gently spiced refried beans, generously topped with strong cheddar and sprinkled with tasty nuggets of chorizo, spring onions and jalapeño chilli. I'm pretty obsessed with Mexican food and regularly make refried beans to stuff into burritos and huevos rancheros and the thought occurred to me one day to use them as an alternative to tomato sauce on a pizza. The result was chewy, rich and satisfying - perfect comfort food.
Ingredients
250

g

plain flour

110

g

strong wholemeal bread flour

140

g

strong white bread flour

7

g

dried active yeast

8

g

fine sea salt

340

ml

warm water

1

tablespoon

rapeseed or olive oil

6-8

tablespoons

refried beans

,

I make my own; you can buy them for ease

100

g

extra mature cheddar

,

coarsely grated

75

g

chorizo

,

finely diced

1

small jalapeño chilli

,

finely diced

2

spring onions

,

finely chopped

a small handful of coriander

,

roughly torn

semolina or flour

,

for dusting
Instructions
To make the pizza dough, combine all of the dry ingredients in the bowl of a stand mixer fitted with the dough hook and mix briefly. Add the water and mix until incorporated. Add the oil. Continue to knead for 6-8 minutes until you have a smooth ball of dough.

Remove the dough from the mixer to a lightly floured work surface. The dough should be very elastic and a little sticky - this is what you want and you shouldn't add too much extra flour to it. Shape into a ball and place into a clean, lightly oiled bowl. Cover with cling film and leave to rise in a warm-ish place until doubled in size, 1-2 hours.

Preheat oven to the hottest possible temperature – for me that's 250°C in a fan-assisted oven – but just crank it as high as it will go. Place a pizza stone in the oven to heat up with the oven or a baking sheet if you don't have a pizza stone.

Place a frying pan over a medium high heat and add the diced chorizo straight away – heating it up from a cold pan will allow some of the fat to render away. Fry for about 5 minutes, stirring frequently, until golden brown. Remove to a small dish with a slotted spoon and allow to cool slightly. Once cool, add the jalapeños and spring onions and stir. Set aside.

Knock the air out of your proved pizza dough. The recipe makes enough for 4 pizzas so divide into 4 pieces - you can freeze the remaining 2 pieces for another time, or double the toppings to make 4. Roll out the dough to the size of the pizza stone, or your baking sheet, and place onto a peel or a baking sheet that has no sides to it that has been generously dusted with semolina (or flour if you don't have semolina). Spread 3-4 tablespoons of refried beans onto your pizza dough and sprinkle with half of the grated cheese.

Once the oven is up to temperature, carefully remove your pizza stone or baking sheet and dust with semolina (don't do this beforehand as it will burn as the oven preheats). Slide the pizza onto the stone (this should be easy if you have used plenty of semolina) and quickly pop it back into the oven. Bake until your dough is cooked through and browned at the edges. This should take 10-12 minutes but keep an eye on it. You might need to give it longer depending on how thinly you rolled out your pizza dough and how hot your oven is.

Once cooked, sprinkle half of the chorizo mixture over the top of the pizza. Finish with a scattering of freshly torn coriander leaves, if you like. Repeat for the second pizza!
Notes
I always use my stand mixer to make bread doughs because the results are so much more consistent but if you don't have one the method is the same, you'll just have to knead it a little longer.
You might like to add a touch of water to your refried beans to make them a bit more sloppy and spreadable and also to compensate for the drying effect of the oven.
When I made this, the diced toppings had a tendency to fall off as we ate. Next time I would put only half of the cheese on, take the pizza out of the oven a few minutes before it is done, sprinkle on the toppings followed by the remainder of the cheese and then return to the oven for the last couple of minutes.
Nutrition
Calories:
871
kcal
|
Carbohydrates:
135.2
g
|
Protein:
31.3
g
|
Fat:
21.9
g
|
Saturated Fat:
8.5
g
|
Polyunsaturated Fat:
2.5
g
|
Monounsaturated Fat:
8.8
g
|
Cholesterol:
41.9
mg
|
Sodium:
1239.9
mg
|
Potassium:
592.3
mg
|
Fiber:
8.6
g
|
Sugar:
2.7
g
|
Vitamin A:
134.7
IU
|
Vitamin C:
37.2
mg
|
Calcium:
257.7
mg
|
Iron:
7.8
mg
Did you make this recipe?
Leave a comment below with how you got on and don't forget to give the recipe a rating ⭐️⭐️⭐️⭐️⭐️. You can also tag @eatloveeats on Instagram - we love to see your creations!