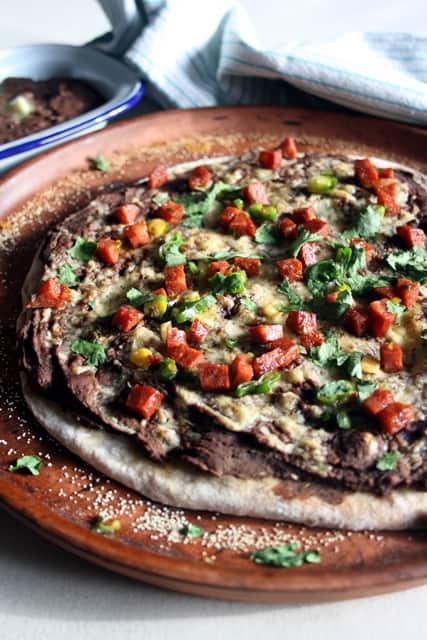 I'm starting this little blog here and I have no idea what to say so I'll open with the truth. The truth is, I'm pretty afraid. Afraid of making a mistake? Yep. Afraid of getting it all wrong? Too right. Afraid of making some unbeknownst to me blogging faux-pas? Absolutely!
But do you know what else is the truth?
There is no right or wrong way, and as I sit here and really feel that, I relax. I am me, unique, like no other. And yeah, I might make a few (or many!) mistakes along the way, but if I am wise, I'll choose to learn from them. Seems like a better choice than crippling fear, doesn't it?
So here I am, posting my first little recipe onto the internet. Wholemeal pizza crust, spread thickly with gently spiced refried beans, generously topped with strong cheddar and sprinkled with tasty nuggets of chorizo, spring onions and jalapeño chilli. I'm pretty obsessed with Mexican food and regularly make refried beans to stuff into burritos and huevos rancheros and the thought occurred to me one day to use them as an alternative to tomato sauce on a pizza. The result was chewy, rich and satisfying - perfect comfort food.